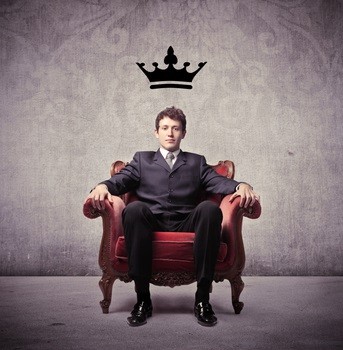 If you keep on repeating that your company distinguishes itself with highest standards of customer service, read this text. Spoiling your customers rotten seems to be fundamental today, but actually it's far less practiced than discussed, and doesn't always work to business' advantage.
Philosophy of customer service 1: a parent
You can be either a parent or a grandparent to your customer.
Parent is the one who says "You can't always get what you want". According to that philosophy he delivers goods to customer and puts clear limits of his services. He tries to cover every possible situation in regulations and returns policy.
If customer wants a cake, he must eat carrot first: if he wants lower prices, he must accept lower standard of customer service, if he wants bonuses or discounts, he must participate in loyalty program. If he has a problem, he is left to himself – he can fill in complaint form, wait for formal only to learn that there is nothing company can do for him as product is free from defects.
Philosophy of customer service 2: grandparent
Grandparents on the other hand don't care about rules, but love vigorous spoiling. You don't have to get A from math test to get a teddy bear. You don't have to clean your ears to get a chocolate. Grandparents don't know what a "ridiculous" wish is (great helium balloon shaped like ugly lizard? Seems rational!), actually, they're trying to anticipate them. When Amazon ships you brand new Kindle after your dog has damaged previous one, it behaves just like a grandpa.
Customer's loyalty: true or myth
Today luxurious, grandparents option, focus on client and following his whims should be a standard in face of customer revolution, but does it really happen? Spoiling customers in order to win their loyalty is hard to execute, costs a lot, doesn't work for every business model and also has some possible disadvantages:
Loyal, spoiled customer isn't actually less expensive in service nor less price sensitive as it was long held (myth busted by G.R. Dowling and M. Uncles),
Satisfied customer brings less benefit than dissatisfied one brings harm (so your loyal client won't praise you as loud as frustrated one will shout in anger),
Resources used up for loyalty building won't be used for something else. Each choice is a loss somewhere else.
We don't want to discourage you from showing loving care to your customers, but it must be a deliberate decision, thoughtfully chosen and implemented with cohesion strategy. Know whether you want to be a parent or a grandparent to your customers and stick with it.
Luxury is unnecessary
Luxury means something more than  necessary: it's not urgent, not vital, not unavoidable. It makes us feel special because we don't actually need it. How to deliver that experience in customer service?
1 How do you call your customers?
Polish blogger Paweł Tkaczyk calls his regular readers "Diamonds". He uses that name in e-mail communication – he evokes sense of uniqueness and preciousness, which is the base of luxury. How do you address your communication? Do you try to make a bond with it? Maybe you can go beyond "Dear [name]"?
2 Premium content for premium customers
Make your most loyal customers feel special by giving them extra materials, marking that they're exclusive. If you want to publish an ebook or a whitepaper, give an access to it firstly to your premium clients; do the same if before introducing new feature or product, allowing to pre-order.
3 Something really extra
Not a sample. Not free month. Not a discount. Not a really huge discount. Not a company gadget. Not even that lovely pencil with your logo.
Give something completely selflessly.
That kind of action will make your customer feel spoiled, taken care of – when you don't encourage purchase, just give pleasure.
4 Don't make him talk – use marketing automation to engage
When your customer is loyal, say "thank you" with a small gift. Easier said than done.
It takes virtually no effort to measure activity of online customers. Small offline shops also have little trouble recognizing their loyal visitors.
The real problem is online-offline gap: what if given customer views products online and then buys them offline? What if he makes purchases sometimes online, sometimes offline (and not always in the same venue)? You might not see some of yours most engaged clients!  It can be helped thanks to SALESmanago and beacons, which implemented together track both areas of customer's activity . Therefore you can for example give up on traditional loyalty programs card, as system automatically sends notification to your shop assistants when loyal customer enters the store.
What is luxury here is not a gift or discount itself, but that small facilitation: customer doesn't have to do anything on his own, look for loyalty program card, ask. It's special.
5 Anticipate wishes or higher level of personalization
Your deep knowledge on your customer really makes an impression on him, so monitor carefully his interests and purchases – he will appreciate comfort and convenience you offer: he doesn't have to search and deliberate, as you do that work for him.
Personalized offer doesn't only serve improving sales process, but also makes your customers treated individually.
And how do you spoil your customers?