Are you already familiar with Workflow, a marketer's best friend? It's a Marketing Automation feature that takes a lot of work off a marketer's shoulders and saves a good deal of time, as it allows to create entire automated and versatile campaigns in every channel (whether it's email, website banners, Web Push or SMS). In the age of automation, there is no need to do all the dull work that had to be done manually earlier, also when it comes to marketing. With the new, enhanced version of Workflow feature in SALESmanago you can automate your campaigns even faster and easier than ever.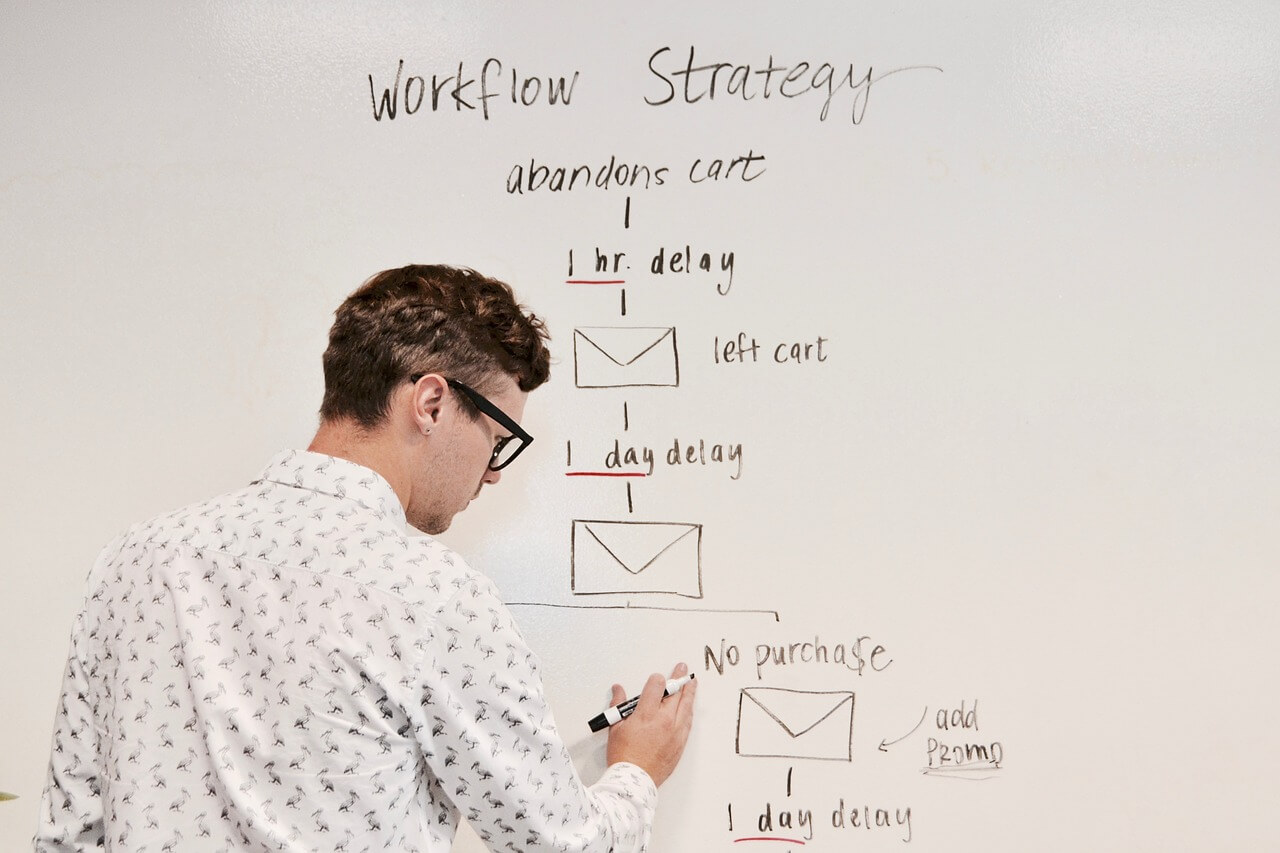 ---
Learn how to create efficient Workflows and get your Marketing Automation Specialist certificate!
---
How does a Workflow work?

A Workflow is the best way to create elaborated and advanced campaigns easily, with almost no effort thanks to the simple and intuitive SALESmanago visual wizard. It's a tool that lets you automate marketing processes by setting up actions to be executed based on specific conditions. It works miracles in every sector, whether it's B2B, B2C or Ecommerce. Workflows, along with automation rules, make a personalized, high-quality communication with your customers and prospects possible without the time and resources consuming activities. It permits a smooth swift between various communication channels and maintenance of your brand's tone of voice. Let the Marketing Automation platform take care of repetitive tasks so you can focus on the creative work.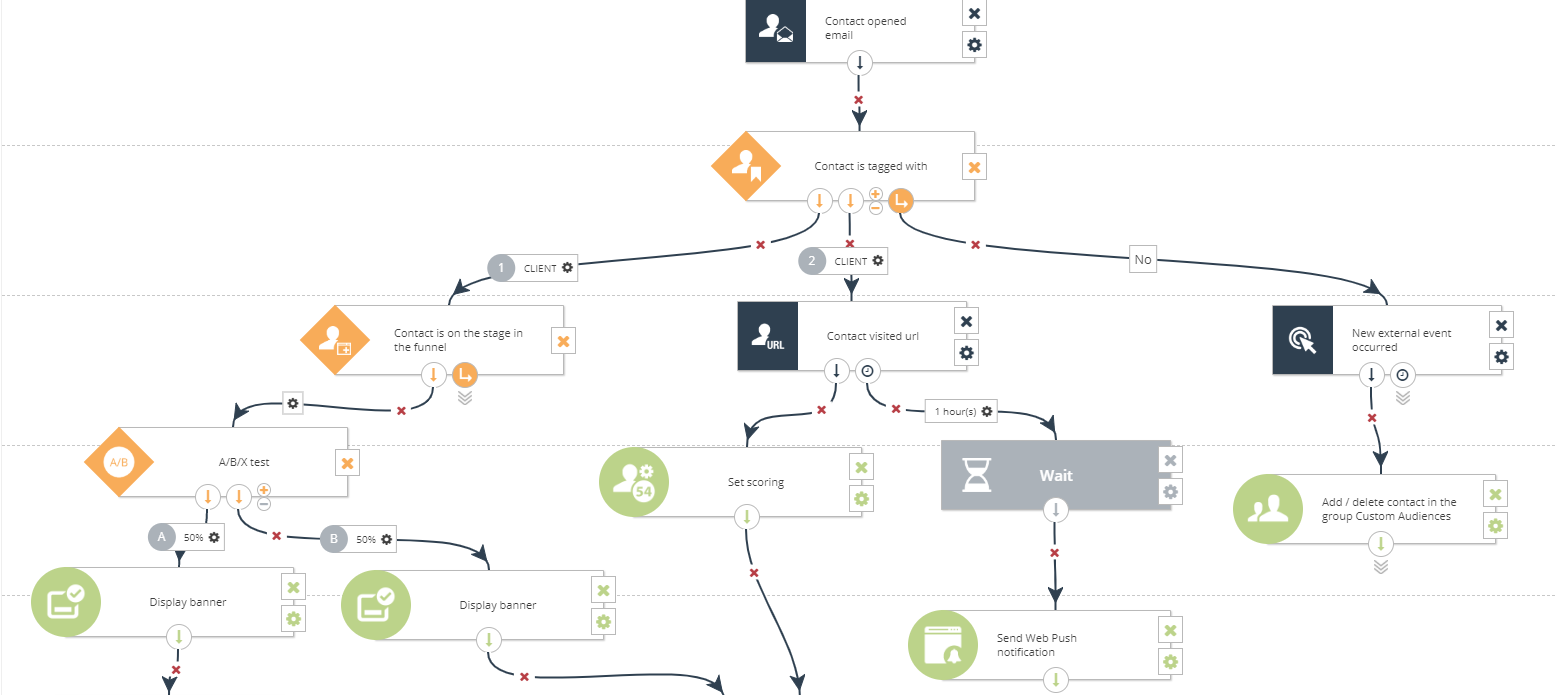 The Workflow is built by choosing between three elements: Events, Conditions and Actions. Each campaign has to be initiated with the opening element called Start and finished with the End element.  An Event is an activity that causes the launch of the whole campaign, but can be also used in the middle of it. For instance, among those triggers are such occurrences as opt-in or opt-out, contact opening an email or reaching a specified scoring, etc. Every contact that fulfills the requirements specified in the Event will start its journey through the campaign. Then you can use the Condition element to determine more precisely which contacts should be included or excluded from the campaign, for example, if the contact has not reached required scoring or a stage in the funnel. The third element, Actions, are automated operations performed by the system.
What's new in SALESmanago Workflow?
The next generation Workflow in SALESmanago platform has a brand new mechanism and an elegant interface. While creating the campaign, you can use the grid that will make it easier to organize the stages and elements. Moreover, a new way of joining the elements was introduced, that will facilitate designing the campaign. The workflow was also enriched with completely new solutions and features:
A/B/X tests

– now it's possible to test and optimize your workflows to get even better results. You can conduct tests of any element: events, conditions and actions, and verify which emails or banners convert better.

Workflow analytics

– along with A/B/X tests, the detailed analytics will help you to optimize your campaigns. You get a clear view of the paths that perform and convert best.

Setting priorities of paths

– you can now indicate which path has the highest priority, in the case when contacts that fulfill more than one condition. This gives you much more freedom in designing advanced scenarios.

Alternative paths

– no more contacts getting stuck in a stage of your workflow. The contacts that couldn't move down the workflow due to not fulfilling a specified condition now can be lead through an alternative path.

Settings validation and unlimited drafts

– the process of workflow creation is now smooth and convenient, as in any moment you can validate the settings, therefore easily creating properly working campaigns. The unlimited number of drafts lets you design various versions of workflows and activate them with just one click.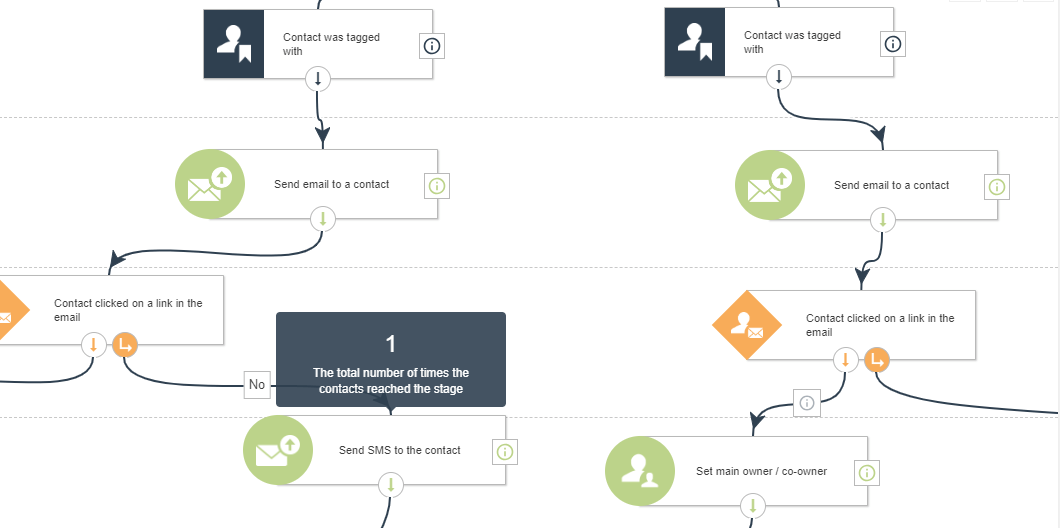 ---
See how to set up an automated campaign step by step
---
What can be automated using Workflow?
Workflow is a great way to increase the effectiveness of your marketing and sales activities. It can be used to automate countless processes and scenarios – really, only your imagination is the limit. The most common Workflow automation examples are:
personalized communication

– emails, sms, web push with offers adapted to the user's behavioral and transactional profile;

welcome new users

that have subscribed to your newsletter or have registered for a trial version of your app;

react to user behavior

on the website with personalized messages – send your customers a personalized recommendation based on their viewing history, including offers that will attract them;

recovering abandoned shopping carts

– with the Workflow recovering abandoned carts will not be a big deal anymore. In a few simple steps you'll automate the process of sending emails reminding the customers of the products they have left in the cart;

inactive users

– identify customers at risk of leaving and reduce customer churn by sending personalized win-back messages;

lead nurturing campaigns

– whether it comes to warming up sales prospects or educating new users, it's the best way to nurture subscribers through a series of automated emails;

generate personalized coupons

for customer activation or to engage your most loyal customers;

streamline sales process

– manage your internal sales efforts by setting automated actions in response to a contact's activity: add notes, set contact owners and tasks or reminders for them, add contacts to stages in the funnel, etc.
As you can see, Workflow is the ultimate marketing tool. All the complex and multivariant campaigns can be set up easily using our simple and intuitive drag&drop wizard. Log in to the system to try the new, enhanced version of the Workflow, and if you still are not a SALESmanago customer, you can try it 30 days for free – register now!