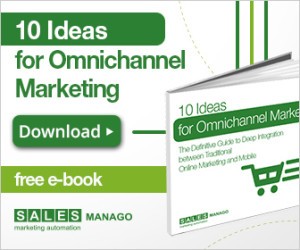 Omnichannel, multichannel, cross-channel… The most often used – and overused – terms of the last 3 years. We jungle with more and more concepts, but it turns out that such insights doesn't translate into marketers' practice.
The reason is the lack of resources and tools. As SALESmanago research indicated, 86% of marketers see the importance of mobile channel, but only 13% invests in it, leave alone integrating mobile with Marketing Automation software and exchanging data about customer behavior on the website and in the app.
SALESmanago + APPmanago: the perfect duo
That's why we present you an ebook that shows step by step how to deliver omnichannel marketing by integrating traditional, desktop Marketing Automation Platform with Mobile Marketing Automation (dedicated to mobile apps). We described 10 ideas for providing cohesive shopping experience across multiple touch points and channels and focused on including mobile.
The examples show the performance of SALESmanago and APPmanago: the only tools offering such a deep integration between desktop and mobile automation.
You will learn
From our new ebook you will learn:
– what is omnichannel marketing
– how to segment your app users and how to use that segmentation for communication in other channels
– how to acquire leads from the app
– how to utilize knowledge about other apps installed on the device
– what can you learn from geolocation data
– how to address multi-screening