No abandoned shopping carts is the dream of any online shop. But recovering abandoned carts is much more than just sending a few emails.
You'll get better results when you run more than just one or two cart recovery campaigns. You need to put the extra effort in! Today I will show you 7 different ways to recover your missing sales opportunities. 
Shopping cart abandonment is a massive challenge, but also a huge opportunity. It happens when buyers put items in an online shopping cart, but then leave a website or app before completing the purchase.
Let's call it abandoned checkout. For short ACO.
It is like when Robert Baggio missed his last penalty shot at FIFA World Cup finals in '94, letting Brazil win.
Or when you almost kissed your crush at that high school party when suddenly lights had been switched on and she got shy as everybody could see you.
Now that's the mindset I'd like for us to be after: maybe she got embarrassed this time, tough luck. But there would always be another chance, somewhen, somewhere.
It's not that she didn't like you. She just got distracted.
With these 7 hacks, you will learn how to improve your conversion rate by simply engaging with your potential clients in a clever way.
The Problem
These days, we are bombarded with information, making it natural and easy for us to just ignore most of it by switching tabs and apps on our devices.
Let's say I'm looking at some new T-shirt I want to buy. While I'm looking, I have my iPhone messenger, WhatsApp, Twitter, some news I read and maybe my email account open.
My mind is flying around and I'm not focused on the product. Obviously, because of such behavior, with every year the ACO becomes more common.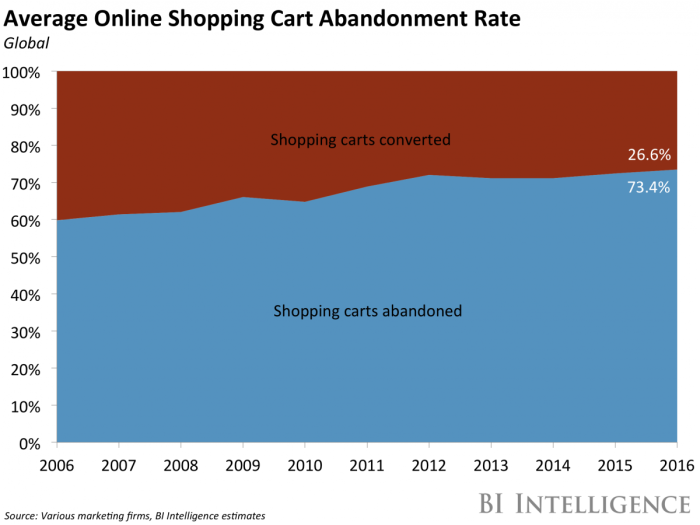 Now, this might look pessimistic.
But imagine how much opportunity there is if your competition doesn't have a clear process on how to recover the lost opportunity but you do?
It is like when you had seen your high school buddy almost kiss that girl you had a crush on, and fail because someone switched the lights on and she got embarrassed.
Now he got his confidence low and doesn't try to kiss her again. But as the days go by, you take your chance, start flirting with her, and finally take her out. 
Now you have your chance. Same way with abandoned checkouts, you just need to have a better process and nurture the lead.
The Solutions
Let's get to it and see which solutions can help us build strong processes.
#1 Segmentation based on the RFM model
Segmentation is a deal breaker. You want to make sure you treat people differently and segment them based on RFM: purchase recency, frequency, and monetary value.
Simply put, you want to value the people who have a high-value item on their shopping list and frequently visit your website, especially if they've just visited.
On the SALESmanago blog, there are two great articles about segmenting customers and why it is so important. Be sure to check them out later:
How to tackle contact behavioral segmentation in Marketing Automation
RFM Model – How to Successfully Segment Your Database
#2 Retargeting Through Email
It might be obvious, but not all eCommerce companies are taking this problem head-on. 
You might say: So what, Romeo? We know this. 
Yes, but in fact, there are surprisingly few retailers attempting to solve the issue with one of the most effective tactics — targeted emails. Just over one in three of the top 1,000 retailers retarget shoppers with marketing email after they abandon their cart and leave a shopping website, according to Listrak. 
So, only just start writing those emails.
Here is a link with a handy resource on 7 Emails Your eCommerce Store Needs to Send Out on an Automated Basis.
#3 Mobile App For Your eCommerce Shop
This might cost you some money, but at the same time, it can make you quite a lot of it. 
Apps produce more effective results than mobile browsers throughout the retail conversion funnel, according to a Criteo research report that analyzed purchase data from 3,300 global online retailers.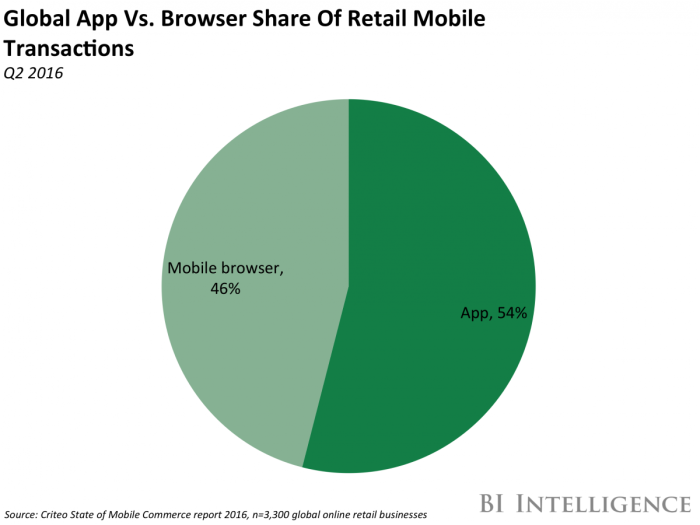 Migrating consumers to apps could help reduce abandonment rates due to simpler checkout, better site design, and plentiful engagement opportunities. 
Maybe you don't have the investment to do this now, but if you don't find it, you will slowly go down, as everything is moving towards mobile. Just saying.
#4 Customer Service and Live Chat
Of course it is important, but still, so many people don't do it.
Customer service is particularly important to shoppers. The "customer experience" is the third-most influential factor in a consumer's buying process, according to a 2014 study from Accenture.
In fact, it's nearly as important as the quality of the products themselves.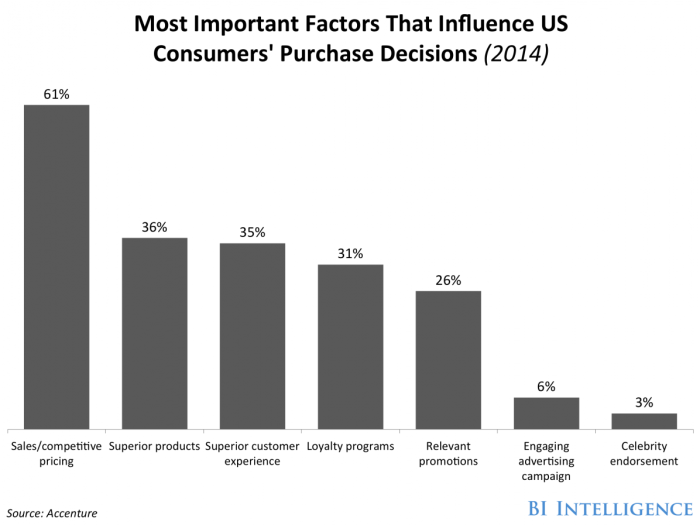 Good customer service leads to increased sales. About two-thirds of US consumers are willing to spend more money with a company they believe has provided them with excellent customer service, according to this report from Microsoft.
If you don't have a customer service team, better start putting in some extra hours, and get your wife, kids, dog, cat, cousin, Batman and the minions on some live chat. 
This is vital.
Make sure there is always someone supporting your customers.
#5 Messaging apps & ChatBots
Now we start to get more advanced. Messaging apps are one of the fastest growing engagement platforms.
Only on Facebook Messenger, we have 1 billion people, and over 3 billion worldwide have an account with at least one chat app. 
This presents an opportunity for brands to engage with consumers in a new channel. Data from Kenshoo shows that consumers' top messaging app brand interactions may point to a greenfield opportunity for retailers.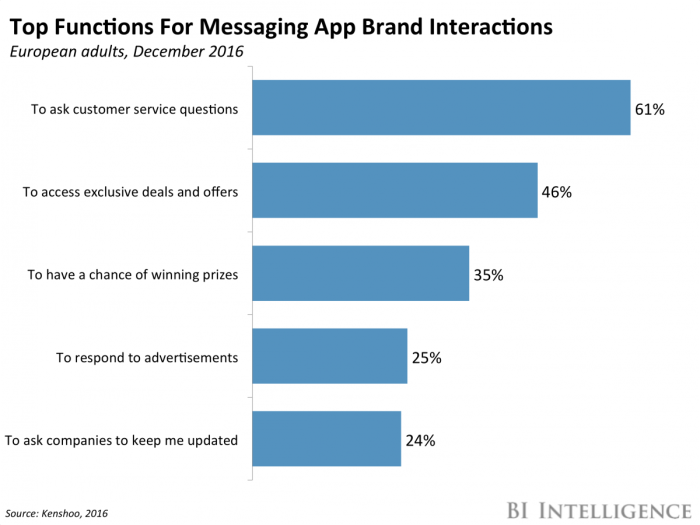 Key learnings from the chart:
61% of consumers would use a messaging app to ask customer service questions.

Nearly half would use it to access exclusive deals, offers, and promotions.

And roughly 25% would respond to advertisements or request updates via a chat app. 
Now, this is huge. It means there is a wide interaction with the retailers that can translate into sales growth. 
For example, retailers could capitalize on consumer demand by talking to already-engaged customers, like store card holders or loyalty program members, about things like promotions, exclusive deals, or updates.
Opening a new channel could push in-app sales because customers might respond to a promotion or competition by making a purchase immediately.
SALESmanago integrates with Facebook Messenger to make Chatbots. Find out how to use a chatbot to drive more sales: 
Are Bots the New Apps? – SALESmanago Launches Sales Bot for Facebook
# 6 SMS Marketing
Yes, yes, yes. The old school SMS. 
Why? Because they tend to have a 98% open rate.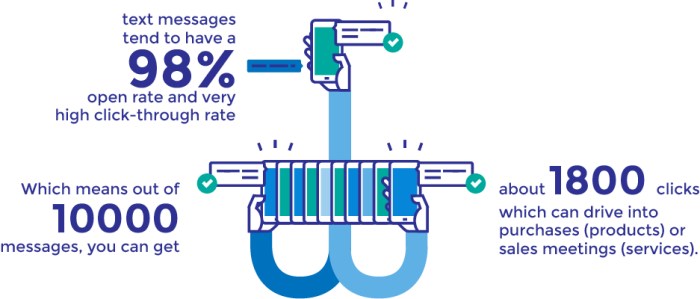 image source: http://playbook.man.digital/b2b-marketing-automation/   
To learn more, check out Is SMS marketing dead? 10 reasons why not 
What can you implement right away with SALESmanago to start recovering carts?
Step 1:
15 minutes after the ACO send a Messenger notification.
With messenger apps, you can now connect SALESmanago with your eCommerce shopping cart, and as soon as you have an abandonment cart, push a notification with the product and a small reminder to the user in Facebook Messenger.
Step 2:
Wait 2 hours and see if the transaction happens, SALESmanago will tell you if does and send an email out as a reminder. 
Step 3:
Some time after the email reminder you can start with your Facebook Ads. How SALESmanago integrates Facebook Ads into Automation processes. 
This means you have the user on Facebook right away.
P.S. When you create an audience, make sure the customer is in it. This will let you better control the process by excluding the audience with customers already in your remarketing campaign.
Step 4:
Next Day, if the customer didn't convert, send an SMS with a discount coupon. I choose to do this after a few days, as I don't want to be very pushy from the first day, especially because SMS is a more personal channel of communication. 
Step 5:
Bonus – even though we didn't talk about it before. Start using web push notifications on day 3. It's a quick and modern channel of communication, and for these reasons less likely to be ignored. Read more about web push notifications here.
Conclusions
Segment your users based on the RFM model for better email retargeting

Make sure your live chat is integrated and you are up and running with agents to answer customers questions.

Build a mobile app for your shop to save a bunch of abandoned shopping carts.

Integrate Facebook Messenger –

this

is where your customers are. 

Create a simple chatbot – you don't need any coding skills.

Implement an SMS service.

Look into web push notifications as another channel of communication.
If you want to learn more about growth hacking, lead generation and lead nurturing campaigns, marketing, and sales funnels built on data, not hunches – check out my free guide on "How To Generate and Nurture More B2B Leads".
Read more guides here.
About the author:
Romeo Man is a Business Automation Specialist and founder of MAN Digital. If you can get him on your side, you'll start attracting the right people and converting them to customers with a custom-built sales funnel built on data, not hunches. Find out how he does it at MAN.Digital, and follow him @RomeoMan