Web Push notifications are short messages displayed on your computer or mobile device screen while the browser window is active. These small, inconspicuous windows containing even less words than a typical text message are one of the most effective ways of communication with the website users. What is the phenomenon of Web Push notifications? They are short and simple, the users are not required to fill in long contact forms, they are sent in real time even to the anonymous users. This is a secret of the notifications, that are opened 30 times more often than emails.
SALESmanago has recently introduced a new feature – dynamic Web Push. Dynamic Web Push and its 'normal' counterpart vary in content. The dynamic Web Push contains the exact products, that the users have viewed or left in a cart. Thanks to that, the information sent via Web Push is personalized and tailored to the users' current interests and needs.
Examples of implementations:
1. Send recently viewed products
You can increase your sales by sending a user either a Web Push or Rich Web Push. Dynamic notification that contains a product which the user has recently viewed is sent as a reaction to the subsequent visit on the website.
2. Recover abandoned cart
There is a multitude of strategies to recover abandoned carts. You can send a regular email with product recommendation, but also Web Push or Rich Web Push. Dynamic Web Push notification with a product from the abandoned cart will remind your customer about an unfinished purchase.
3. Increase your customer interest by means of win-back campaign
There is plenty of strategies to re-engage your customers. For example, you can send a Web Push or Rich Web Push notification with the latest offer, if you observe that your customer has not visited your website for the last 30 days.
How to send a dynamic Web Push from SALESmanago Marketing Automation platform?
Go to
Automation Processes => Automation Rules => Add New Rule
Choose Action: Send a dynamic Web Push from the list of elements.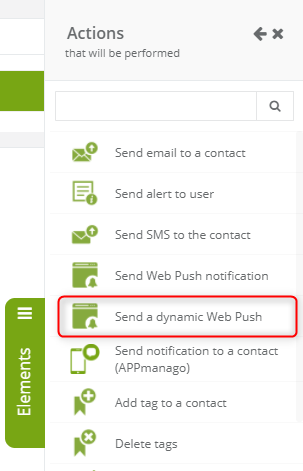 Then, go to the detailed settings of the action.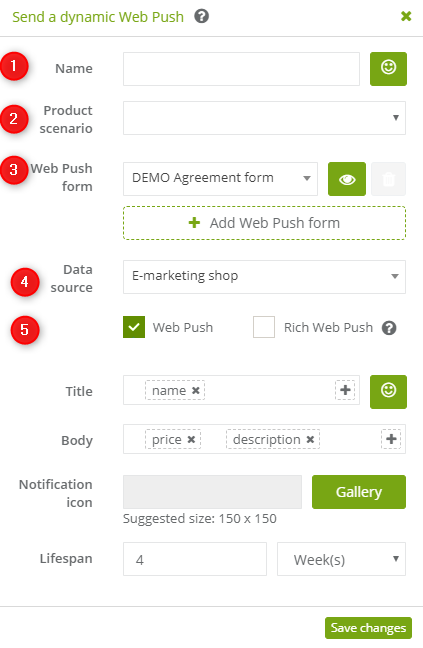 In this section you can edit the name (1) of the notification, product scenario (2) – you can choose either recently viewed product or a product from an abandoned cart, Web Push agreement form (3), data source (4) – choose the shop from which the products will be added to your notifications. You can also select the notification type you want to send – Web Push or Rich Web Push (5).
Next, you have to adjust the notification settings.
WEB PUSH NOTIFICATION SETTINGS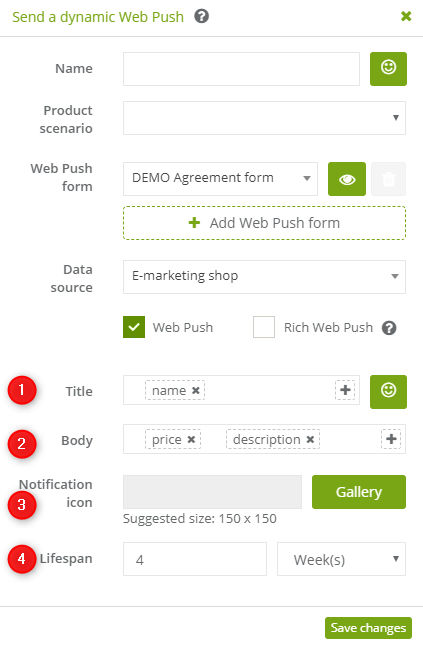 Here you will be able to edit the title (1) and body (2) of your Web Push notification. You can choose the labels with information (name, description, price, promo price), that will display in the notification and optionally type in the text before or after each piece of information that is uploaded from the XML file. You can also add simple icons and symbols to the title by means of the button on your right-hand side. You will be able to select a notification icon (3) from the image gallery. The suggested icon size is 150 x 150 px or less. Lifespan (4) – the time after which the notification expires.
When you're done, click Save changes.
RICH WEB PUSH NOTIFICATION SETTINGS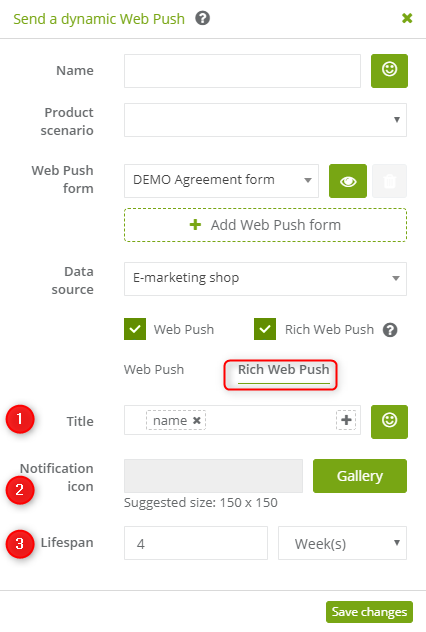 Designing a dynamic Rich Web Push is similar to creating a Web Push (described above). Here, you are also asked to edit the title (1), choose a notification icon (2) and set the lifespan (3) of the notification. What is important, in Rich Push notification the image of the product is added automatically.
When you're done, click Save changes.
Why you should implement Web Push?
you can send them without having any personal details of a customer (e.g. email address)
you can send them even to the anonymous users who visited the website at least once and agreed on receiving Web Push notifications

simplified process of providing agreement on receiving Web Push notifications compared to emails

simplicity of designing a Web Push notification – short message and simple design

implementing personalized content and redirecting a user to a specific landing page improves sales and helps to generate new leads

Dynamic

Web Push & Dynamic

Rich Web Push notifications can be sent in the same time. If a Rich Web Push notification fails to be delivered (they are displayed only on Chrome 55 and higher), it would be replaced by a Web Push

they can be displayed even if the user is not on your website
Source of images: Aimtell