"Saturday Night is the new Monday Morning" claimed The Wall Street Journal in July 2019 and it seems that intensive online buying that starts each Sunday evening and then reaches its peak the moment we start work on Monday is the way part of the people is dealing with Monday Stress Syndrome or simply speaking Monday blues.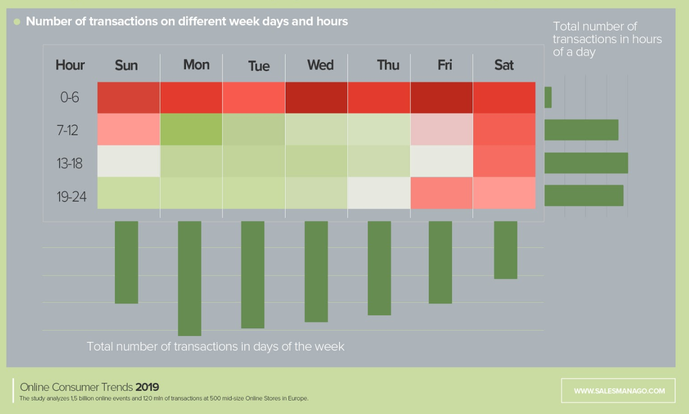 This is just one of over 20 takeaways from the recent Online Consumer Trends Study 2019 that was conducted by SALESmanago, a leading provider of marketing software used by over 15 000 companies worldwide. Its research teams have analyzed over 1,2 billion on-line events and over 120 million transactions at 500 online stores to build a consistent view of modern online consumer behaviour as well as to give digital marketers insights into crucial marketing KPI's and benchmarks around customer loyalty. 
Other interesting outcomes from the Online Consumer Trends 2019 include:
Time relevant and personalized offers work as good as discounts

Rational buyers have the highest average order values (neither impulsive buying nor over-researching does not work)

Almost 44% of buyers will buy at a single online store only once in a lifetime

Only 6,4% of customer base can be considered as high spenders who bring the highest value to a single online store.
Download Full Online Consumer Trends 2019 Study Here
About SALESmanago
SALESmanago is a cloud AI & Machine Learning powered marketing automation platform used by over 10 000 companies in 40 countries including Lacoste, Yves Rocher, Starbucks and huge number of Small & Medium Businesses. In Financial Times Fast 1000, SALESmanago is ranked  #26 fastest growing company in Europe and fastest growing European martech platform. 
SALESmanago customers build complete behavioural and transactional profiles of over 500 million customers and use this data to personalize marketing in all channels including email marketing, dynamic website content, mobile, social media, ad networks and direct sales.