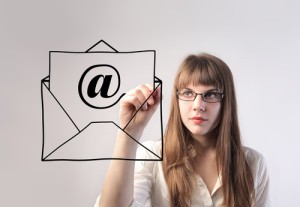 "People won't open my emails," rates umong TOP 5 marketers' pains. No wonder: your recipients get so many emails each day that they have to learn to ignore some of these. Email services as Gmail help with that, directing offers to a separate folder.
In such circumstances, marketers need to change the approach to increase open rates. Below we list 16 factors that might increase your OR. But don't treat it as a record of universal objective tips to be implemented right now. Test these options rather and see what works for your audience.
---
Switch from Email Marketing to Marketing Automation. Download Free Ebook
---
1. "From" name
What recipient sees in the "From" field plays a vital role in her decision on opening the message. Research show that people prefer to receive a message from other people, not companies. It means you might want to change your "From" name to an actual name.
Test not only whether to use actual names. Afterwards, you might see if some names perform better than others.
2. Tailor the time of delivery to individual user
Do marketers keep on asking, when should I send my newsletter? The answer is more complicated because there is one optimal time for all your customers. If you deliver the message to all contacts at the same time, you always sacrifice one group for others.
There is a solution to that, though: tailoring the time of delivery to each user individually. Some email marketing or marketing automation platforms can do it: basing on analysis of previous contact activity it establishes the perfect time for each recipient. Such solution isn't time-consuming: you just check a box, and the platform does all the work.
3. Personalize the subject
Using recipient's name is an easy way to make it sound more personal and increase open rates. But your personalization shouldn't stop at that point, rather try to tailor the whole content to the recipient's needs.
Know your audience's Digital Body Language and customize offers: show products that user already viewed or added to cart. Abandoned cart rescue emails show 193% higher open rates because they present products customers already chose.
Want to know more? Read the Definitive Guide to Dynamic Emails
4. Segment the list
Before you hit "Send", ask yourself, "For whom will that message be relevant?" Maybe it shouldn't be addressed to the whole list, but to one group, for example, loyal customers, women, people interested in a given category?
When you segment your base and send some messages to segments, your emails will be more relevant to the recipients.
5. Be specific
Use lists, proper names, and numbers. Define the problem precisely. Because 53% of email openings happens on mobile, restrict your subject line to 50 characters (or put all the significant information in the first 50 characters).
Don't waffle and don't waste the space. Know what role each word plays in the subject. Does it carry a message? Isn't it too general? Can you replace it with a more clear-cut synonym? Or maybe is it a power word (more on that below)?
6. Use the power words
Do you know to what terms your audience responds well? Do you know your customers good enough to speak their language?
For starters, choose words such as:
– Free
– You
– Sale
– Discount
But there is no universal list of terms that would work for every business. Focus your attention on the vocabulary and observe how customers react.
7. Ask questions
Subjects that pose a question engage recipients more. They sound like and an invitation to a conversation, what increases their impact.
8. Maintain high content quality
A truism, yes, but worth reminding. Poor content quality is one of the top reasons why users opt out from the newsletter.
The important parts are to have a realistic picture of your resources and capabilities. How often can you produce valuable newsletters? It's better to send them rarely than to spam audience with weak pieces.
9. Be time-specific
The best newsletters are read straight away. If recipient thinks, "I'll read it later," "later" mostly means "never." Your message must be irresistible, and you achieve that not only by being relevant but also by setting some time frames of your offer. "Only today" or "Last chance" perform great – if not overused.
10. Scrub your base clean
One of the reasons of the depressingly low OR might be a poor quality of your list. Maybe there are many inactive addresses there? Each database decays naturally at the rate of 25% per year, so if you don't run regular win back campaign to determine who should you remove from the list.
Dirty database means that you risk being marked as spam (inactive emails are often turned into spam traps) and less accurate analytics (because you don't know how many real users you have on the list).
11. Ensure there is an opt out link in your message
Unsubscribe link is a primary tool that increases your deliverability: if it isn't there, people will either mark you as spam or emotionally opt out.
12. Plan for mobile
As mentioned above, 53% of email opens occurs on mobile devices, so make sure your email campaigns are mobile friendly. At it means not only messages themselves but also landing pages.
13. Test
Run A/B testing as often as possible. Remember to test one variable at once – otherwise, you won't know what causes the difference.
The best practice is to put a variable tested in a form of the hypothesis:
"If I change ___ from ___ to ____, I'll get ____".
14. Send welcome messages
As much as 74% of customers expects such emails. They might also take a shape of welcome cycle where you explain brand values.
15. Try a pinch of negativity
Tabloids or top portals know it: negative emotions sell. If you refer to fear or anxiety, you might see a higher OR.
16. Resend
When a customer hasn't opened the message, try to resend it.