Today digital marketers (and their supervisors) can get lost in the buzzword jungle. With so many new shiny terms around, they have serious problems with deciding in what to invest to see the ROI. Mostly they consider content marketing and Marketing Automation, which seem omnipresent and at the same time very different: when content feels more creative, automation sounds more technical and scientific.
Thinking about which one to choose? You need both.
---
Internet of Things for Marketers: download free ebook
---
Content Marketing and Marketing Automation: definitions and comparison
Content marketing is about attracting new visitors to your website with valuable materials and also using content to educate the audience and build relationship with new leads and existing customers.
Marketing Automation, on the other hand, is an umbrella term for technologies that allow you to personalize your messages in all channels. It starts from monitoring contact's behavior on the website, to list segmentation, to sending 1-to-1 emails, customizing the site in real time or precise targeting of ads in social media or RTB networks.
As you can see, these two methods complement each other: content marketing means creating amazing pieces that your audience will love while automation is responsible for providing insight into your users' needs and delivering each piece to the right reader at the most suitable time. In other words, automation helps you utilize your content more efficiently and include it in complex data-based programs, such as Lead Nurturing. Automation gives you also tools to measure how they work.
See how the two methods enrich each other.
Delivering your content to the right person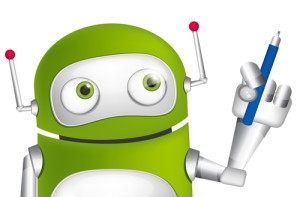 Not all your readers are created equal. Some of them are beginners; others are experts. Marketing Automation can arm you with customer profiles, so you know what they want to learn more about and what kind of materials should you be producing, but sole analytics of your whole audience is not enough. The system will also help you to spot the right content for a reader.
With scoring, MA platform can tell it from the moment your visitor enters your website. The more  she browses, the more data we get about her interests and needs. With that intelligence, the software can filter the content and find the most suitable pieces for the person who is at your blog right now. What's more important – it does it in the real time.
Delivering the content at the most suitable time
When it comes to marketing, timing is crucial. The same offer can cause entirely different results, depending on when you send it. The rule also applies to content distributions: given blog post might be very useful to a reader now, but it would have been incomprehensible two months ago.
The solution? Observe your user to know what should you suggest to her (by observing I mean tracking her online behavior and recognizing needs). When distributing content via email, use segmentation or 1-to-1 messages. In social media, use precise targeting to make sure your posts and videos reach the right people at the right time.
Turning visitors into leads
Your aim is not to make people read or watch your content but to eventually encourage them to buy. With marketing automation, you can create funnels and sophisticated campaigns that lead your visitor from the first contact to closing the deal. In other words, you ensure the progress and can track how your content helps users on consecutive stages of buyer's journey.
Smart forms and personalized pop-ups will be a good starting point to make your content deliver tangible results (leads generated).
Measuring performance of your content and optimizing it
Content marketing is often accused of vagueness and inability to show ROI. It's all about "engagement", "relationship" and "thought leadership", which are hard to measure.
But with advanced tracking and analytical tools offered by Marketing Automation, you can see precisely how your content translates into lead generation and sales.
Marketing technology also allows you to test your content – the outlook of the post, the shape of the blog or the landing pages. Sometimes a small change causes the tremendous difference.
Support for your sales team
Salespeople today strive to be assistants and consultants who actively participate in client's success. The content you created might be a useful material for them to use (for example, they can refer someone to your ebook) but also gives them insight about what their interlocutor might want.
Before a salesperson picks up the phone, she can turn to contact card in MA platform to find all data about the person she is about to call. That way the conversation will run smoothly, and the salesperson can be more useful.
To sum up
Content and Automation aren't mutually exclusive but should be applied together.
Adopting the two will help you avoid common mistakes in both approaches. Content marketers often reduce their discipline to content production, neglecting the distribution aspect. On the other hand, automation using mediocre content will only make mediocre content more visible – it won't turn in into compelling writing.
Michelle Aymold compares content marketing to brand's heart and automation to its brain. It's simplistic but shows how it works: you need both components to conduct successful strategy.