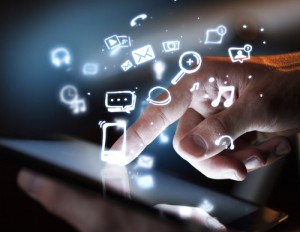 We often speak about omnichannel marketing and a need to involve mobile channel in our strategy. But such postulates are based on an assumption that desktop experience is still at heart of our campaigns, and the rest are just side dishes or desirable additions to the core actions. That's a huge mistake.
With mobile content consumption exceeding desktop usage, it's obvious that mobile becomes a key field for our marketing. But let's start with a case study.
---
Mobile Marketing Automation. Download a Free Ebook
---
Case Study: Mobile application marketing
A British supermarket chain ASDA made an app to assist consumers with the grocery shopping. Effects?
18% of purchases are made via mobile devices, out of which 90% via the app
Customers using app are 2x more loyal than those who don't use it
Shopping frequency for mobile is 1.8 times higher than desktop.
The app not only became a success, but it also undercovered significant shift their shopping style.
What do we learn from ASDA case study about mobile user's behavior?
The case study indicates interesting mobile user's behavior:
– they prefer apps over mobile browsers
– They're more loyal: because shopping with apps is simpler and more convenient! It's on the desktop of your mobile device, so using it requires little effort.
– They buy more often. When you have an app, you can start buying instantly and add products to the list so that you won't forget about them. With shorter time between the need and the purchase, resigning is less likely to happen.
Apps offer something that desktop experience can't deliver: more convenience, more personalization, and real-time marketing. That's exactly what customers need.
Mobility
ASDA case is a symptom: it indicates the change in user's lifestyle and shopping behavior, related to their smartphones and tablets. So we should talk about mobility, not the mobile – because the trend became dominant and omnipresent. Today using mobile devices is a norm, a standard, not an option anymore.
Would you say that "you must go online"? No, because we are all connected all the time. Would you brag about using social media? No, because who doesn't? It's the same with mobile: don't talk about "mobile channel" – it's the main channel for most of your users.
Jay Henderson said that due to these reasons we should abandon the term "mobile channel" and switch to "mobility." While 90% of smartphone users keep their devices within arm's reach 100 percent of the time, mobile must become the central area of marketing.
"But what I mean is, mobile is no longer the side dish to your main course marketing strategy. It's neither a nice to have nor a must have – mobile marketing is all marketing, and we should be changing both our thinking and our vocabulary from mobile to mobility."
What mobility means for marketers?
Vocabulary change is one thing. The other is transforming your thinking. Adopting "mobility" mindset triggers several consequences:
– Increased engagement: one in four installed apps is never used. Creating a great app is not enough: you need to engage your users in active exploration of the app. You will need a personalized communication.
– Real-Time Marketing: consumer wants to act instantly and hates to wait. She loves spontaneous shopping and can easily get distracted from purchase. That's why marketing messages must be precisely tailored to the context: to users' interests, to the situation, and their behavior at the moment.
– New tools for data analysis: mobile users provides you with much more data than a traditional desktop user. The geolocation information itself can tell you pretty much about her lifestyle. The relationship between consumer and a brand gets more intimate. You collect more data and have direct access to your user via push notifications. Make sure they are relevant – Mobile Marketing Automation software will take care of that.
– Customers' criticism: 36,4% of users opt out from push notifications if they don't find them relevant. In email marketing, drop out rate is almost 3x lower – 13,4%. It means that your messages must be tailored perfectly to the context. Customers get more demanding and critical when offering us 24/7 access to themselves. Also, they expect reciprocity and instant reactions so the issues they report.
– Interchannel migration: Users migrate between the channels, so make sure that you combine the data on the user from various sources: your website, an app or physical store. Your Marketing Automation platform should be able to integrate all the data for more personalized communication.
Conclusion
Mobility is not a channel, it's a lifestyle – consumer's habits and their need to buy and learn via smartphones, not via desktop.
Your strategy (and budget) should address the trend. Users install only a limited number of apps (around 26), so if you're too late your customers' mobile devices are already filled with competitors' apps, and there is no room left for you.