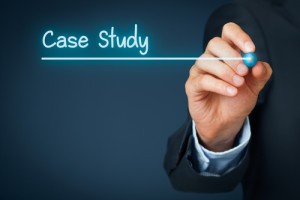 77% of B2B marketers use case studies, and 58% says that it drives results (Content Marketing Institute, 2015). At the same time, most of them declare that it's the hardest type of content to produce. To help with that, we prepared a guide, in which we break the process of creating a case study down to 8 steps, involving aim setting, choosing clients to describe, working with them, shaping the case study and promoting it.
---
How to Win Zero Moment of Truth? Download Free Ebook
---
1. Set aims
When you get down to writing a case study, you should start by asking why you do it and what effect you expect. You can achieve the following goals:
– Present how exactly the product works: sometimes people find it hard to picture themselves what your product can do for them, which problems it addresses and how to use it. Case studies educate and explain that.
– Show effects: what problem has been solved? How much it cost? What changed in the company? Case studies don't only show how the product works, but also demonstrate its effectiveness.
– Deliver social proof: your future customers want to know not only WHAT happened, but also WHERE. Companies that use your product (and want to talk about it) attract new customers.
– Generate leads: if downloading a case study requires giving you email address or registering, it can become a Lead Generation tool. Then your case studies should be directed to more advanced and motivated leads than in examples described above.
Important: Figure out what roles do you assign to case studies in your content strategy: do you want them to generate leads or to educate broad audience?
2. How to choose a client to write about?
About whom should you write? Consider not only the results given company produces, but also the client itself.
Firstly, refer to your Buyer Persona (if you haven't developed it yet, see our guide: How to Create Buyer Persona) to picture your ideal customer. Is it a big company or a local small business? What challenges it faces?
Choose a client to whom your ideal customer can relate, or aspire. Think about what would she like to read. Which business branch will be the most compelling?
If you neglect that aspect of research, you might waste your job. When your leads aren't interested in topics of your case studies, they won't read them. For example, f your target audience are small companies, and you keep on posting case studies about corporations, potential customers might get scared that your products is too expensive and advanced.
3. How to get customer collaboration?
You know what kind of client would match perfectly your audience's expectations, but it's not your client yet. What to do? Wait for it to come? No!
Try to get that client. Offer product for free in exchange for a material for a case study. You can also write CS based on 3rd party sources (already existing case studies, existing statements, your observations). After you do so, don't forget to send a link to you case study to the company you wrote about. They will be pleased that their job has been appreciated. It might be the beginning of a longer relationship.
If your perfect case study client already buys from you, ask. Offer something in return for their work and time to make it win-win situation. They also benefit from a case study: it's an opportunity to present the company to the new audience and brag about their accomplishments.
Important: Have a written consent (email will do) that the customer agrees for the case study.
When you finish the case, go through it once again to check if it doesn't show the client in a bad light. Doesn't it implicate that they used to operate inefficiently before? Be sensitive to that.
Also, get the accept for the final version before you publish it.
4.Traditional case study structure
How to summarize the case study? In such form:
[A company] uses [a product/ a feature] to [achieve sth/ solve the problem].
A tried and widely exploited outline of a case study looks like this:
– Who is the customer: the characteristic of the company and its position within its sector. It's necessary for a reader to relate to the story. To make it more expressive, add a company logo or photos of the team or person responsible (if they agree for that).
– Previous situation: what problems did they have? What challenges did they set? In that section you shouldn't get into details, choose 5 issues max.
– Why did they decide to make a change: what motivated them to buy your product or solution? What they hoped for? What were they scared of?
– How the situation looks like now: what changed? Present results in specific numbers.
– Optionally: further recommendation. What more could be improved? How can the company develop further?
5. Case study is a story
Case study talks about a protagonist who stands in front of a challenge and changes herself to face it and get a reward. It's an archetype, like fairy tales or myths. So be sure that your case study involves the stages described above:
– Recognizing the problem
– Decision to address it
– Change.
It makes your writing more compelling. But that refers to the structure. When it comes to form, be precise and concise. Nobody likes huge chunks of text.
6. Form: be clear
Your case doesn't have to adopt the same wording as all case studies ("Challenge", "Solution", "Implementation", etc.). Try the video form if you have resources and your clients feel comfortable with that.
A common dilemma is: "Should all my case studies look the same?" Well, visual cohesiveness is important, but not as important as a story. If one of your clients provides you much more materials than others, don't cut it to fit your template, but add more data and modify the pattern.
Just follow these tips:
– Use specific numbers. More numbers equal higher credibility.
– Don't use blocks of text. Choose bulleted lists and charts instead. Make your case study easy to consume.
– Make it visual. It should look like an infographic.
7. How to work with a client
The optimal solution is to combine 2 methods:
– Send client a questionnaire to fill to get precise data and numbers.
– Interview her with open-ended questions and let her tell the story in her own words. That way she can draw your attention to something you didn't notice and might be essential to your audience.
8. Promoting case study
It's a good idea to create a case study library, so all your case studies are collected in one place. It will make it easier for user to find them.
Here how our case studies library looks like:
It's vital to use the data from your CS also in other materials. It's not a closed document, waiting for someone to download it. Quote the numbers in presentations, ebooks, blog posts, webinars or podcasts. You can also make a video based on your CS and put it on YouTube when it will be easy to share and will find a new audience.
Also, promote the case study among your team. It will not only broaden their knowledge and prevent the situation in which a lead or a client asks about the solution described in your case study, and your staff doesn't know it.
To sum up
To create a brilliant case study:
– Know what do you want to achieve
– Choose the client to describe wisely so your ideal customer can relate to it
– No matter what format you choose, make sure that your case study follows the story: "[A company] uses [a product/ a feature] to [achieve sth/ solve the problem]."
– Be specific, use numbers and avoid big chunks of text.
– When collaborating with a client, use 2 complementary methods of data gathering: a questionnaire and an interview.
– Promote your case study widely and reuse the information you obtained. Consider creating a case study library.
Do you use case studies?
How do they work? How to squeeze their potential? Share your opinions in comments!
Sources
Unbounce: A 34-Point Checklist for Creating a Case Study that Converts
KISSmetrics: 8 Tips For Creating a Great Case Study