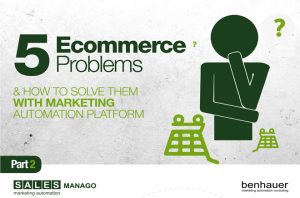 Five main ecommerce problems are:
High traffic, low number of leads

Low Sales Conversion

Low Retention Rate

Abandoned carts

Leveraging the Omnichannel
The first part of the ebook presented reasons of first two points on this list followed by ways to cope with them like a pro with the use of marketing automation platform. The second part will explain why bad things like low retention or abandoned carts happen to you, and tell you what Omnichannel actually is.
Both low retention and abandoned carts can negatively affect your sales results, and, of course, revenue.
Low retention means that your customers are doing business with you only once and they never come back. The reasons may vary – some of them are caused by your approach towards customer – lack of post-purchase service and the interest limited to the very moment of the money transfer. Another reason may be lack of knowledge and ability to leverage product lifecycle and customer life cycle. Products are consumed and customer needs change over time. From the top of my head – someone who regularly orders diapers will order them in larger sizes until the child learns to use the potty. Well – at some point the customer will need a potty. This is life, and you should put this knowledge to a good use whilst running a business.
Abandoned carts make another (and also: ghastly) marketer's nightmare – someone looks at the product, clicks the "Add to cart" button and that's pretty much it as per adventures in the store. The subject can be fixed in two ways. One of them will focus on the reactivation of those who "just watched" but didn't engage too much in the process. The other will be directed to those who have almost finalized the transaction but were distracted during one of its final stages.
Omnichannel is a separate issue. Contrary to appearances, it doesn't mean the usual use of multiple channels – it's a simple multichannel. The Omnichannel is more about the synergies created between the different communication channels, the consistency of the message and the integration of various data streams.
And that's what the second part is about. Without further ado, I invite you to download and read it!