For most of us, the beginning of a new year is a time for reflection and analyses. Industry media and blogs publish numerous summaries and projections. Acclaimed and valued experts are eager to exchange their experiences and opinions. It's a good time to put your hands on the keyboard and write something of yourself. For me, it's a good moment to share a thought that has been on my mind for quite some time.
I earn my daily bread doing PR. Working in this industry for five years allowed me to develop my own outlook on basic mechanisms and rules governing Public Relations both in Poland and abroad. It is increasingly being argued that the clear line between PR, marketing, and journalism has been blurred. And as far as developed markets are quite aware of this, the market in Poland still isn't mature enough to recognize that our competencies are now more complex than ever. Consequently, the broad range of tools we can (I mean should) be using has most likely widened multiple (few dozen?) times. This is of particular importance in the case of PR agencies which now have a strong incentive to offer the broadest possible and the most comprehensive competencies as part of a single service.
Still, however, there are tools that for long will remain strictly the domain of PR. It is us, I mean those doing the job of, e.g., media relations specialists, who know the journalists' habits and needs. It is our role to establish and develop relations with wider audiences or individual customers.
One of such tools is the good, old press release. Has it become obsolete? Perhaps. Overrated? Certainly not. It still is very helpful for both reporters and PR pros. However, we often come across a situation where the author expects the journalist to publish his or her piece in its original, unchanged version, with all the links to corporate websites and extensive product/service descriptions, etc. And as far as such activities could have made sense before 2014 (this was when Google started to severely punish website owners for duplicating content), they never had anything to do with building any relations whatsoever.
It is said that when you hire a PR specialist, you're buying his or her media contacts database. It is quite true—all of us have been building their own contacts in the media world for years. Many journalists keep doing their jobs for many years, and—even though they change employers or even industries—any joint activities or projects generally help to collaborate at a later stage. I'm quite often surprised when I see marketers who are desperately seeking extensive media contacts databases and expect results already after the first mailing. As a consequence of such actions, several hundred (thousand?) of journalists, all of the sudden, get an email from Company X on the topic of Y, which most likely makes it one of more than a hundred of messages most of them receive every day. No common history, no relation. If you're not Netflix or Facebook, nor you've found the cure to cancer, don't even expect a 15% open rate, not to mention any flow of original and worthy pieces.
Of course, we don't always have the opportunity to build long-lasting relations with media representatives. It happens that we find ourselves thrown on board a completely new project where we must handle communication as a matter of urgency. In such case, we may rely on various CRM systems or PR software, which will streamline the whole process and allow to personalize even mass mailings. The experience we've gained at Prowly has shown that even a personalized email headline can make it look as if we were writing just to this one specific person or editorial board. This way, we're entering a whole new level of communication. Even if it's our first contact.
And this is where another advantage of using such solutions unveils. Most of them are equipped with modules enabling the analysis of marketing or PR efforts. So, among them, we should be able to find and use a module for measuring the effectiveness of mailings: tracking open rates or clicks (e.g., in the case of press releases published online), and also the number of responses or bounced emails. Trust me; this is very helpful in the process of managing a media contacts database. Such knowledge will help us determine which of our contacts are engaged the most and are willing to respond to our message.
Analytical tools also allow identifying which contacts find our communication efforts completely misplaced and ineffective. In such case, I recommend reaching for AB tests and adopting some other communication styles. One of the more traditional methods would be… to give someone a call. Try calling your contact to find out why this particular contact isn't responding to our messages—sometimes, all we need to do is present ourselves as live human beings instead of anonymous web contacts. Not enough time? Pick five contacts from the pool of those who represent major media outlets and try to get satisfactory responses within 30 minutes. Do it every day for a week—these 150 minutes may result in establishing entirely new relations with people who used to ignore you earlier. Ultimately, there will also be a situation where the only sensible solution will be just to delete these contacts from your list or transfer them to your archive.
Lastly, let's talk automation for a bit. It may seem that in principle this concept should be fairly far away from Public Relations. Marketing automation solutions, for several years now, have demonstrated their validity in their basic industry—modern sales and marketing would be significantly disadvantaged if they were to lose access to solutions of this kind. And for the very same reason, PR pros seeking support in media relations and their work with target audiences are more and more willing to reach for such tools.
Properly set up automation solutions will allow for streamlining the work of PR teams, and will also help to respond to changes in the environment more swiftly and accurately (mentions and comments in media, discussions that require attention, etc.):
Thanks to automation, the system will send a personalized follow-up email to the contact that hasn't read your press release or display a reminder of an upcoming press conference;

An anonymous journalist was browsing similar materials published on your press center website? Let's display a message recommending a press release that matters the most to us.

Send out a slick email greeting when a journalist fills out a contact form on your

press center

website, followed by a carefully planned drip campaign.
The possibilities are vast, and we're slowly getting to a situation where our imagination is our only limitation here. We must remember one thing, though: it is no accident that "Public Relations" has the "Relations" part in it. For it is these "Relations" that should always be the starting point for selecting any specific measures and tools. Good luck with that!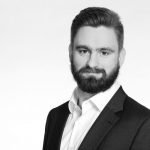 Rafał Sałak, Head of comms, Prowly.com – Bio: "That PR guy". Agency animal. Since 2015, he has been heading communications at Prowly, a PR software startup. He has worked with brands such as Spotify, Facebook, BlackBerry, NetApp, or Wacom. Fan of travels, great food and music, absorbing books and PS4 titles. Order doesn't matter, doing everything at once would be best 😊