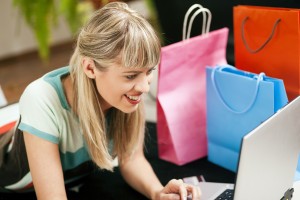 Dynamic content on the website: it doesn't get much coverage on marketing blogs, but works miracles! It includes dynamic banners, recommendation frames and pop-ups that are tailored to individual users' needs at the moment. That way you can accompany user at all stages of buyers' journey.
---
10 Ideas for Omnichannel Marketing. Download free ebook
---
Dynamic website
Have you noticed that websites resemble mobile apps? They're no longer static catalogs, but become interactive tools that help you perform tasks. With that, they become more personalized and focused on the recipient. Instead of containing information, they tailor it to user's actual situation.
Imagine an e-store. It doesn't resemble a catalog anymore! Using cookies and Marketing Automation, it identifies the visitors (a new user or a loyal customer? In the case of the latter, what did they like?) and registers their behavior. Thanks to that, we can now respond to her actions in real time. O, he is looking for trousers, so let's put some pants on the banners and side boxes! Maybe we can show trousers bought by people who have similar shopping/browsing history, people with similar tastes and preferences. In other words, you use Big Data to personalize the message.
How to do it in practice?
1. Lead Generation: personalized contact forms
When customers visit your website for the first time, they mostly aren't ready to buy. Hence your aim is not to sell at any cost, by to get their contact data. How to do it?
Use contact forms (including iframes, side bar or pop-ups), but to increase their efficiency, personalize them. Rainbow Tours, for example, monitors users' behavior and put a name and picture of the searched destination on the form. If you enter RT website and search for a tour to Provence, you'll see lavender fields. The result? The number of leads generated from the website increased by 45% (case study).
Moreover, the company makes sure that the pop-u with contact form is not displayed to people who already gave their email address – that could be annoying! The pop-up is for one group only – for anonymous users with high scoring (to prevent it from disturbing new users who have just entered the website and don't know what to expect).
Read more about efficient Lead Generation techniques.
2. Lead Generation: exit pop-up
Another way to react when a new visitor leaves your website (maybe forever)? Try to rescue this relationship using exit pop-up. As the name indicates, it's a pop-up displayed when the user shows an intention to leave your website. Be sure you personalize the message and customize the incentive. To do so, use customer behavioral data.
If someone browsed "healthy food" category, offer "20 fundamentals of healthy eating" ebook for download. If the other user browses crime novels, propose a box of 5 crime novels in a special price or invite to join the Mystery Club, a community where fans of the genre can win books and get access to exclusive materials.
Exit pop-up should communicate a specific benefit, tailored to what you already know about the recipient. And it's not only about hitting the right spot with your offer, but also about saying that you understand customers, listen to them and hear what they want.
3. Encouraging to the first purchase: banners with personalized offer
Banners embody pushy marketing, but Marketing Automation gave them new life. Dynamic banners operate on a different principle than their ancestors: they don't have any fixed content but actualize themselves for each user in real time.
Hence, when your customer Sam enters your home page, he will be automatically identified by the Marketing Automation platform and will see a banner with sensitive skin care products for man, what precisely meets his needs. Ann on the other hand, who has been browsing for perfumes, will see a selection of fragrances.
Put differently, in the e-store we can display banners or frames with recommended products, and these suggestions can be precisely customized to what given user's interests.
But, you might ask, how to we know that? How to predict what consumer will like and understand what is s/he looking for? In Marketing Automation system you build a complete user profile based on."
• Visits on the website (products and content viewed)
• Opened and clicked email messages
• Source of the given visit
• Purchase history.
With that data, you can automatically tailor the banner content to visitor's demand.
4. Increasing the cart value: upsell and cross-sell
What is the difference between leaders and average companies? Top performers can unlock the full potential of their existing customers. Instead of attracting new visitors and chasing new leads, they try to get the most of the audience they already have.
To do so, they apply upsell and cross-sell campaigns, which can also be executed on banners.
Upsell means suggesting a more expensive version of the product, premium option or extended warranty. It will succeed provided that you address the message to the right people – ones that already bought the basic version.
Cross-sell campaigns mean you increase the cart value by encouraging her to buy more products. Maybe she can buy something similar, or a complementary item.
If you have a big ecommerce (a lot of products and a lot of traffic), consider SALESmanago Copernicus – Machine Learning & AI is an advanced self-learning algorithm that analyzes the behavior of individual customers and predicts future purchases.
Do you use dynamic content? How does it work?