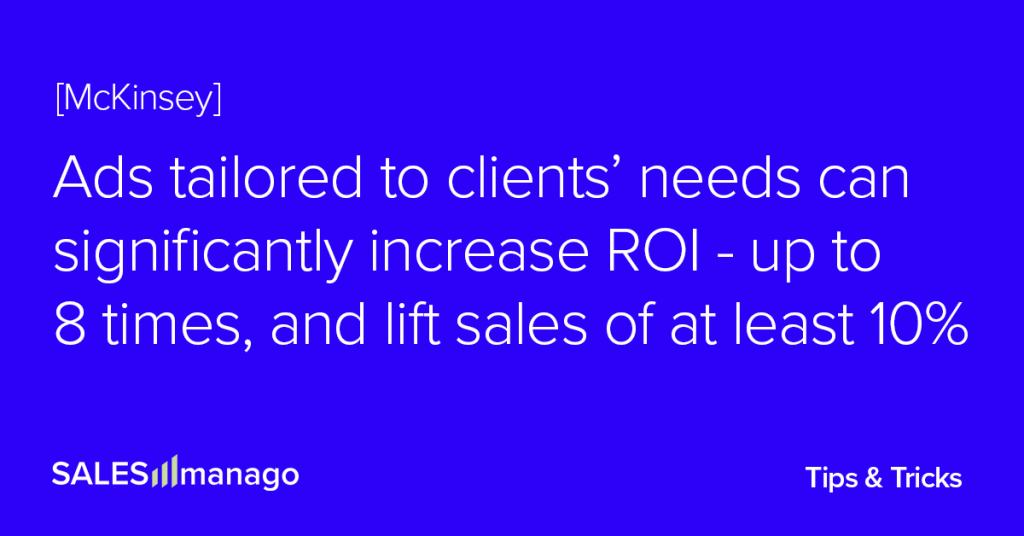 Negative Target Group is one of the less known marketing tools. Used well, it can be extremely effective. It helps you create better content, better target your ads, let those marketing dollars stretch further, and ultimately results in increased ROI. Keep reading to learn how to find negative buyer personas and what you can learn from them?
McKinsey study shows that ads tailored to clients' needs can significantly increase ROI – up to 8 times, and lift sales of at least 10%. Businesses make an average of $2 in revenue for every $1 they spend on Google Ads. This is a very good starting point for considering whether you are spending your marketing dollars well. If your ROI is below that two dollars, then you have a lot of room for optimizing your spending. There are many ways to do this, but the key here is to get your targeting right and identify your target audience.
The first step is certainly to determine the buyer persona. Once this is established, you create target groups to which you target particular campaigns and advertising creations. However, sometimes it happens that despite establishing a target group, you generate a lot of traffic but it does not translate into conversions. This could mean that the group you have chosen includes people who only seem to fit into it. You can use them as a basis for creating a negative buyer persona.
What is a negative target group?
Negative target group, negative target market, negative target persona – these are all terms for people and groups of people who, for various reasons, you don't want to target with your message because they are not the recipients of what you offer. These are the people who will come to your event, enjoy the free samples, but won't leave any valuable data nor become customers in the future. These are the people who will buy your product and then leave a negative online review because it doesn't fit their needs, even though it seemed like a good fit when they saw the ad and purchased it. These are the people who will be the most problematic customers because their expectations will not match the promise you give along with the product.
Why is it important to spot a negative target market?
One would think that a negative buyer persona is someone you would want to avoid like the plague. In a sense, this is true. However, to effectively exclude them when targeting your marketing message, it's good to know who they are in the first place. Since it could be that the negative buyer persona of product A is your ideal buyer persona of product B, it's very possible that they are in your database. And they are absolutely not personae non gratae that you absolutely do not want in your database. They're simply customers who will only buy a certain product group and have no interest in the others. Therefore, determining the negative target group for your service or product will allow you to use exclusions wisely in individual campaigns, and to tailor conditional and dynamic content accordingly in personalized email and website communication.
How do you find a negative buyer persona?
There are various methods of extracting negative buyer persona that are coming up at different stages of building a marketing strategy. Today, I will focus on how to find and tag them on the Customer Data Platform (CDP). In your negative target group you can include:
individuals who visited a website or specific URL by accident, such as clicking unintentionally on a Facebook ad. These are people who disappeared from the website without any interaction after visiting it once.
persons who are 90% interested in products from category X (read about them, visit URLs of selected categories, buy specific products), but make a single purchase from category Y (e.g. as a gift).
people who were interested in a product a long time ago, but bought it once, or did not buy it at all.
people who have relocated, so some of the location-based offers no longer apply to them and may even be annoying.
those whose needs have changed with age (or with the age of their children).
individuals who are interested in the subject matter, but not interested in the products (e.g. football fans reading news about their favorite team's rivals). This would be, for example, a group that goes to a blog and reads content but never enters a store, or a person who has gone through a Lead Nurturing cycle for a specific interest category but has not done any micro conversions.
a group that meets the target audience but has not shown any purchase activity, subscribes to newsletters but never clicks on them, or does not respond to emails with promotions.
What data to look for when creating a negative target group?
To create a negative buyer persona, you can use a range of information. The choice of data will largely depend on what insights you have, what type of eCommerce you are running, and what the main assumptions are about this anti-persona. It's certainly worth paying attention to:
transactional data,
subscription activity,
website activity,
mobile application activity,
demographic data (age, location),
declarative data,
interest-related segments and activity within them,
predictive data.
Putting them together properly in SALESmanago's Hyper Segmentation Center will give you the desired result of ready-made segments of people to whom you don't want to sell certain products or services.
How to use a negative buyer persona?
Once you have neatly tagged negative target groups for specific products, product categories or services, you can start using them to improve your marketing communications.
Area #1 PPC
The first thing that pops to mind, is naturally excluding these people from PPC campaigns. This is an area where your spend optimization is quickest to spot and most visible. Excluding negative buyer personas from individual campaigns will allow you to wisely control conversion rates, as well as increase customer satisfaction with purchased products and services. However, that's not all. After all, marketing doesn't end with Google and Facebook. Other marketing channels will also greatly benefit from isolating the negative target market.
Area #2 Email & Website
When creating email campaigns, you can focus on tailoring the message to the best buyer personas, and when selecting the group of addressees, exclude those who are in the negative target group. Such an approach will have a positive impact on your mailing statistics. It will reach only those who are interested in the product itself. This will translate into increase in such indicators as open rate (OR), click-through rate (CTR), as well as conversions supported in this channel. What's more, better targeting of email campaigns will also benefit your reputation. Fewer messages will be ignored and marked as spam.
This doesn't mean you have to suddenly create hundreds of campaigns just to target each person individually. CDP gives you the opportunity to hyper-personalize your content. What this means in practice is that each of your audience can get a message tailored 1:1 to their needs and interests.
You can also use the negative buyer persona by creating messages with conditional content. In this scenario you prepare one creation to which you can add dynamically changing elements. They will be different for different people receiving the email. It works similarly with the content on a web page. Conditional and dynamic content changes the landscape of your site so that visitors only see what interests them.
You can also highlight features disliked by the negative buyer persona in different content to keep those people from buying a product that doesn't satisfy them.
Area #3 Product Development
Another application of negative buyer persona is in the area related to Product Development. Analyzing your negative target audience, including their habits, behaviors, and transactions, allows you to find areas of your product that, while seemingly attractive, may seem difficult to some buyers. If you want your product to be more versatile, you can focus on developing the discovered areas to tailor it or creating an alternate version of it for this group as well. Doing so will allow you to increase your audience pool and create an even better product. You can also look at it from another angle: the things that idealized buyer personas love and negative buyer personas hate are also clues on the direction of developing a product that will sell even better to the chosen group.
Should you remove negative buyer persona from your contact database?
Definitely not! Negative buyer personas are often people who are welcomed in other segments of your audience. Knowledge of their existence should rather be used for even better personalization of the messages sent. Dynamic content and A/B/X testing will help with this.
Before you start tidying up your database, ask yourself what else you can do to improve the experience of these groups.Focus on wisely excluding segments from your audience rather than removing them without a second thought.
However, if your efforts have no positive effect, consider cleaning up your CDP. If you have people there who have not shown activity in a particular channel for more than 1 year, it's worth considering whether you want to continue burning through your budget on ads and text messages to them and ruining your reputation in the email channel.
Negative target group – a few words at the end
All the contacts in your database are important. Some of them convert, buy and build a long-term relationship with your brand. The rest provides you with valuable information, helps you learn from your mistakes and improve your product or service.
Negative buyer persona is a source of a lot of data that tells you what not to do. If you don't want to burn through your marketing money and you have the tools and the willingness to learn, you'll find them another fantastic way to optimize your spend and get more return on your investment at the same time.
Targeting products to the right customers will also make you build stronger relationships with them. It will further increase the likelihood that over time, your buying and paying customers will become brand advocates and your personal influencers.
Are you interested in giving negative target groups a try? Talk to your account manager at SALESmanago and together you can create negative buyer personas for your eCommerce.