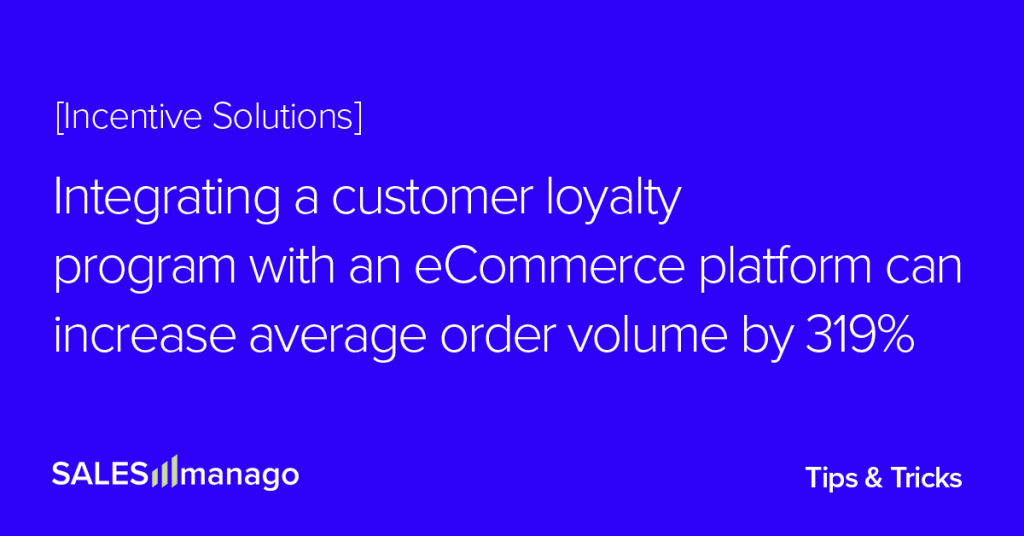 Loyalty programs are great tools for eCommerce development. They allow you to maximize the value of individual transactions, increase CLV, and positively impact consumer retention. Programs that provide a consistent experience across multiple channels work best. How do you create an effective multi-channel loyalty program? Keep reading to discover the answer!
Loyalty programs are popular in many industries. Properly implemented, they offer a plethora of benefits:
Our customers are also using this solution, combining it skillfully with marketing automation. Let's take a look at our case studies:
The Bioderma brand streamlines the customer communication process with automation in their loyalty program. They achieve over a 470% higher open rate (OR) of emails sent with the automation rules and a nearly 800% higher click-through rate (CTR) during the sign-up and gratification cycle for loyal customers. (Download the whole thing for free>>)
The beauty supply store Pigment improves its sales process. Through automation, it achieves a 400% higher OR for automated emails and a 240% higher CTR for its loyalty program. (Download the whole thing for free>>)
How can you leverage best practices and create your own high performing, multi-channel loyalty program for eCommerce?
What is a multi-channel loyalty program?
An eCommerce loyalty program is closely tied to purchases and micro conversions. Therefore, just like the buying journey of eCommerce customers, the loyalty program experience is a multi-channel one. What makes loyalty programs multi-channel is that they integrate data from different sources to include a variety of actions when rewarding with points.
The multi-channel nature of loyalty programs also manifests itself in other aspects of building the customer-brand relationship. Tracked behaviors are used to supplement consumer profiles with multi-faceted data from various sources. In the long run, this translates into strengthening recommendation and prediction mechanisms. What's more, a good multi-channel loyalty program should be accessible for customers across channels. Whether they use their account on the website or the mobile app, they should see their progress and rewards in the same way. In addition, the applied mechanisms should allow seamless jumping between different channels (scanning the QR code in the stationary store with the mobile app, providing the loyalty card number when logging in at the online store, etc.).
What communication channels are available for eCommerce loyalty programs?
As a quick reminder, it's worth mentioning the most popular marketing channels used by eCommerce , especially those that can be combined with loyalty program information. These include the following :
Website—a showcase of the store and a site of intense interaction between the brand and shoppers. There, you can place many widgets and dynamic elements that will use the information about the thresholds and rewards in the loyalty program.
Email Marketing—one of the most effective weapons in a marketer's arsenal. Although it is one of the oldest channels, it still boasts one of the highest ROI in digital marketing.
Social Media—one of the most effective channels for the distribution of marketing content, and recently also for sales.
Mobile Marketing—communication in the mobile channel is fast and effective. SMS messages enjoy a high open rate, which increases along with the level of message personalization.
Mobile application—many stores take advantage of the technology and offer their own mobile applications to customers. This is a great marketing move. An engaging app allows you to grab the customer's attention. Because the space is not shared with other stores (as it is on Facebook, for example), you can engage in a dialogue with the customer without unnecessary distractions.
Offline—eCommerce stores are often an extension or offshoot of online stationary stores. In many industries, hybrid shopping models (showrooming and ROPO) are among the most popular and are frequently used by buyers.
Why should a loyalty program be multi-channel?
Today, more and more businesses are striving to fully integrate and make the customer experience consistent across all channels. Consumers easily adapt to new technological solutions and, over time, stop noticing that something works differently than it used to. As a result, they also expect solutions to evolve to follow that experience. This is why we can observe a boom in mobile payments and a phenomenal pace of voice search development.
The speed of software that captures actions across multiple channels is also important. While it used to be the norm to collect coupons cut out of a package and wait a few weeks for a reward, now it is rather unthinkable. Accustomed to unlimited access to goods and services, as a consumer group, we expect instant gratification in most aspects of consumer life.
How do you build a multi-channel loyalty program for eCommerce?
There are many ways to create a loyalty program. They can be simple programs that count the dollars spent and award points at the appropriate time. There are also advanced programs that follow their recipients through all the channels, award them with extra points on their birthdays, add special bonuses for purchases at selected points, and, at the same time, encourage thoughtful gamification. How do you build such a program?
Multi-channel loyalty program step by step
Creating a multi-channel loyalty program should be done in stages. The more insight you have at the beginning of the journey, the easier and more precise it will be to create a working program later that will help you meet your goals.
1. Selecting a goal and positioning it in the marketing strategy
Every marketing activity of a company should be set in a broader context. In this case, the context will be a comprehensive marketing strategy. As a tool for achieving marketing goals, a loyalty program will perfectly complement and combine various online and offline activities.
The first decision is to choose the goal that the loyalty program aims to achieve. This can be an increase in customer loyalty measured in repeat purchases, an increase in CLV, an increase in purchase frequency, or even brand popularity (measured by social listening tools). Making this decision helps adjust the program to the group of recipients, ensuring a proper choice of the right tools and mechanisms.
2. Resource analysis
Before you plan to create content and promotional materials, do a proper audit of existing resources. Check what blog content, ebooks, reports, videos and gated content you already have. Write down the points of micro conversions and full conversions. Look at the structure of the purchase funnel you are working on.
3. Competitive market analysis
Many companies have loyalty programs, and that includes your competitors. It's worth investigating how they approach this topic. Select a few of your most important business competitors. You can also add non-direct competitors, such as those offering substitute goods, to the list.
Examine the channels in which these companies use the loyalty program, what they base it on, and the mechanisms they use to engage those enrolled in the program.
Note also who these companies are targeting with their programs. This can be an important guideline for future activities.
4. Target group analysis
Once you know what your competitors are doing, turn an eye to your audience. Consider different segmentations—by interest, buyer persona, spending level, CLV, and so forth.
Subsequently, decide which segments you want to target with your program. Select those that show the highest propensity to help you achieve loyalty program goals. Analyze their preferences, needs, and habits, including those of their preferred marketing channels. Based on this, you'll learn how to distribute the program's focus points, what average amounts you can expect for each purchase, and what will drive these individuals to purchase more often.
5. Marketing channel analysis
Once you know your loyalty program's primary target audience, you can take a close look at the channels they use and how they use them. Finding the touch points in each channel and identifying the types of interactions can be extremely helpful in designing additional, non-transactional reward mechanisms. What's more, it will also allow you to direct your audience to use the channels that generate the best conversions.
6. Framework design (main mechanism, rewards, thresholds, points)
Creating the program itself is not a big challenge. Even without coding skills, you can design it within minutes – especially with good initial drafting. To create a new Loyalty Program in the SALESmanago system go to the tab
Loyalty Program → +Create a new Loyalty Program
Then:
Enter basic data and select the program type to determine how points will expire.
Configure points by selecting the ranges of spent amounts and the number of points awarded for each range.
Set program tiers.
Determine the method of adding contacts to the Loyalty Program.
Save the created loyalty program.
7. Channel integration
When the framework is ready, start building it successively with activities in different channels. First, choose the ones that are most heavily used by your target audience, and gradually build a more extensive map of activities. The focus should be on two areas:
the benefits your audience can gain in a given channel through a loyalty program;
how you can get loyalty program participants to interact in a given channel.
The answers to these questions will be an indication of which functionality plug-in mechanisms tied to the loyalty program should be applied (and where).
8. Final touches (Additional rewards, opportunity to earn extra points, additional actions)
Finally, consider which other behaviors lead to the desired goal and how they can be reinforced. For example, extra points on birthdays can encourage people to provide declarative data and complete profiles. Doubling points for making purchases within a certain time frame can help with win-back campaigns, and so on.
How do you build a consistent loyalty program experience across channels?
How do you intertwine your loyalty program's core framework with all the omnichannel machinery your eCommerce business has at its disposal? The easiest way to do this is by setting up a workflow process. This way of managing automations gives you the most control over the consistency of your program participants' experience. It also allows you to efficiently monitor most of the touchpoints between consumers and your brand.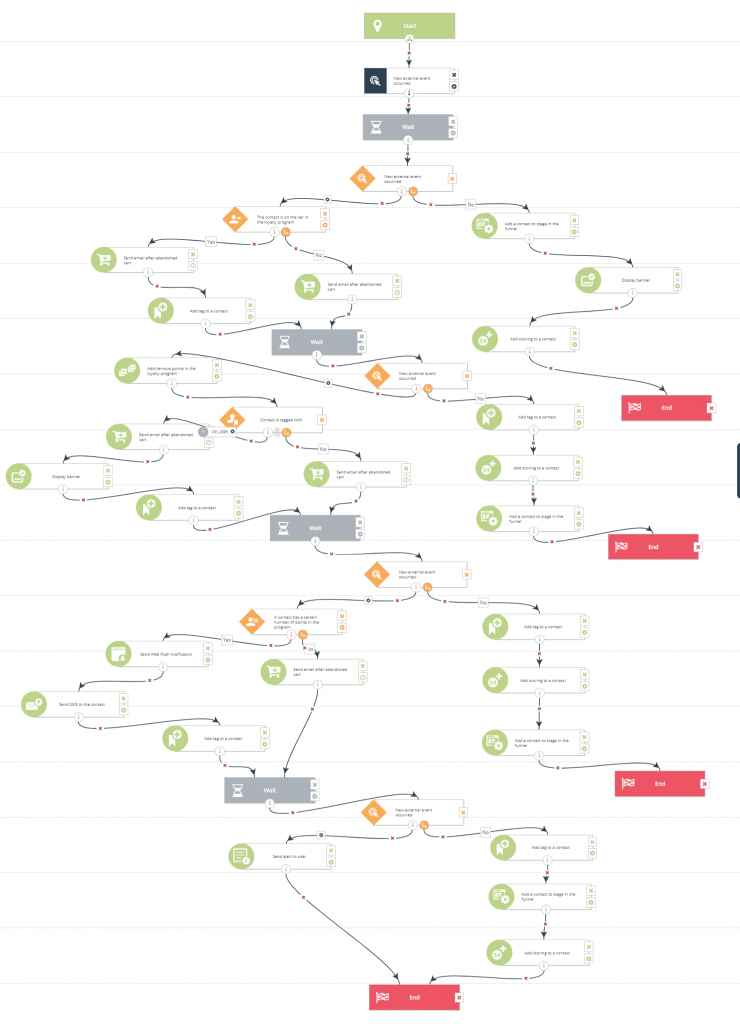 Using CDP data from the very beginning is also an important aspect. Focusing on the most beneficial segments as early as at the loyalty program design stage will allow you to set appropriate goals and implementation methods. An analysis of behavior within these groups will indicate the channels and activities with the highest conversion and purchase power.
What mechanisms can be leveraged in each channel
Loyalty program information can be successfully used in various aspects of digital marketing.
Website
There are a number of ways that you can leverage the information about your customer's level of engagement with your loyalty program on the website. In the Personal Shopping Inbox, the website visitor can quickly gain access to information linked to their loyalty program account. This makes it easier, for example, to motivate customers to shop regularly by informing them of the loyalty points they have accumulated to reach the next threshold.
Depending on the threshold or number of points, you can also conditionally display a specific:
personalized banner, or
pop-up.
They may show, for example, rewards from a selected threshold.
Another option is to send a Web Push notification where you can, for example, include the number of points a person has accumulated along with information about which threshold they have reached.
E-mail Marketing
You can include various information related to your loyalty program in the body of the email. The most obvious strategy would be to include the number of points and the threshold reached by the contact. Such a gamification effort can help encourage recipients to make a purchase and progress to a higher threshold in the program.
However, that's not all – the email itself can be targeted to specific contact segments. A segment may also be a threshold in the loyalty program. Having separate campaigns and motivate these contacts to engage in activities that will allow them to earn additional points is worthwhile.
Of course, you can also add or subtract points in the program for relevant email marketing activities. Reward opening messages and clicking links, especially those that bring the contact closer to conversion.
Social Media
Social media is also a great field to leverage information from your loyalty program. Depending on the number of points accumulated on a contact's card, you can display content to your audience that is tailored to their level of engagement and threshold in the program.
Mobile Marketing
When it comes to mobile marketing, it is mainly based on text messaging. In text messages, you can apply the same mechanisms as in emails. These will be:
information about accumulated points and achieved thresholds,
sending messages to selected segments,
adding and subtracting points for specific segments.
Mobile Application
In the mobile application you can display the same content related to the loyalty program as on the website. Only Web Push notifications will change to mobile notifications.
Offline
The offline channel is often an important part of a loyalty program. Participants often shop both in a stationary store and online. In physical stores, you can place a tablet with a personalized offer for them. After the contact fills in their data, the tablet will show the number of accumulated points and the threshold reached by this person. Additionally, based on offline purchases, you can add points in the loyalty program and migrate them between the thresholds.
A multichannel loyalty program – some final thoughts
A loyalty program uses gamification mechanisms to loyalize and activate customers. To be effective, it should seamlessly transition between channels and follow the people it targets. The use of CDP data and workflow mechanisms allows you to precisely target the segments with the highest propensity to buy. Such a combination ensures the efficient implementation of the established marketing and sales objectives.
Do you already have a loyalty program? Ask your account manager how you can take even better care of the multi-channel experience of your customers.