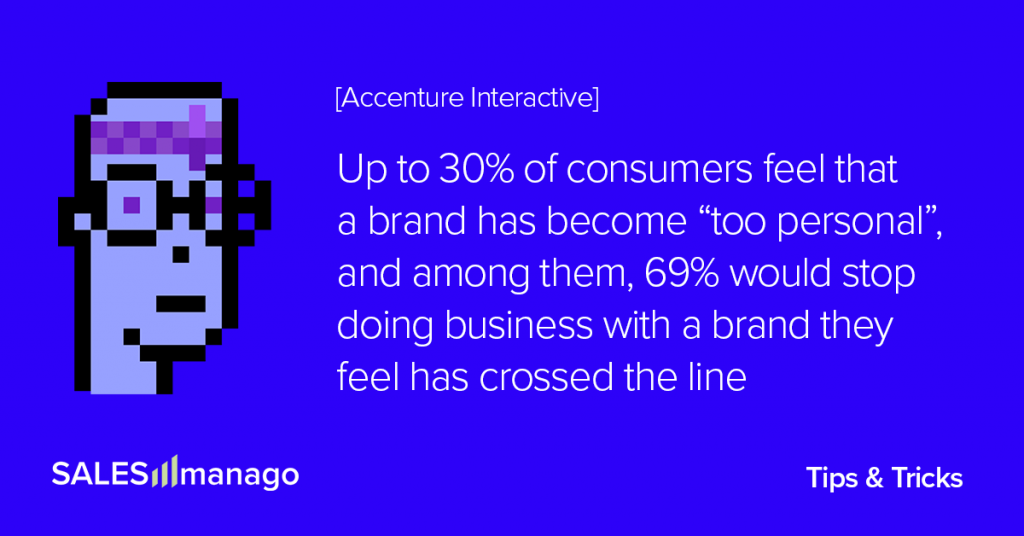 Zero-party data is the best way to engage audience groups to interact with your brand. The information your customers give you about their preferences, interests, or demographics is the perfect foundation for marketing activities that will really matter to them. Here are 5 robust examples of how to turn zero-party data into marketing gold.
Currently, marketing efforts are an ongoing balancing act between irrelevance and invasion of privacy. As the Accenture Interactive Research showed, nearly 30% of consumers said a brand had become "too personal"—and 69% of these consumers would stop doing business with a brand or reconsider their relationship to the brand because of this. The same study brings top 5 creepiest advertising techniques as cited by consumers :
Receiving an ad for something you talked about near a voice assistant but never searched for (73%)
An ad that follows you across devices (69%)
A chatbot that has access to your past online shopping (not just purchases) (66%)
An ad on a social media site based on a recent shopping visit on another site (66%)
A chatbot that has access to your past customer service interactions (64%)
Events over the past few years, including the much-publicized Cambridge Analytica scandal of 2018, have forced brands to examine their data ethics, and consumers to rethink the way they use the internet and question online security. Legislation like GDPR came into effect as a natural consequence, followed by a gradual shift away from third-party cookies that enabled such actions.
Challenges of a world without third-party cookies
Many ad publishers relied on third-party cookies to reach potential audiences on ad networks. However, those days are slowly coming to an end. Wild marketing based on not-quite-ethically-sourced information alienates customers from brands and causes a huge drop in trust. It may seem like a no big deal, but bear in mind that acquiring a new customer is incomparably more expensive than keeping an existing one. This is just the beginning of the changes that the future holds. What challenges will it bring?
Some 88% of marketers say collecting first-party data is their top priority for 2021, according to a Merkle study. The report also points to the need for marketers to increase zero-party data acquisition. (Merkle 2021 Customer Engagement Report)
What's more, as many as 93% of consumers agree that it's important that every interaction they have with a brand is excellent, whenever and wherever they make a purchase decision. (Accenture Interactive)
Other digital marketing challenges cited in the reports include:
transparency about how data is acquired and used,
providing a consistent digital experience,
maintaining a comfort level of interaction similar to that with an experienced salesperson.
Read 20 expert tips on marketing in a post-cookie world >>
What is zero-party data?
Zero-party data is a term coined by Forrester that refers to all information about oneself that a consumer knowingly, actively and voluntarily provides to a company. "'Zero' party data is gold… When a customer trusts a brand enough to provide this really meaningful data, it means that the brand doesn't have to go off and infer what the customer wants" – said Fatemeh Khatibloo, VP i main analyst in Forrester. The concept seems to have hit the bull's eye!
Why does zero-party data allow you to better engage consumers?
The huge advantage of zero-party data is the certainty it gives brands about a consumer's intentions for an interaction. If someone provides personal information, it means they are consciously interacting with a brand, and they want to find something that matches their preferences.
Gradually building up each consumer's preference sets and modifying them in real time at their request strengthens the relationship with the brand.
Examples of zero-party data
When collecting zero-party data, you can ask your audience just about anything. Of course, the right thing to do is to make the information relevant to your business. Examples of data in this group include:
name,
gender,
pronouns,
language,
interests,
child's age,
dog's name,
favorite color
clothing size,
ailments,
company,
phone,
city,
favorite brick-and-mortar store,
preferred communication channel,
preferred frequency of communication,
product categories.
This is but the first step. The data will change depending on the industry or type of business. The bottom line is that the customer makes a conscious decision to share it.
5 examples of how to use zero-party data to create better relationships with your audience
Here are some examples of how you can strengthen the relationship with your audience using zero-party data.
#1 Campaign targeted at users who prefer Web Push channel
Target audience description: This group will include people who at any point in their relationship with the brand:
have agreed to receive Web Push notifications through a consent form,
have indicated Web Push as their preferred channel.
How to identify them: You can ask about one' s preferred communication channel in a number of ways. A simple method is to prepare a survey, which can be displayed as a pop-up on a website or sent in an email campaign. The information obtained this way can be passed to SALESmanago as a detail or tag and then translated to a proper, detailed segmentation.
Why it works: Such segmentation allows you to prepare, for example, a special offer for a selected group of recipients and send information about it through the channel they find most convenient. It increases the chance that they will decide to use this opportunity. What's more, it will strengthen their belief that you are listening to what they say without overstepping their boundaries.
#2 Campaign for users interested in kitesurfing
Target audience description: This group consists of users who indicated kitesurfing as an interest in surveys, or indicated the kitesurfing category as a product preference.
How to identify them: You can ask about interests during registration, for example, by attaching this question to the form.
Why it works: Particular sports are quite specific, as they require certain equipment and often show a certain seasonal character. Considering these factors in your recommendations, marketing calendar and layout allows your recipients to feel special. They will know that you recommend products just for them according to your best professional knowledge. A campaign aimed at such a specialized group can and should be further personalized and stand out. Prepare colors, banners, and content specifically with kitesurfing fans in mind. This personalized approach is reminiscent of a professional advisor in a sporting goods store. It will certainly translate into a good perception of the store by customers, followed by their loyalty and sales results.
#3 Campaign for Berlin-based entrepreneurs
Target audience description: To be in the group a contact should meet 2 conditions:
working in your own company,
company location: Berlin.
How to identify them: You can ask about the company, city and other data in the progressive form on the website. Using SALESmanago filtering you can easily select a group of people that meet both conditions.Why it works: Extended waits for materials ordered for a company can impact its operational efficiency. A location-specific offer will allow you to target the right people with a campaign containing products that are available in the specified location and can be easily transported. In separate campaigns for other cities, you can present a regional offer linked to the stock of local stores. This is beneficial for both the company and the recipients.
#4 Campaign for people with shoe size 35 interested in stilettos
Target audience description: Different people (not just women) can wear high heel shoes. So in this case, you can go by gender, shoe size and product preference, or preference and size alone.
How to identify them: You can ask the user about gender early in the relationship with the brand, and the size and favorite type of shoes can be asked in the progressive form. The actionable combination of all conditions is possible through the filtering available in SALESmanago (user with segment X, also having tag Y and detail with value Z).Why it works: Certain groups of items are harder to sell than others. This applies, for example, to shoes in unusual sizes. Items of this kind stay in stock, generating costs and taking up space. Prepare a special offer for such situations for people who may be interested in buying the unusual product. If you add some kind of gratification, users will surely react with great interest to the offer sent to them, at the same time having a feeling that someone is taking care of their needs.
#5 Campaign for new moms in Eindhoven interested in sleepwear, for 3-month-old babies
Target audience description: This is a fairly narrow audience. It will include women who have recently given birth/adopted an infant who is 3 months old at the time of the campaign and live in a particular city.
How to identify them: You can ask for information such as your child's gender, city, age, and favorite category in a progressive form on the website, or a survey sent by email.
Why it works: A precisely targeted campaign to a narrow group of users will allow you to reach a smaller, but very interested audience. This will significantly increase the chances of conversion. Of course, in addition to the tailored offer, you can also personalize email content by, for example, including the age of the child and offering collection of the order in selected stores in the customer's place of residence.
Engagement built with zero-party data: a few words at the end
The aforementioned Accenture Interactive report provides a simple summary of what clients are dreaming about:
What many consumers ultimately want is for digital advertising to have the same social intelligence as a familiar salesperson in their favorite store—one who can tell from the expression on their face that they're in the mood to splurge or that they're in a hurry because it's a Tuesday night and they need to get home to dinner. That salesperson has the social intelligence to avoid certain missteps, such as suggesting the consumer might need a new bathing suit for an upcoming Hawaiian vacation that the salesperson overheard the consumer mention. The brands that approximate that human touch best (using automation) will stand out and win consumer loyalty. Brands that can't pull it off will feel sterile.
Zero-party data allows you to achieve just this level of personalization. What's more, they make all actions ethical and based on the informed consent of the customer. This is the right direction for marketing. As you can see, it provides very interesting and wide possibilities for personalizing the message that have a real impact on sales results. If you are interested in applying similar personalization in your eCommerce, be sure to reach out to your account manager at SALESmanago.