55% of marketers see the highest ROI from all channels in email. This is possible, among others, thanks to continuously growing email optimization capabilities, based on advanced analytical data delivered in an increasingly accessible way. Learn how to utilize the data from the new Email Marketing Dashboard in SALESmanago and increase your email deliverability and the effectiveness of your email campaigns.
Learn what is the best time to send your campaigns
The effectiveness of eCommerce mailing campaigns is strictly dependent on when your customers receive your messages. Would you believe that just by sending your mailing on the right day of the week you can improve the value of purchases even by 89%? It's the difference between revenues generated from email campaigns sent on Thursdays and those sent on Saturdays, according to Online Consumer Trends 2019 research conducted on 500 European eCommerces.
It's good to know the trends, but it's even better to be able to adjust your communication strategy to your customers specifically. In SALESmanago you can always check their behavior at the Contacts' Activity tile, which shows what are the days and hours of your customers' highest activity. Sending emails at that time will drastically increase the Open Rates of your messages since customers are more likely to open your emails then.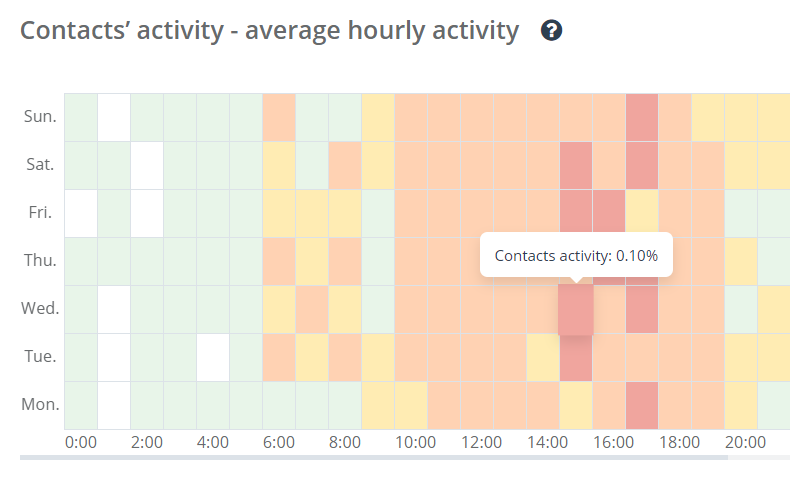 Assess the quality of your emails thanks to the engagement analytics
It's obvious that tracking open rate and click-through-rate is a must-do for every marketer if they want to be able to track the effectiveness of their campaigns. However, one of the measures that often seems to be forgotten, is the attractiveness of the email content, which can be measured with the CTOR metric (Click To Open Rate). It shows how many recipients who open your emails also click the included link to get more information.
Thanks to the Engagement tile in Email Marketing Dashboard you are able to easily verify what percentage of your recipients opens emails and what percentage of those who opened them also clicked the included links. If you want to keep track of the quality of your emails' content, you can easily verify these numbers and see how they change over time.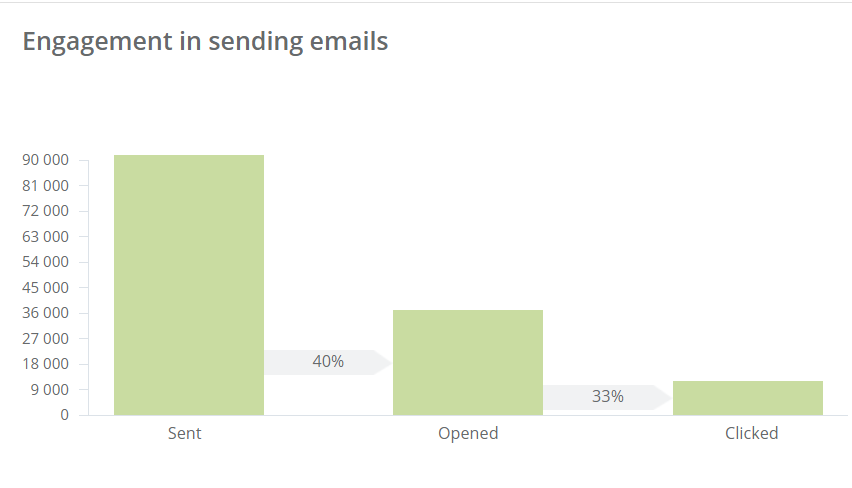 Find out what to avoid to increase the subscribers' retention
There could be multiple reasons your contacts opt-out from your mailings, and finding out why would be a good idea, if you want to reduce churn and increase customer retention rate. While opting-out, users are given an option to provide the reasons that made them do so. You can simply preview these numbers and learn what you have to do to retain more subscribers in the future.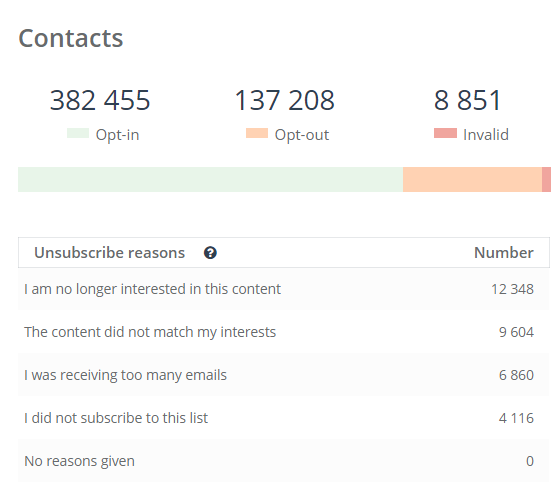 Take care of your reputation and deliver more emails
Email deliverability is mostly based on the technical configuration of the sending infrastructure, and not just on how creative you are with your content and design. 85% of emails are never opened, very often because they fail to be delivered at all. The reason for that may be badly configured sender's domain. Configuration of SPF and DKIM records are crucial for Inbox Service Providers such as Gmail, Yahoo, etc., because it confirms that SALESmanago is allowed to send emails from the address in your domain. You can now check if they're set up correctly. You can also easily track your current sender domain reputation, which enables you to react immediately if it drops after one of your campaigns – verify then what may have caused users to mark your emails as spam.
There are other significant aspects that can impact your reputation level in a good or a bad way. They've all been comprehensively described in the "Kamasutra of eMail Marketing Deliverability" ebook.
marketing automation
marketing automation