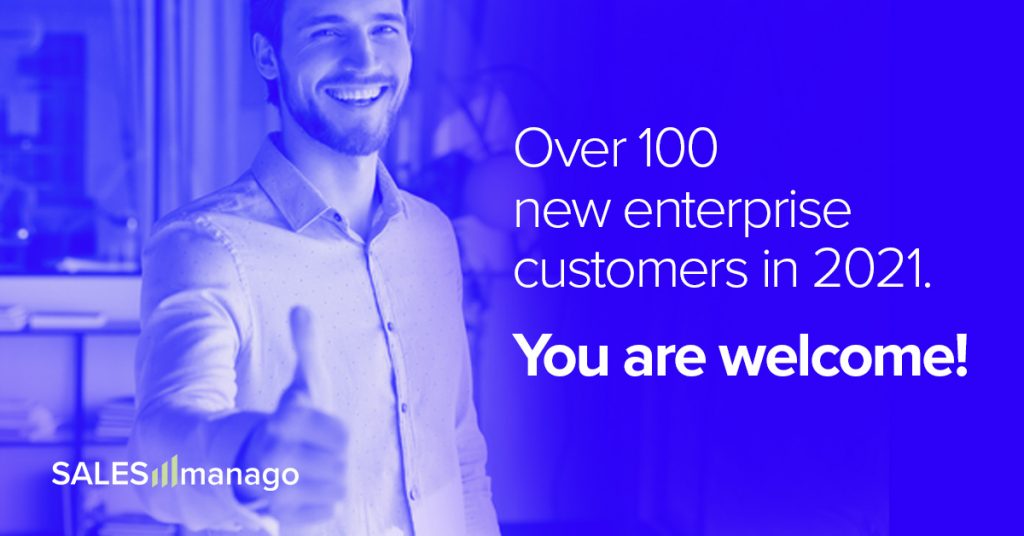 SALESmanago continues high growth in the mid market enterprise segment and in the first half of 2021 has acquired over 100 new customers such as Burger King and Havaianas, TYR, The Body Shop, Wurth and AIWA. The key reasons customers choose SALESmanago include best on the market Time-to-Value (2 months) and seamless natively integrated execution channels powered by the world class Customer Data Platform being an integral part of the system and harnessing zero and first party data.
A great alternative on CDP and Marketing Automation market
SALESmanago brings the idea of 1-to-1 commerce to life by putting the customer at the center, aiming to take their shopping experience to a whole new level. With a wealth of implemented features such as AI-driven search engines – Voice and Visual search, hyper-personalization and segmentation, Customer Loyalty Program, and Customer Preference Center, SALESmanago is getting more and more globally recognized companies to choose it over its competitors.
The codeless approach enables customers to see measurable results within a few days of implementation. Without the need for IT specialists or Data Scientists, the tools provided by the company bring immediately visible improvements in customer retention, minimizing the risk of churn and enhancing the Customer Experience.
The end-to-end nature of the platform provides a holistic view of the system, natively built from start to finish. As a result, a complete functional solution is delivered, without the need to source anything from outside. Here are some of the key benefits of using SALESmanago:
Conversion rate is one of the most important metrics in the e-commerce industry. 40% of marketers cite a CR of less than 0.5%! Working across all execution channels allows to increase this rate.
82% of marketing executives would consider leaving their employer if they felt the data approach was not ethical. It's a good idea to minimize the risk of churn by letting customers decide what personal data they share, which they want to save and how it will be used for multichannel campaigns. Data collection ethics first!
70% of Commerces don't allow subscribers to select how often they will be emailed. Breaking this vicious circle can be done by harnessing the full potential of SALESmanago's Customer Preference Management Center.
73% of marketers believe a CDP will be critical to their CX efforts. To become number one, companies switch from CRM and DMP systems to a platform spiced with artificial intelligence and stripped of the need to code anything!
43% of customers spend more money at brands they're loyal to. Offering a unique program to keep customers close is definitely worth the effort.
The most memorable new customers
Let's have a quick look at the new brands that have chosen SALESmanago in the recent months.

Burger King
This company doesn't need to be introduced. Their grill has been burning since 1954 and their food's unique flavor has been delighting taste buds all over the world.

Aiwa
Japanese concern being around since 1951, Aiwa is the pioneer of audio and video accessories. Its mission is to be the best price-value combination of entertainment technology for people.

TYR
A well-known American brand. They provide triathletes with the fastest, most advanced products with awesome performance prints. Established in 1985, the company aims for greatness and high quality.

Würth
A family business was founded 75 years ago in Germany. They are the world market leader in the sale of assembly and fastening materials with a range for craft and industry comprising over 125,000 products.

The Body Shop
Their story began in 1976 in England. For over 40 years they have been breaking the industry rules. They promote a natural and cruelty-free approach to cosmetics.

Public.gr
The biggest Greek e-commerce providing technology and entertainment products. They inspire every visitor with the wide range of products they offer

Deportivo Alaves
Spanish football club based in Vitoria-Gasteiz. One of the most successful teams in the Basque Country following Athletic Cluband Real Sociedad de Futbol.

Kornit Digital
Another American company. The global digital printing company that develops, manufactures and markets industrial printing technologies for the garment, apparel, and textile industries
SALESmanago today is used by 2500+ midsize companies and large enterprises, in 50 countries, including Starbucks, KFC, Burger King, Vodafone, New Balance, Victoria's Secret, and many more.
Go to www.salesmanago.com to join SALESmanago partner's network, request a demo or start a free trial. SALESmanago offers a 2 month free Proof of Concept with full support of CX & Strategy consultants.