For the last 7 years, Europeans willingly were buying products online from foreign sellers. Germany, Austria, Lithuania, and Slovakia proved to be the most convinced of cross-border trade. Polish people seemed to be more enthusiastic about e-stores in their homeland's market. What can have an impact on decisions regarding the selection of products from foreign sellers?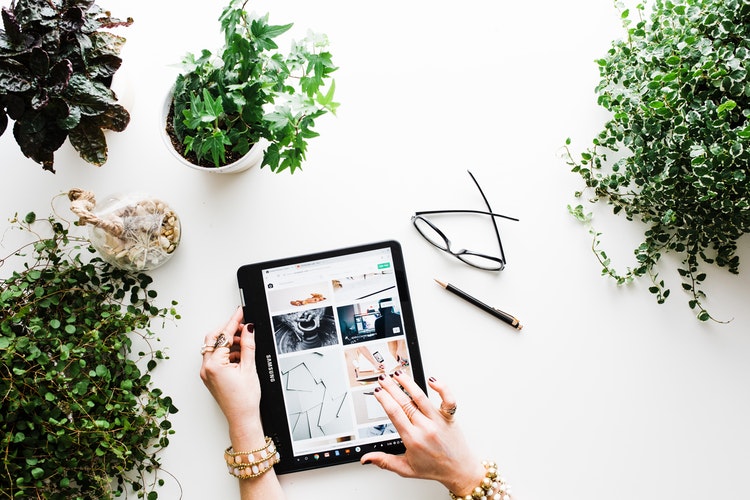 The data published by Eurostat presents an upward trend in online shopping for foreign sellers in individual countries over the last 7 years. Statistics cover the percentage of European society aged 16-74 who used to use a network for individual purchases from foreign sellers (both European and from outside the continent).
The leaders in online buying from foreign sellers in 2011 – 2017 turned out to be the western European countries.
In Germany, for the last 7 years, the percentage of people using the Internet to buy from foreign stores has increased by 14% among women and 15 % among men.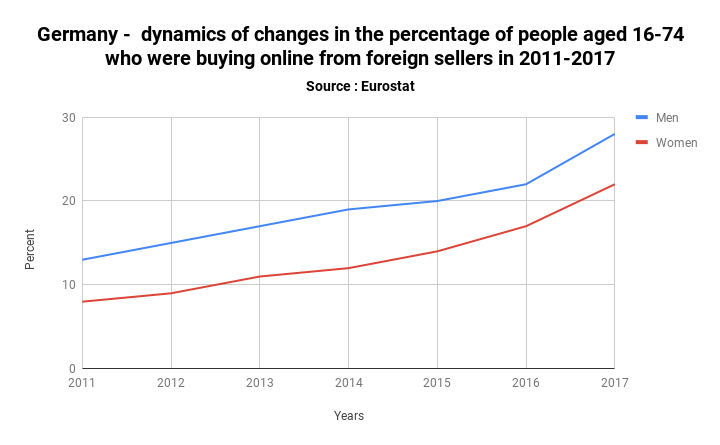 In Austria, 14% more  women and 13 % more men made a purchase from foreign sellers.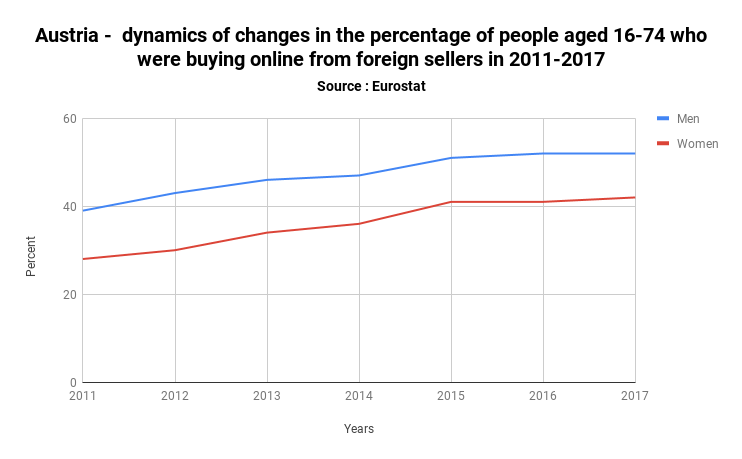 11% more women and 9% more men have decided to choose foreign market in France.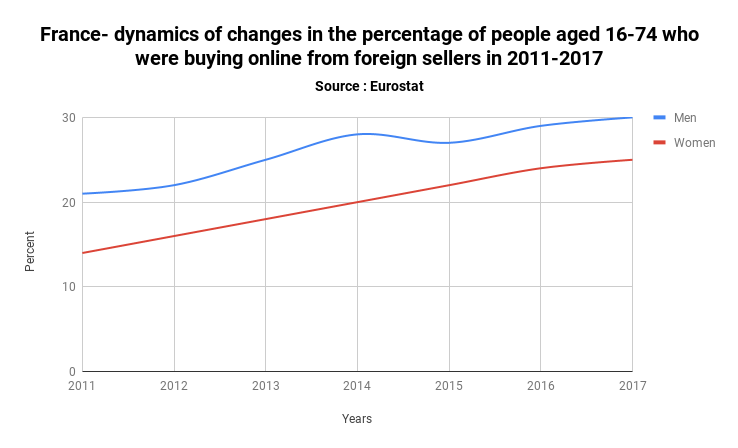 High increase in the percentage of online buyers from foreign sellers was also noticeable in other European countries.
In Slovakia, for the last 7 years, the percentage of people buying online abroad has increased by 12% men and 17% women by the end of 2016. In 2017 there was a decrease of 3 % among women.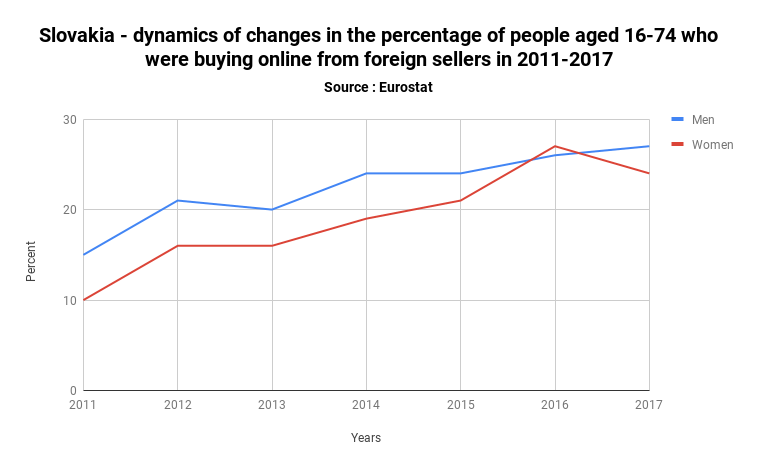 Lithuania also became more willing to buy online from foreign sellers. Since 2011 the percentage of women buying online has increased by 13%, and men by 15%.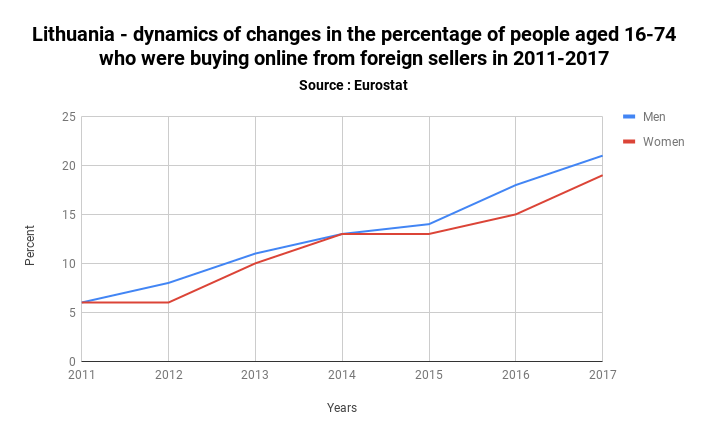 In Poland there was smaller increase in comparison with the western countries of the EU. Since 2011, there has been a modest increase by 4% among men and by 3% among women. This confirms that Poland was characterized by lower dynamics of changes.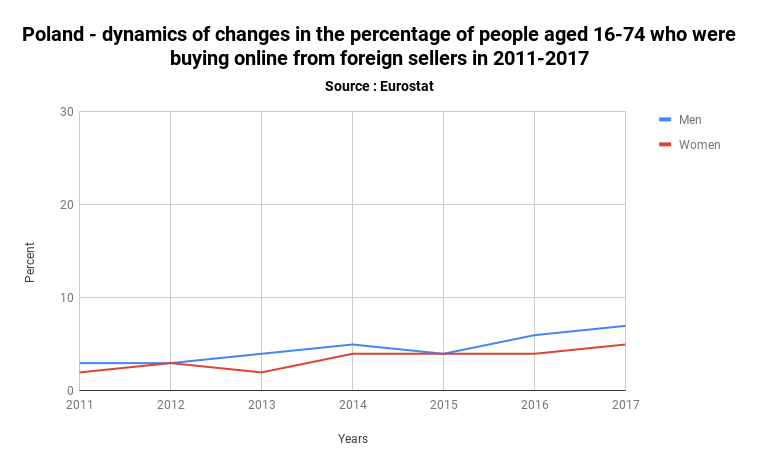 The above data shows an increase in the percentage of people buying online from foreign sellers in individual European countries. Where does the tendency to choose products from foreign sellers come from? What about economic patriotism?
The more, the better
Europeans want to buy online from foreign sellers because of a wider range of stores and a larger selection of products. When the consumer has a lot of opportunities, the chance to find the things he needs is bigger. For this reason, Europeans are open to the offers of foreign stores and more willingly purchase products from them. Thanks to this, they drive a cross-border trade.
Limited availability of brands
A larger range may be associated with having unique products or products which are unavailable on the domestic market. This has an impact on purchasing decisions because consumers are more likely to order a product from a foreign seller that suits their expectations. It's much easier than looking for a replacement on the local market. The main reason of this is the impact of trust.
Impact of trust
Consumers are aware of their rights, that's why the confidence in cross-border trade is increasing. Being more informed and familiar with the rules allows consumers to make purchasing decisions without fear that the purchase will not take place or fail.
Cost-effective shopping
The price can also be an important factor in choosing products from foreign sellers. Buying from a foreign store can be most profitable because of exchange differences. Saving money is a strong side of a cross-border trade. The only problem may be the cost of shipping and returns, which is not always free and can cause resignation from the purchase process.
Public opinion
The Internet is a magazine of information and opinion where we are looking for answers to the questions that bother us. Positive opinions about the product or its delivery is the main factor in convincing consumer to purchase even from a different country without fear.
Above charts presents that the cross-border market has increased over 7 past years in European countries. The choice of products from foreign sellers can be justified by such factors as price, larger assortment, trust or opinion of people. Consumers are not afraid of purchasing products from foreign e-stores. They have been doing it even more willingly every year. Economic patriotism is not so important when there are opportunities to buy a variety of products cheaper, without worrying about the entire purchase process and delivery.
"The main factor here seems to be the general level of the openness of the society and level of trust, which in Germany for example has for a long period of time has been on very high level. The other factors could be growing economic unification of the European market and the possibility of taking advantage of lower prices" – says Greg Blazewicz, CEO & Founder of SALESmanago fastest growing European Marketing platform for eCommerce.
Shopping with SALESmanago
More often online stores are offering clear, personalized messages that lead the customer from entering the website to the time of purchase. Due to this, time-consuming trips to the stationary store are no longer necessary.
Convenient online shopping without unnecessary information is now possible thanks to the SALESmanago Marketing Automation system, which automates the process of acquiring a new customer. SALESmanago offers solutions for e-commerce that increase conversions and sales effectiveness. SALESmanago, like a consultant in the premium store, contributes to providing personalized information to the buyer.
SALESmanago functionalities like automatic, dynamic e-mails, RTB advertisements adjusted to behavioral and transactional data, dynamic recommendations, rescuing the basket or progressive pop-ups guaranteeing the adjustment of offers to clients. The decision of purchase from a local or foreign seller is not the most important. We should not forget about the fact that the key to success is building a relationship with a potential customer. That's why SALESmanago system providing automated, personalized marketing is a perfect solution for e-commerce.