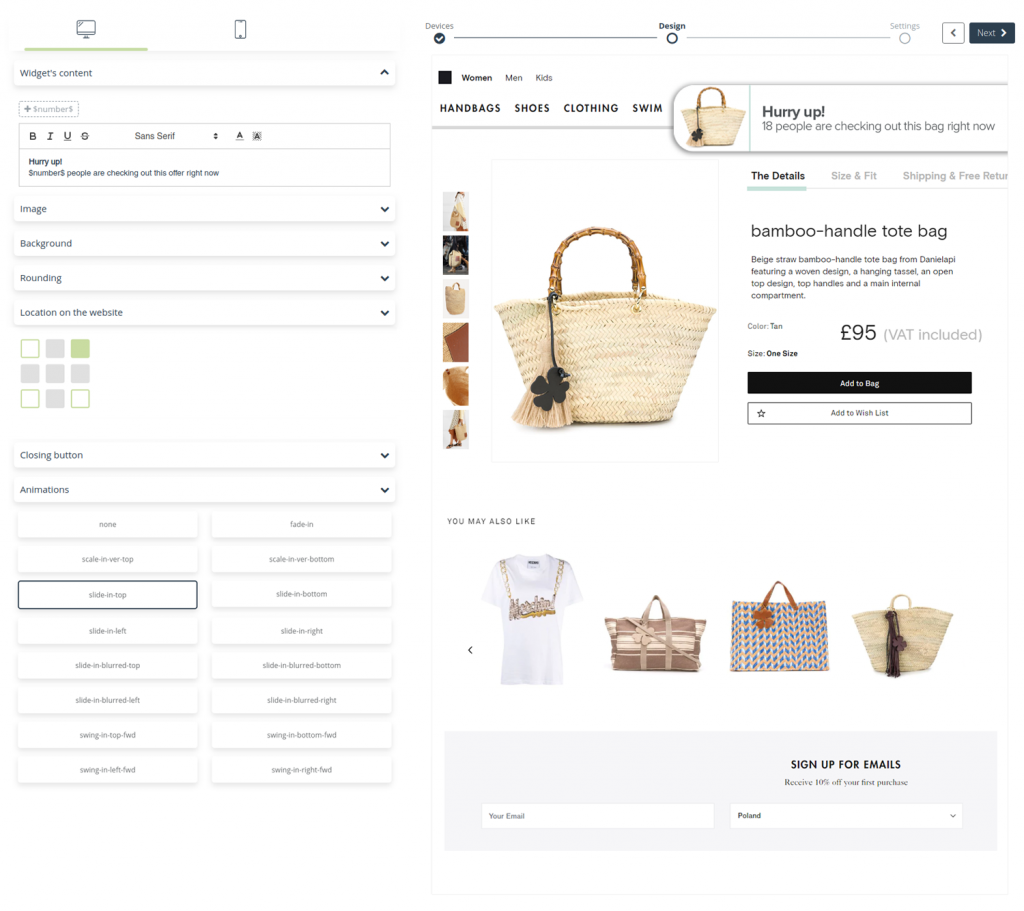 Did you know that 83% of buyers prioritize the opinion of other customers over advertising? Moreover, 77% of visitors to your website won't make purchasing decisions before reading other user reviews. Amazon makes it easier for customers to make purchasing decisions by showing a cross-section of positive and negative opinions, while Booking.com informs viewers about the number of people who are also viewing the same offer. Take advantage of the most effective technologies and increase conversion in your ecommerce.

Start using Social Proof and:
encourage potential customers to purchase products by displaying notifications indicating other customers' interest in this product,
use Bandwagon effect to incentivize Customers purchase need by showing them that other people also want to buy products they are browsing,
display personalized and dynamic content on the website inside of the social proof widget to add more incentivizing context,
inform visitors interested in a specific product on:

the number of people who are watching this product,
the number of people who have bought this product,
the number of people who have decided to add this product to the basket,
analyze the sales generated directly by displaying social proof widgets.
Create your own Social Proof widget:
Wizard allows you to choose one of three basic types of widget depending on the information you want to present.

visits – your widget will display the number of people who are watching a specific product,
cart – the widget will show you the data matching the number of people who have added this product to the shopping cart,
transactions – last type of widget shows the number of people who actually bought the product.
You are able to define the time period from which the data should be counted and then presented in the widget (e.g. show product displays from last 24 hours). If you already created a specific type of widget, select the device on which it should be displayed. We can specify whether we want our widget to be displayed only on the desktop or phone, or just on both types of devices.

At any time, we can view a detailed analysis of a given Social Proof widget, in which, after selecting a period of time, we see data such as the number of all displays or a diagram showing the number of displays for each day separately. In the analysis panel, we can also preview the appearance of our widget.
Discover all the capabilities of Social Proof widgets.
How can you use Social Proof widget:
Higher conversion
Increase the number of finalized transactions by using Bandwagon Effect – showing potential customers' level of interest of others not only increases the need to buy a given product but also shows that a certain product may soon be out of stock, which makes it a more desirable commodity.

Personalized offer
Present relevant information to everyone – increase the involvement of visitors to your website by showing them information on products they are interested in. By taking an individual approach to a potential customer, you increase the chance to finalize the transaction.

Take control of displayed content
Choose what viewers will see – not every offer has to be viewed by a large number of users all the time. In such a case, when this number is lower than expected, you can set what numbers a viewing person will see.

Let's see a short Social Proof presentation.