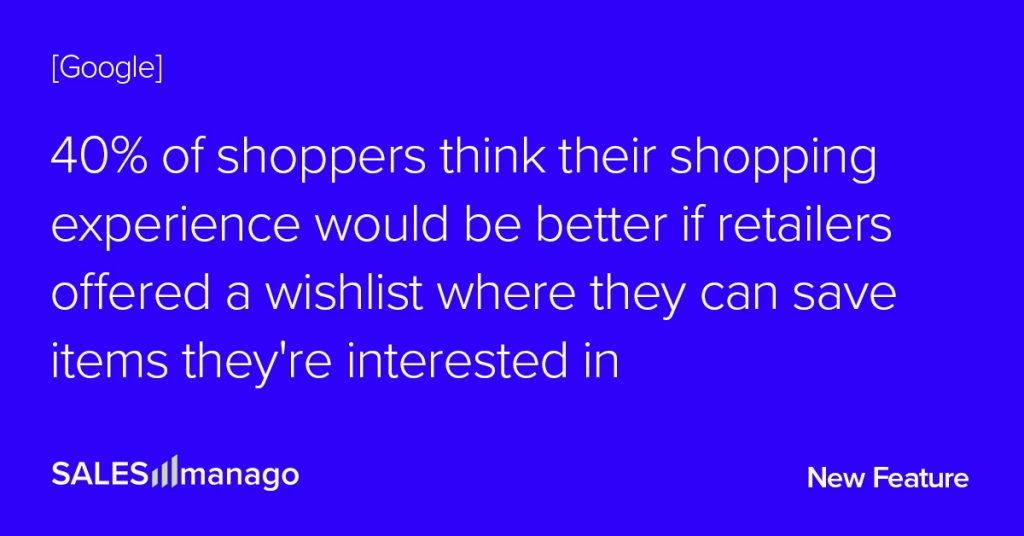 As Econsultancy reminds us, 93% of companies saw a rise in conversion rates after implementing personalization. It's little wonder then that companies are looking for different and cutting-edge ways to deliver website content. Personal Shopping Inbox is an innovative solution that allows you to achieve the level of personalization and shopping experience in your online store that has never been seen before. Find out what Personal Shopping Inbox is and what it does.
Online Store experience is more important than you think
User Experience is everything if it comes to Online Store stickiness. To make your customers come back, you must make them feel comfortable and leave all improvements at their fingertips. Making the shopping experience personal, easy and rewarding may bring you more benefits than just finalized transactions. There are some mechanisms that lift the Online Store experience to a higher level. There is a non-intrusive communication, easing buying process, meeting customer's needs and proper balancing between quantity and quality of recommended products.
Especially, that greater choice for the customer doesn't always translate into higher conversions. Hick's Law states that decision time increases with the number and complexity of choices. And with increased decision time, the user experience deteriorates. That is why one should try to present to the recipient an offer that is as concise and close to their needs as possible.
So it's crystal clear that it's about time we got serious about eCommerce personalization, proper communication and recommendation mechanisms, whether it seems sexy or not. And Personal Shopping Inbox might be a solution you are looking for.
Deliver value through Personal Shopping Inbox
Personal Shopping Inbox is a website widget that grants individual space for all visitors and brings their shopping experience to a whole new level.
Increase your Online Store conversion rate by showing customers products based on their transactions, interests and past behaviors in a dedicated personal space on your online store.
Make your identified and anonymous customers return more frequently to your Online Store by sending to Personal Shopping Inboxes special individually crafted offers, discounts, and product recommendations
Enhance your Online Store stickiness by allowing customers to create wish lists and look up for the products they previously visited.
Easily create and instantly deploy a fully customer data platform driven communication center which will become a new revenue stream. To do that use our fully customizable, easy to use and intuitive wizard.
Use the first- and zero-party data the customers leave during interaction with Personal Shopping Inbox to enhance your recommendation and personalization strategy.
Allow customers to directly access the data about Loyalty Program points and available rewards in their Personal Shopping Inbox.
How to harness flawless personalization and communication of Personal Shopping Inbox?
Here are just a few ideas on how to use Personal Shopping Inbox to redefine your Online Store experience:
Set separate communication for both anonymous and identified users. Ask anonymous users to subscribe to your newsletter and invite identified users to leave more details in exchange for some benefits.
Use wish list data to prepare email campaigns with personalized recommendations.
Increase Customer Lifetime Value by sending personalized notifications with special offers that will be stored in the personal inbox.
Motivate customers to make regular purchases by informing them about Loyalty Program points gathered and required to achieve the next tier.
Enrich customer profiles with zero- and first-party data generated through interaction with Personal Shopping Inbox and use it in multiple targeted campaigns.
What's the difference between other available tools and SALESmanago Personal Shopping Inbox?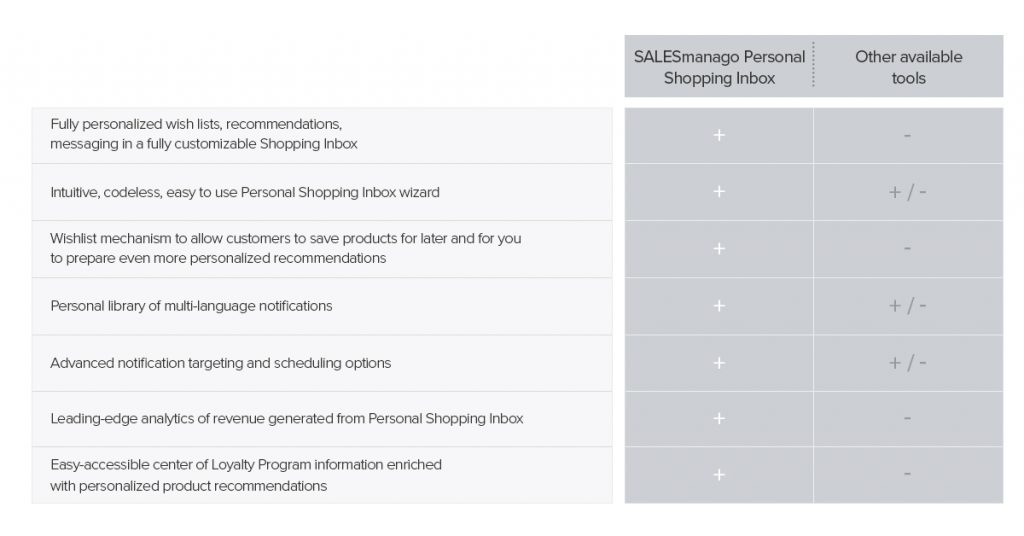 Personal Shopping Inbox – Wrap Up
Personal Shopping Inbox is a revolutionary website widget that combines One to One Messaging, Wish Lists, Special Offers and Recommendations in one, fully customizable personal space. Such a tool is like gold for those who care about their revenue and want to augment the experience of their online store.
For all those who want to check how Personal Shopping Inbox can boost their eCommerce KPIs, we recommend a 1-to-1 demo webinar.