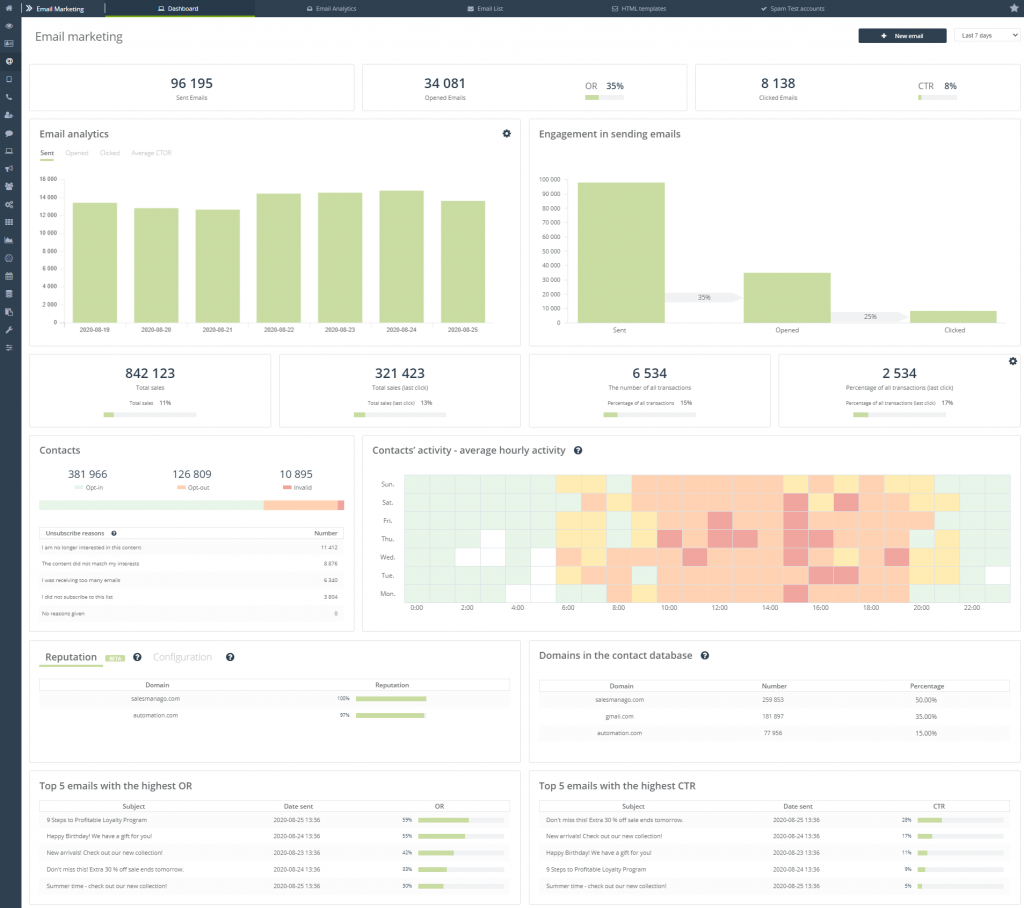 Email campaigns continue to be one of the most effective tools in marketing all the while being updated with new possibilities, like advanced personalization or A/B/X tests. As these new methods become available, it can be cumbersome to keep track of all aspects of your campaigns. This is exactly why we're introducing a new Email Marketing Dashboard, a convenient place to hold all the information about everything related to your email campaigns.

The Email Marketing Dashboard will allow you to quickly navigate between various elements of your Email campaigns and help you improve your OR and CTR statistics by directing you seamlessly towards crucial information: Email deliverability, Email openness, your contact's activity, your domain's reputation and more.

Email Marketing Dashboard's features:
Evaluate contacts' engagement and based on new contact activity analytics use the best time to send the next mailing.
Deeply analyze the configuration and reputation of the sending domains (SPF and DKIM). Manage the deliverability of your campaigns to increase OR and CTR statistics of your campaigns.
Track revenues and orders generated thanks to each email and newsletter sent from SALESmanago.
Use database health analytics with a complete list of unsubscribing reasons to better manage your contact database and improve campaigns.
Utilize the data
The new functionality is created with convenience of access to information in mind, giving you everything you need to be successful with your emailing campaigns in one place. You'll be able to create new campaigns and quickly see the results of the finished ones, determine their effectiveness, and compare them with one another.

You can set different time values to see a snapshot in time for your campaigns, or see how effective your email marketing was in a longer timeframe. You can set your emails to be sent at the best possible time, exactly when your individual customers are the most likely to see and open them. At any point single out the most effective messages to determine which tactics worked the best and plot new campaigns using the accumulated knowledge.