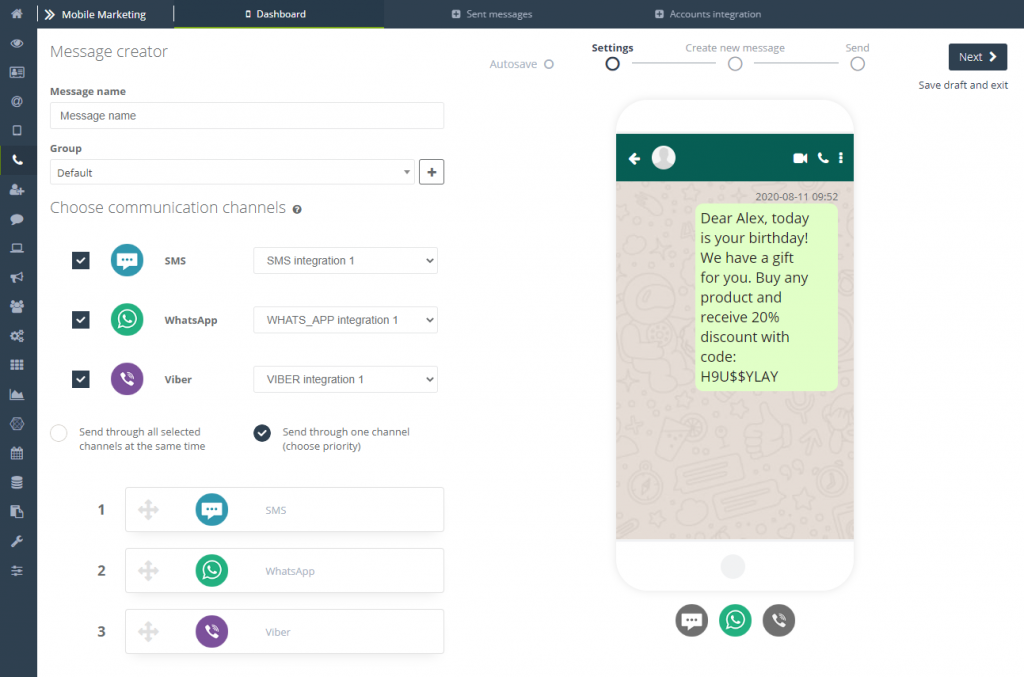 Mobile users generate 66% of Internet traffic and 79% of them make their shopping decisions based on offers sent via mobile messaging apps and SMS. We introduce totally new Mobile Marketing in SALESmanago, which extends your mobile campaigns' capabilities with new channels – Whatsapp and Viber.

Mobile messaging is still one of the most efficient communication channels with an average open rate of 98%, and a 45% response rate. Almost 97% of mobile users have at least one social & mobile messaging app installed and many of them can't imagine living without it. The New Mobile Marketing module in SALESmanago enables you to fully utilize the potential lying in mobile communication.
With our new Mobile Marketing module you can:
Communicate with your customers on their mobile devices through SMS, WhatsApp, and Viber text messages.
Schedule campaign and decide which communication channel should be used first to provide communication with your customers. You can choose one communication channel or all at once (e.g. you can send a message through all selected channels at the same time or through all channels based on set priorities)
Use mobile communication in mass campaigns or personalized processes as a way of sending birthday wishes or dedicated discounts.
Integrate and use as many gateways you want across different channels without any limits.
Analyze the campaign effects by using advanced sent text messages analytics.
New possibilities of Mobile Marketing 2.0

The new version of our Mobile Marketing module allows you to pick with which channel you want to send the communication, whether it is SMS, WhatsApp, or Viber text messaging. You can send your message either in single or in all available channels. If you choose the second option, you can define the channel priority – if the message will be delivered, system won't send it with the next ones. Adding to that, by using mobile messaging through Whatsapp or Viber, you have the ability to preview entire conversations with the customer at any time.

Integration of mobile messaging channels with the SALESmanago system
WhatsApp messaging is possible thanks to integration with MessageBird
Viber messaging is possible thanks to integration with Infobip
SMS – choose one of over 50 available SMS gateway providers
This is what omnichannel marketing is all about
Extending the list of mobile communication channels enable you to reach a wider audience. You can use Whatsapp and Viber to deliver special promotional coupons if the customer did not buy anything after receiving SMS. Mix mobile channels with emails, web pushes, and other channels as well.

Use cases for new Mobile Marketing features:
Automation processes – your customer has abandoned the shopping cart, send him a reminder via email (the cheapest channel with no requirement of immediate response from the user) if the user does not open the email within the specific time or finalize the purchase – send a message to the customer's messenger to stimulate the purchase.
Omnichannel mass communication – combine promotional email campaigns with mobile messages and send information about new offers or promoted products via different channels. You can use all of them at once or prioritize.
Birthday messaging – use customer data and send birthday messages with special offers. Make sure they will read them and see you remember about them.
Adding new communication channels is a great way to increase your brand reach and communicate with users in the way they prefer. The more channels you have in your marketing strategy, the more effectively you can use them in combination.