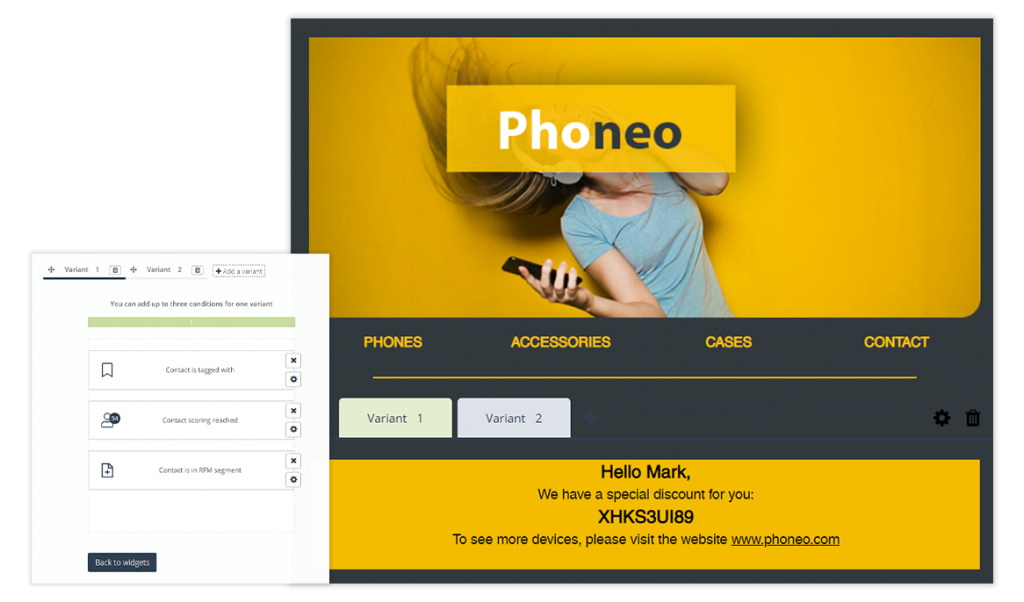 We are proud to announce an all-encompassing expansion to the SALESmanago personalization features with Conditional Content. It enables adjusting parts of your emails to perfectly fit the interest of diverse recipient groups of the same campaign. Simply define what user segments should get different offers and information and increase your email marketing's effectiveness.
Conditional Content allows you to customize your email messages with a series of variants containing context-sensitive widgets that will display different information to different users based on the specific set of criteria. Thanks to this feature, you can send diversified messages to distinct groups of customers based on whatever specific segment they belong to.
Conditional Content capabilities
New advanced feature: Conditional Content allows you to differentiate the offers and entire parts of the message to fit the interests of selected groups of the recipients of a single email campaign.
Increase CTR, conversion, and customer retention thanks to the possibility of delivering the content always relevant to your contacts even in the regular, bulk campaigns.
Use many conditional content widgets with different adjustment terms in the same message to make sure every recipient will receive an offer perfectly tailored to their taste.
Save time building and sending a single message with many content variants instead of an array of different templates.
Use advanced content targeting, including conditions based on AI mechanisms, to precisely define contact segments for which a given variant of the message will be displayed.
Use this feature for sending multilingual newsletters, adjusting offers available in the loyalty program, personalizing the offers based on behavioral segmentation, and more.
How to set up Conditional Content widgets in email template
The process of creating the message containing conditional content is simple and intuitive and begins with the familiar steps of creating a new message:
Start by creating a message in the Drag & Drop Email Designer using one of the predefined templates
Add up to 3 different Segments to your template – these segments will be displayed in the body of the message
Each Segment can contain up to 4 Variants – different forms of the segments displayed in the message
Within each Variant, set up to 5 widgets, which must be customized with conditions – here you can decide what criteria of your users will trigger the Variant to be displayed (eg. presence of specific tags, predicted churn or purchase)
Move the variants to decide on the priority of display – if a user or a group of user meets more than one condition, they will be displayed only the offer with top priority
Save and your personalized message is ready.
What you can achieve with Conditional Content
With this feature, you don't have to create a slew of separately personalized messages and conduct multiple campaigns – you can achieve the full breadth of personalization options within a single message. With Conditional Content, you can, for example, change the language of your message for specific contacts, offer different rewards based on the loyalty of a specific contact group, and send targeted offers without building separate messages. Achieve higher OR, CTR, and conversions without wasting time and without needlessly convoluting your mailing campaigns.
---
Check out all capabilities of our Email Marketing
---
marketing automation
marketing automation