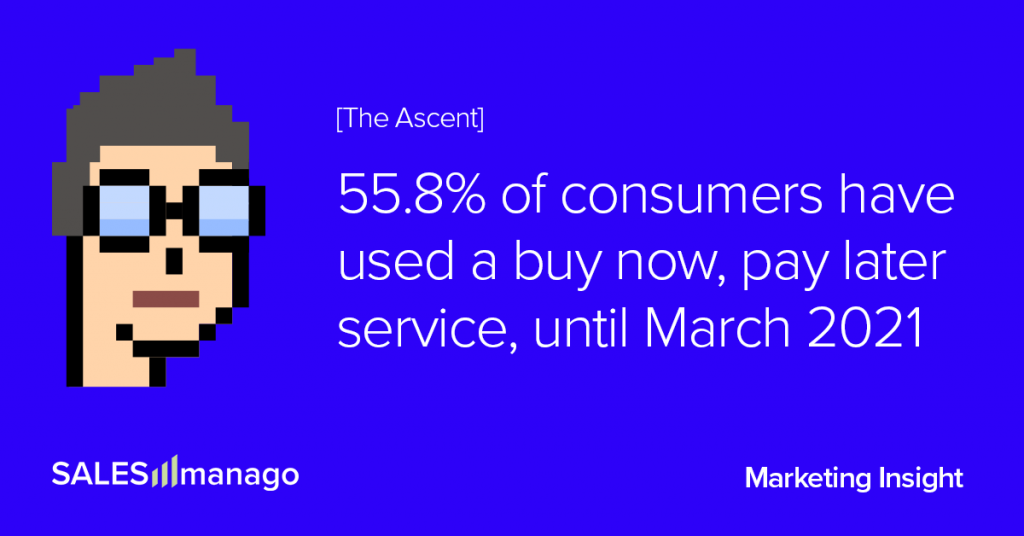 Buy now, pay later purchase model is nothing new, but somehow now is booming, and the steady increase of its market share at a CAGR of 13.23% is expected. The consumers demand it, as research shows, and the e-commerce entities are especially obliged. At the same time, it provides the retailers with chances to increase revenue, again, especially e-commerce. What exactly is it, why is it booming, and how can you benefit?

Payment method is one of the most important factors in the purchase process. And the latest e-commerce booming made the customers used to choose in this matter. Unlike in the case of stationary shopping, clearly visible options are a part of the interface, necessary to navigate in order to finish the purchase process. Customers have to choose consciously. And they begin to wonder if they could be provided with even more choices.

This can be seen as a drawback because, in the case of stationary shopping, the clients are not exposed to this choice in such an apparent way. The other side however is, that the consumers tend to visit the stationary shop when their purchase decision is more or less made up and the funds somehow secured. In the case of e-commerce, your site is available at any given moment for the users, and they are often just browsing. BNPL model in e-commerce enables you to convert watchers to customers, even if they don't have the funds secured at the moment. When they show engagement in the product, all it takes is providing them with a flexible payment method.

Right now, there are more ways to pay online than ever in the history of e-commerce. Customers may choose trusted Visa or Mastercard, others will go with Apple Pay, PayPal or use one of the many other digital wallets.

Lately, more and more of them decide to choose one of the buy-now-pay-later (BNPL) operators. 55.8% of consumers have used BNPL service, up from 37.65% in July of 2020 – an increase of almost 50% in less than one year.

The background of BNPL services
What BNPL services are, where did they come from
"Buy now, pay later is not a new concept, but as with anything, timing is everything," said Doug Bland, Senior Vice President and General Manager of Global Credit at PayPal. BNPL was around for many years now is known by many names: installment payments, shop now pay later, pay in 4, or deferred billing.

No matter the names, it always boils down to the fact that in this model, the customers can make the purchase, have the product delivered at the doorstep, but the full payment will be significantly delayed. Installment payments are usually paid in 3, 4, 6, or 12 months.

This is how it looks from the customer's side. What is extremely important for e-commerce, is that the brand is paid full upfront by the BNPL operator. So it is a win-win situation for both sides.

The most interesting BNPL platforms
Klarna
A Swedish bank and one of the most prominent players in the BNPL market, operating in almost 20 countries. Offers two ways to make repayments:
Slice it. Payment is divided into four weekly installments
Pay Later. Full bill delayed by 30 days.
For qualified consumers the payments are interest-free.

Affirm
Aids in financing purchases of all sizes. Usually payments are divided into weeks or months, and are interest-free. More significant purchases may be divided into 6 up to 18 months and are interest-bearing.
The company charges no fees, including late and repayment.

Quadpay
The platform enables the consumers to divide the payment into 4 installments paid over 6 weeks.

The retailers don't have to install Quadpay in their checkouts. The company provides users with their own Quadpay Visa card number, so the tool is available anywhere Visa is accepted.

Sezzle

No fees and no impact for the credit card for the consumers paying in time. The payments can be divided into 4 installments paid over 6 weeks. They are interest-free.

Afterpay
The platform differs strongly between new users, reliable and unreliable users. They approve the user for every purchase, favoring those who previously used the service and paid on time. Interest-free purchase is divided into 4 installments paid every 2 weeks. Delay results in a 10 USD fee, with a further 7 USD for every week.

The reasons why BNPL options are gaining popularity
The aforementioned words of Douglas Bland about timing being everything are especially important to explain the phenomenon of the latest BNPL growth. The aftermath of the pandemic changed the consumers' expectations and preferences. Uncertainty around the employment and finances drives them to spread out the costs of all purchases, not only the large ones, and to seek responsible ways to finance the purchase. They seek flexibility and predictability. What they don't want is incurring interest and credit card negative rating impact.

This option is especially attractive to the younger consumers, used to the subscription model of D2C and product-as-a-service. Monthly fees for streaming services or curated goods are a norm for customers under the age of 30. No wonder, that such consumers form a third of PayPal's Pay in 4 clients. A study from Netfluential and PayPal showed that 28% of consumers between ages 18-39 would more likely shop again at a merchant that provides them with BNPL possibilities. 32% would make purchases they would've otherwise postponed. BNPL clearly means the future.

So why don't the Millenials and Gen Z consumers use their credit cards instead? After all, a recent Forrester study, commissioned by PayPal, found that "48% of those in Generation Z (between the ages of 18-22) report they are comfortable or extremely comfortable using credit. An even greater number of younger millennials (ages 23-29) and older millennials (ages 30-39) report feeling the same way, to the tune of 60% and 69%, respectively".

Young consumers are not reluctant to credit seen as debt or responsibility to actually have money in upcoming months to pay their dues. It is the possibility of having no interest for a period of time that drives them towards BNPL services. It is also much simpler and exposes the consumer to no risk, as no credit card number is being asked during a purchase process.

The benefits of offering BNPL method – why you should apply it to your eCommerce
As it turns out from the aforementioned surveys, BNPL is a preferred payment method for the incoming future. And although installment payments come with a fee, sometimes larger than those of Visa or Mastercard, in this case, the pros easily outweigh the cons. The most important pros are:

Increasing sales

Often the consumers, browsing your site and showing their engagement in the products, are ready to make the purchase. Lack of funds is all that holds them down. If they are certain that they will be able to pay in the next few weeks, with payday over the horizon, they are very likely to switch from watchers to buyers. Especially if your goods are on the expensive side, you will see the conversion rising.

Keeping up with the competition

It is estimated that by 2025 BNPL payments transaction volume will increase to 680 billion USD, with a CAGR of 13.23% from 2018. Your competition is probably already implementing this method.
Attracting new customers

This is the most probable way your sales will increase. Not only will you convert more watchers into customers. You will also attract the customers actively seeking the stores offering the BNPL payment method. As the aforementioned survey shows, there are many, especially among Millenials and Gen Z consumers.

Providing convenient financing solution

For many consumers, BNPL is a much more affordable method than a credit card. In addition, it is also safer, as no credit card number or billing address is required. For this reason, the checkout is also much smoother.

Decreasing cart abandonment
Baymard Institute survey shows that 6% of cart abandonments are caused by the lack of payment options. Considering how many users now pay closer attention to the BNPL method, your cart abandonments should go down if you decide to integrate it into your website.

To sum up
The new consumers are looking for responsible ways to spend their money, care about their credit ratings and the security of purchase. They demand choice, flexibility, convenience and are perfectly fine with debt. They just don't want incurring interest. These consumers are valuable now and will be even more in their forties and later.

BNPL effectively answers these needs. As an e-commerce entity, you are especially obliged to provide them with a choice. Incorporating the BNPL method, you will increase not only the advantage over the direct competition. You will also deepen the advantage over the traditional retail, not only enabling the customer to buy from home, and delivering the product at their doorstep but also letting them pay later, without endangering precious credit card rating.