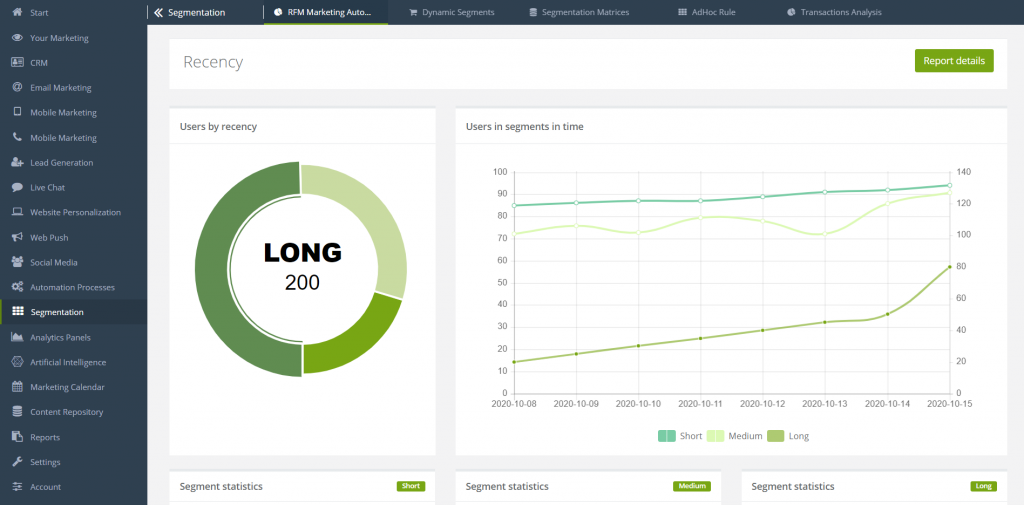 Many companies build their growth strategy focusing on acquiring new customers. However, research shows that even as much as 65% of the entire company's revenue comes from existing customers. In addition, customers who are loyal and already know, and value what you offer, are likely to spend 33% more than newly acquired ones. It is also five times less expensive to try and keep an old customer, in comparison to getting a new one. All of that shows, growing customer retention should be one of your priorities and this article will show you how you can do it with the automation of your communication.
The key to high customer retention is, of course, their satisfaction with your products or service, which can be achieved also with well-planned, personalized communication, conducted with the care of customers' preferences across all stages of their lifecycle. However, sometimes it is not enough – customers can always stop reading your emails, visiting your website, buying your products, and eventually churn. There are many different approaches you can take to retain your customers and convince them to stay with you or buy again. You can use various incentives to convince them to return, such as access to special offers, discount codes, free delivery option, etc. The main problem here is to know when you should deliver such offers and here the automation comes in. See how SALESmanago can help you in retaining your customers with a few dedicated features.
Win them back – the win-back rule
Win-back campaigns based on the win-back rule, are the basic way of growing customer retention. Let's say that a once active customer didn't make a purchase for 90 days. You can set this last transaction as a trigger to the rule and wait 90 days to check if another purchase was made at this time. If the set condition is not met, the system will run configured actions.
Based on the win-back rule, you can send them, for example, a dynamic Web Push notification (and for users of Google Chrome – Rich Web Push notifications), presenting the new products in your offer, or an email, with a discount code for the next purchase. These kinds of win-back campaigns can be very customized, thanks to the use of Machine Learning and AI recommendations. Using the collected behavioural data, you can approach your customer in an individual way and use one of the available AI scenarios, to deliver, for instance, product recommendations based on the purchases of these new products made by users similar to the one we want to activate.
Step up your game – use RFM automation
The win-back automation rule can be a great way to start engaging inactive users, but they are not the perfect tool, as they do not take into account the differences between the customers. Each of your customers has different buying habits – they buy with different frequency, spend different amounts of money. If you want to reactivate the user who bought many times, spent a lot, and was not active for 180 days, you can invest more than for reactivating a one-time buyer who purchased a single product 30 days ago.
RFM Marketing Automation allows you to use the information on individual purchase history and segment your customers based on the time that has passed since the last purchase (Recency), Frequency of purchases and it's value (Monetary). These additional dimensions are giving you the space for the creation of the entire customer retention strategy, in which you can specify different incentives, values of discount codes offered to loyal high-spenders, or average one-time-buyers.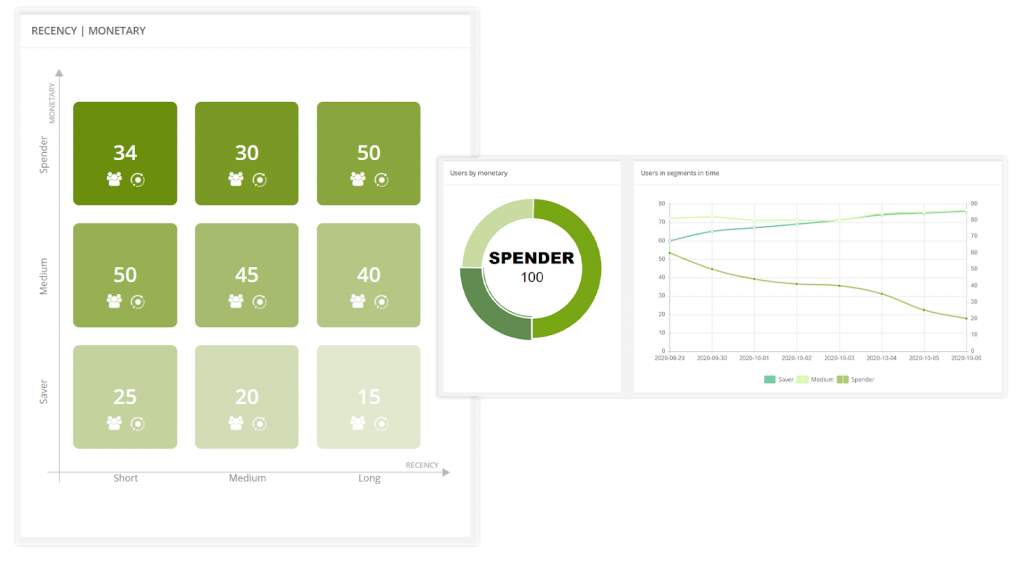 RFM allows you to send marketing content in proportion to a given customer's behaviour. Let's say the customer was moved to the Spender segment. They used to buy a lot and often and suddenly they stopped being active and moved to a different segment. You can set an action that's supposed to happen after that trigger, for example adding a tag, sending a text message, adding to a specific sales funnel, etc. If you decide to reach out with a coupon, you know what the value of it should be, cause RFM shows you how much that specific customer usually spends, so you can act accordingly.
Get to the individual level with AI Churn prediction
While RFM works on predetermined conditions and groups of contacts, Churn prediction uses data about specific customer's activity and habits, telling you if a certain customer's behaviour should trigger some actions on your side or not. It predicts how high is the possibility of you losing a specific customer and distinguishes between customers for whose long breaks are the norm and a part of their shopping habits and those for whose they are not.
Let's say someone buys an expensive kitchen appliance. There's no reason to be worried that they're not coming back after a month to buy more because it's a type of purchase that occurs only once in a longer period of time. However, let's say another customer was buying water filters every 30 days and did not buy anything in the last 90 days, it seems there might be something worrying in this. In such situation it's Churn prediction goes up from small to high level. By using automation you can adapt your offer and step forward, for example by sending a dynamic email with a coupon of the proper value.
What's more, thanks to combining Churn prediction with RFM you know exactly what actions to take and when. You can create win-back campaigns, combining both of those functionalities in Workflow. For example, if the customer was moved to a different segment and the Churn rate went up, it can trigger generating a coupon and thanks to RFM and Churn prediction, you can fish out those who need your immediate attention and personalize the marketing content you're sending, making your campaigns more efficient.
marketing automation
marketing automation