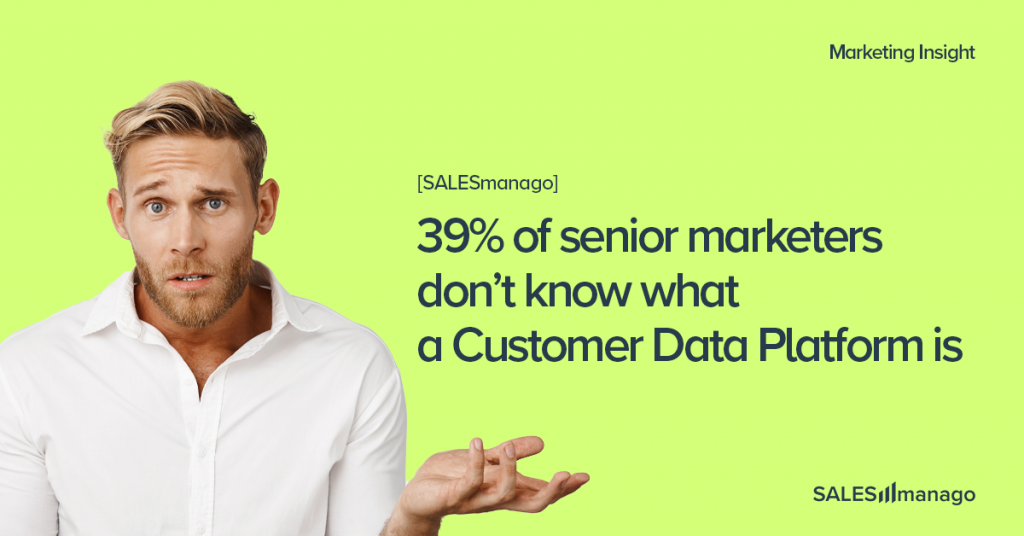 In our latest research we asked CMOs, Heads of Marketing and Marketing Executives about various aspects of CDP utilisation. The numbers show a staggering lack of knowledge about Customer Data Platform possibilities and even main purpose.
In our survey we researched a group of marketers consisting of:
CMOs – 36%
Head of Marketing – 36%
Marketing Executives – 28%
The following statistics show that CDPs are unknown to almost a half of senior marketers, and among those who know and use such platforms, only a little over a half utilize the potential of the tool in their marketing efforts.
Additionally, standard metrics for ROI remain ROAS (return on ad spend), which indicates a high dependency on paid ads to drive business growth, versus leveraging customer data.

Knowledge of what CDPs are, is very low among marketers
39% of senior marketers don't know what a Customer Data Platform is
59% think Customer Data Platforms are overlooked by eCommerce marketers
While a majority of marketers do know what a CDP is, there are more than a third who don't and so it's not surprising that almost 60% of marketers believe CDPs are being overlooked by other marketing professionals.
Customer Data Platforms have been present in marketing since 2012. They proved to be revolutionary for eCommerce. It is unusual that 11 years later still some of the most skilled and seasoned marketers do not know what CDPs are, and what advantages they have over legacy systems.
Interestingly, 59% of respondents agree CDPs are being overlooked in the eCommerce marketing world. This indicates that those marketers who are aware of CDPs understand the potential of this tool – not completely though, as further data shows.
Getting Buy-In from Leadership is the biggest Obstacle for Investing in CDPs
Convincing leadership is a key barrier for investing in a CDP (47% of respondents)CDPs for all / expectations.
Only 18.97% of marketers state they will not invest into Customer Data Platform. On the other hand, only 13.79% firmly state they will. Although the majority of respondents would like to invest into this technology, the main obstacle seems to be the marketers' ability to convince leadership into this.
The simplest answer to this problem is to show them the results presented in the vendor's Case Studies. Numbers like 19 times ROI from SALESmanago implementation are absolutely common.
14% of respondents are not confident in their ability to measure the impact of investing in a Customer Data Platform. While 44% are only somewhat confident
This problem seems interesting, considering that 43.62% of respondents feel somewhat confident in their ability to measure the impact of investing in a Customer Data Platform.
And 42.55% of respondents are very confident in this. The staggering majority of high-level marketers feel they could prove the effect of CDP utilization in their companies.
Need a hand in convincing your leadership into investing in Customer Data Platform technology? Request our demo and show them the vast possibilities it provides!
Marketers use CDPs for a good reason but not fulfill its engagement potential …
Improved data quality is the key benefit for CDP adoption (54%)
53.19% of our respondents see improved data quality as a top benefit of using Customer Data Platform. Which is generally a very good reason to use CDP.
Data dispersion across different silos across business organizations was one of the problems Customer Data Platforms were designed to solve. 360 degree customer profile, a heart of CDP, provides data hygiene unmatched by legacy systems.
What is worrying, is the fact that only 11.70% of respondents pointed to customer engagement as a top benefit of using CDP. This suggests that a great majority of even high-level marketers do not understand the primary function of such systems – after all the latest iteration of CDPs are now called Customer Engagement Platforms.
… and vast eCommerce Marketing capabilities

Of those that know what a CDP is, 62% use it for their ecommerce marketing
The numbers do not impress. This is further evidence that senior marketers do not see the potential of a unified 360 degree customer profile in planning and executing marketing campaigns.
Marketers forget about CDP while driving omnichannel experience…
30.8% of respondents choose Email Marketing and Marketing Automation for omnichannel marketing campaigns
Email Marketing and Marketing Automation are go-to package for 30.8% of our respondents for omnichannel marketing campaigns.
And while 28% point to Customer Data Platform for this purpose, data once more shows even senior marketers do not fully grasp CDPs potential as an engagement platform.
… and do not even know if their tech stack and data is too fragmented or not
30.8% of respondents use 2-5 martech providers for their tech stack. But for 24% it is more than 10!
At the same time 30.8% of marketers feel it results with fragmentation of customer data. Interestingly, 38.8% feel the opposite and the rest simply do not know, if it does.
Seems like marketers get along with data divided between different silos, because they do not know, and have not experienced, the benefits of truly unified 360 degree customer profile. And, in result, the benefits of CDP as a foundation for a Martech stack.
While Marketers' priorities sound reasonable…
Top priorities for ecommerce marketers is delivering a seamless and satisfying customer experience across all touchpoints
Marketers seem to have reasonable priorities. For 28.4% of our respondents, it is delivering a seamless and satisfying customer experience across all touchpoints.
Considering this, it is even stranger to find that …
…they still use ROAS instead of CLV. In 2023!
Return on Ad Spend is the ROI metric used to measure the impact of eCommerce marketing campaigns
24.82% of senior marketers declare they use the Return on Ad Spend (ROAS) as a ROI metric to measure the impact of their eCommerce marketing campaigns.
Only 18.07% point on Customer Lifetime Value (CLV)! Even less care about Cost per Acquisition (CPA).
Come on. The utmost importance of a solid customer base is no-brainer in eCommerce in 2023. CLV-ROI approach is, for now, the only business model ensuring loyal customers, making repeated purchases, reducing the need to acquire new customers faster than existing ones are going away. Keep in mind that acquisition costs tend to be up to 7 times higher than keeping the existing customer.
Wrapping Up
Even senior marketers, with a lot of experience, have only vague idea about CDPs purpose and capabilities. Even when they employ such a platform, they do not utilize its full potential.
And no wonder, considering the fact that most marketers use ROAS as ROI metric of campaign effectiveness.
Such an attitude alone, not even counting current geopolitical turmoil, may be a reason for customers' shaky loyalty. After all, countless surveys show, time and time again, that customers want personalized experience from the eCommerce – industry which has every means to provide it. Such a conclusion is further strengthened by the average industry CUPID Score.
Interested in how well your company pesonalises marketing communication? Take a Cupid Score!
eCommerce marketers cannot just expect the customers to stick with their brands and stores, if they only boast about great customer experience and do not change much in their methods and Martech stack for years.
Especially when the leaders of the industry push the boundaries of customer experience using the latest tools, which, in this day and age, are easily available for even mid-sized companies.