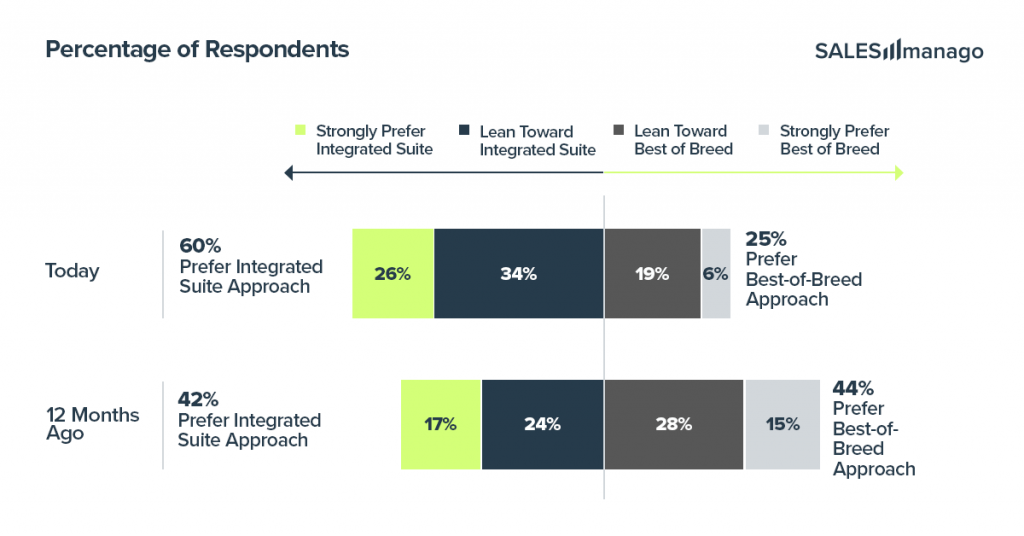 A recent report by Gartner sheds light on the changing landscape of marketing technology (martech) and highlights a concerning trend of decreasing utilization of existing capabilities as well as major shift towards integrated suites.
The 2022 Gartner Marketing and Communications Technology Survey aimed to explore the state of martech acquisition, adoption, and use, providing valuable insights into best practices for managing technology stacks and the preferences of marketing decision-makers. The marketing respondents included 324 senior marketing technology decision makers reporting either in the marketing business unit or in IT roles specifically dedicated to supporting marketing.
Diminishing Martech Utilization:
The survey findings reveal a significant decline in the utilization of martech stacks compared to previous years. Marketing professionals report using only 42% of the breadth of capabilities available in their martech stacks, a noticeable decrease from 58% in 2020. This decline undermines the objective of efficient resource deployment, necessitating a closer examination of the factors contributing to this downward trend.
Preferential Shift to Integrated Suites:
The turbulence within the macroenvironment has solidified a clear preference for an "integrated suite" approach to martech procurement. An astonishing 60% of respondents express a strong inclination towards adopting integrated suites, while only 25% prefer a "best-of-breed" approach. This shift indicates a growing reliance on comprehensive solutions that encompass multiple functionalities, presenting challenges for organizations seeking to leverage specialized tools.
Formalized Roadmaps and Agile Behaviors:
Marketing teams have increasingly incorporated agile behaviors into their roadmaps, albeit without fully adopting an Agile martech model. Merely 13% of respondents report utilizing an Agile approach to planning their martech roadmap, a modest increase from 2020's 10%. While formal roadmaps offer stability, respondents are now reviewing and updating them more frequently than before, reflecting a need for adaptability in an ever-evolving martech landscape.
Driving Journey Orchestration Success:
Although the implementation of customer journey orchestration (JO) across the customer life cycle remains low at 20%, teams that have achieved successful business outcomes favor a best-of-breed approach to their martech stack. The complexity of JO often clashes with the desire for an integrated suite, making it crucial for organizations to carefully evaluate their choices to ensure optimal performance.
Preparing for a Cookieless Future:
With the impending demise of cookies, marketing leaders are proactively embracing emerging technologies to navigate this uncertain landscape. Respondents are running pilot programs and deploying key technologies that enable advanced marketing tactics, such as social commerce, in-game advertising, connected TV (CTV) advertising, and exploring novel approaches like non-fungible tokens (NFTs) and metaverse advertising. These efforts signify a drive to regain control in a world with less reliable identifiers.
Recommendations for Maximizing Martech Investments:
Based on the survey findings, Gartner suggests several key recommendations to maximize the value of martech investments:
Incorporate marketing technology adoption and utilization goals into team performance objectives, minimizing wasteful investments. Allocate dedicated resources to overcome adoption barriers.
Mitigate the risk associated with costly integrated suite investments by establishing alternatives that maintain negotiation leverage. Continuously validate the vendor's ability to support desired martech capabilities.
Reassess the approach to supporting customer journey orchestration with technology. Foster collaboration between martech and IT through capability-focused delivery teams, employing an iterative approach.
Avoid relying solely on agencies or service providers for investments in social commerce, podcast advertising, and CTV/OTT streaming advertising. Encourage long-term in-house capability development and include these tools in the martech roadmap. Validate their potential to enhance ROI through proofs of concept.
Conclusion:
The Gartner report underlines the urgent need for organizations to reevaluate their utilization of martech