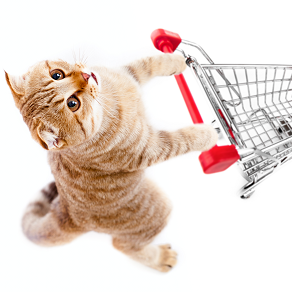 Abandoned cart: marketer's worst nightmare. Do you see in your mind's eye all these unrealized possibilities, lost chances, delayed encounters… 67% of shopping carts end this way. What is the best idea to help them avoid their sad fate and squeeze their potential? Use dynamic 1-to-1 emails. In this post we give a lot of practical advice: when, to whom and how many of them to send, what to include and whether to considers discounts.
Dynamic email or remarketing display campaign?
According to research:
If the customer was at the beginning of his shopping path – just viewing products (for those interested in most accurate methods of monitoring viewed – not clicked – products we wrote about Web Beacons), reading about them, but he didn't start procedure of payment, issue display remarketing campaign (AdWords, RTB, Facebook),
If customer has already completed his cart and started payment procedure, filled in his data or logged in – that is, if we see clear purchase intent – and was probably interrupted by some accidental incident, then you should send an email.
What to include in cart recovery remarketing email?
Referring to the product(s), offer help, explanation, support and give email address or telephone number to contact
High quality picture of the product
Thank-you for your visit note
"We saved all your items" – remind that you care for customer
Information about benefits from purchase (free delivery, fast delivery, friendly return policy)
"We miss you", "Missing [product] waits for you" – address emotions and impulse
Reminder that ordered product might be soon out of stock, use words "Last", "Cart expires…"; some marketers value invoking anxiety and it works, but don't overuse it, because it will wear out (and be sure that this sort of communication suits your brand philosophy) and customers will associate your brand with aggressive messages and stress
Button "I'm no longer interested" which stops remarketing campaign. There is no point in sending more messages if customers has already bought this item somewhere else, or doesn't want it anymore, or never had real shopping intent at all. Use knowledge on his interest in future campaigns.
Discount policy: does it work?
Some marketers offer discounts in their remarketing campaigns: sometimes in first, in seconds or in third. Does it work?
If customer makes regular purchases, he will realize that it pays off to wait for discount, so you can build an unwanted habit of purchase delay, and when you change your policy he will feel disappointed and cheated.
If you tempt with discount, maybe it should refer to next purchase?
How many remarketing emails should I send?
Experts claim that 3 is an optimal number, but remember – it's just average amount. A lot depends on price of the prpoduct: if customer buys something expensive (specialist equipment, furniture), you may send 3 emails – it's natural that he needs time to consider spending more money. But when it comes to cheaper goods, like books or cosmetics, 3 emails might be too much and just irritate recipient.
We recommend starting small, with 1 – 2 emails (depending on your business branch), monitor reactions and add more later.
When to send dynamic email?
Best time for the first one will be 24 – 48 hours after visit. Remember to take into consideration time when customer checks his inbox (can be done automatically thanks to Marketing Automation). That time span guarantees that customer will have fresh memory of his order.
More about creating dynamic email in practice
Do you use dynamic emails for abandoned cart recovery? How does it work? Share your experience in comments!