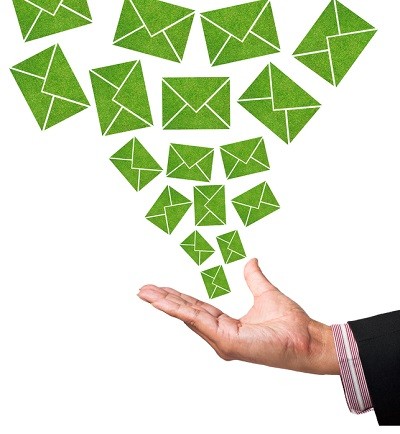 Email list is an edgy topic. We all desire the Holy Grail: trick for fast and massive increasing of its volume. Let any of you who has never tried some shortcuts here, be the first to throw a stone. But we know also that one mustn't sacrifice list's quality for its volume. So we need to go organic. Otherwise dirty, unreliable list will backfire.
What does organic growing mean?
It means systematic and gradual growing your mailing list, using only the addresses of people, who confirmed that they want to receive your messages.
Non-organic, wrong, hasty pumping-up your subscribers list include both buying strangers' email list and manual adding some addresses (business partners', customers' you have been corresponding with, acquaintances) to your base. Don't use a contact, if a person hasn't agreed to receive your mailing.
Damages done by unorganic email list
Firstly, recipients who don't expect your messages will mark you as spam (what will damage your sender score and undermine your future campaigns). Secondly, polluted, unclear list impedes analytics and interpretation of customers behavior.  You cannot rely on that data.
People from bought lists are not your customers. Don't expect that accidentally these 10,000 folks whose addresses you've purchased  will turn out to be in great need for garden furniture you're advertising.
Growing your list organically doesn't mean passive waiting for your customers to feel sudden yet irresistible desire to receive your newsletter and find your sign in form on the website on their own. Increasing the volume is necessary – think that each year you lose naturally about 25% of email addresses (just because people change jobs, email addresses, etc). But how to do it?
Best and proven practices of organic growing of email list
1 Registration during purchase
In order form put an agreement to receive newsletter (with checkbox). It's the most efficient and most often used strategy.
2 Opt-in form  
Beware – it concerns mostly B2B marketers – of demanding too much date in opt-in form. Do you really need them at this stage? We all want to know as much as possible about our customers, but one might just don't want to give you all his employment history in newsletter opt-in form.
3 Omnipresence of opt-in form
Make sure that your customers won't have problem finding the form – they won't search for it madly. Blog posts, product sites – they're all good places for the box.
4 App
Cool, free mobile app can provide you with a lot of fresh mailing recipients. Creating such a tool takes a lot of work and a good idea, and it must relate to company spirit, so it's hardly an universal solution.
5 Online events (as webinars), exclusive content (ebooks, video, white papers) or free tools.
Exchange free content for e-mail address, when participation in your bonus material requires registration.
6 Online contests requiring registration
Always when organizing a contest think: what do I plan to achieve?
Gaining some e-mails that way is a good idea – it can also increase customers' engagement and activity on the website. Be careful with conducting your contests exclusively on social media.
7 Benefits from opting-in
By opt-in forms or pop-ups encouraging to sign in, include brief information about benefits of doing so. You can offer discount, voucher or access to exclusive materials in exchange for address. Also let your customers know how often do you send your newsletter and what do you include in it.
8 Quality of your newsletters
Of course, not all of your emails can be extraordinarily exciting, but if you cling to common belief "If they see our logo, they will be reminded of something to buy, and it doesn't cost a penny to send a newsletter", just stop.  When you have nothing attractive to offer, how can you expect loyalty?
Remember also that no matter how much users love good content, most of them declare that they sign in for newsletters in order to obtain discounts and special offers, mostly in B2C. So include special offer or measurable benefit in your mailings regularly (however not necessarily in each one).
9 Try sending emails less often, if you appear to have problem with maintaining quality
There is nothing worse that blasting people with irrelevant content. So be honest with yourself and establish how often can you deliver good, readable and attractive newsletters with interesting offers. Test less frequent campaigns and see how it works.
10 Opting-out
What happens when your user clicks "Unsubscribe"? Don't hide the button, but  attempt to keep that user. Let him know that he'll be missed, offer some benefit or remind him of them, offer changing frequency of newsletters.
11 Personalized communication
Value of your newsletter is not only its objective quality, but also subjective way in which customer sees it in particular moment. You can prepare a wonderful offer with 70% discount, and your message still will meet with glacier disdain. Segment your customers base to choose best frequency, time and content for each user. Using it will result in decreasing opt-out rates and being marked as spam.