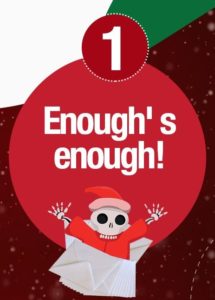 Christmas Eve. The office resembles an egg salad on the very hot summer day. The atmosphere is rather casual, gifts were sent a week ago. The most important customers already received your wishes via phone. There's only one thing left! You must prepare an e-card with a Christmas tree, Baby Jesus, or the First Star, find some nice wishes on the internet and send them to your contacts. Of course, the recipients list will be prepared as follow:
– open the database,
– select "Everyone".
STOP! Before you do it, ask yourself, are you sure you want to be lumped together with hundreds of other companies that, without a deeper reflection, spam inboxes of their customers with meaningless images and the same duplicated internet rhymes year after year. Consider whether you want to destroy the database, which you have build for several years and for the next few – you have polished with marketing automation platform.
If I you hesitated – that's great! Read our infographic and maybe this year send to customers something that they truly appreciate, and what will help you to keep a positive brand image.
---