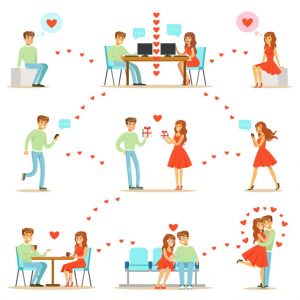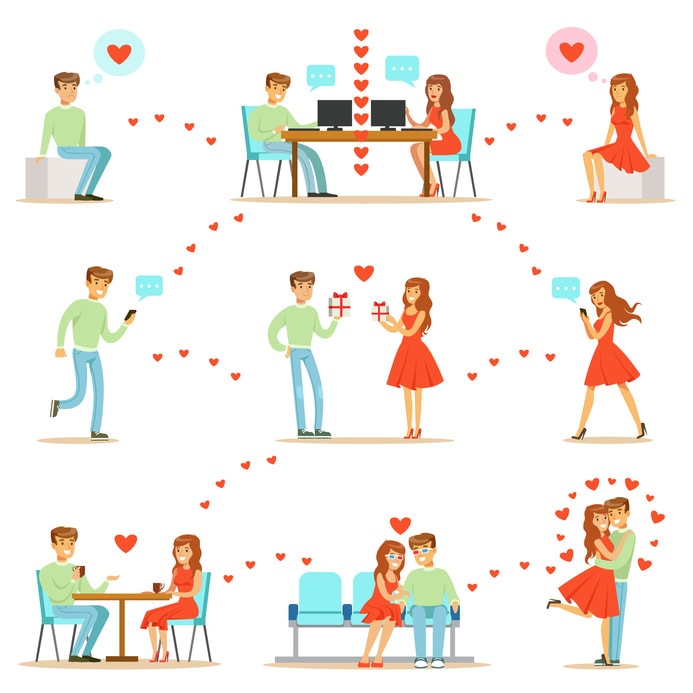 You may have noticed that both marketing and the entire sales process is really similar to everyday life. And the best example to show it's true is the… the "process" of dating. Surprised? When you meet a new person, you want to make the first move, introduce yourself and get some contact information in order to set up a tête-à-tête – you're performing exactly the same set of actions as a good marketer would – you're answering a certain consumer's need, you make (or at least try) a nice impression on your interlocutor and then you turn one into a lead (when getting contact data and approval to use them). Sometimes you're being introduced to ourselves (recommendations), sometimes it will take a longer acquaintance period until you two meet up without your friends (lead nurturing), and finally, sometimes you can find a match on some dating service (custom audience & social media ads). And the analogies are endless. If one only could automate some of the reactions… Imagine an alert whenever someone finds you attractive, SMS with details of the meeting, an email reminder of an upcoming important anniversary or occasion….
As among our Marketing Automation solutions there are a couple of dynamic tools, I decided to fantasize about a date during which one could use them. So, today's main characters are:
dynamic email with recently viewed products

abandoned cart wizard
Good impression
Making a good first impression is a half success. Let's face it – we all twist the facts every now and then in order to be better perceived by our potential partner, especially at the beginning of the story. We eagerly listen to and try to remember all hints on other person's interests. Is it about the eyes and the look in them, or perhaps the fancy outfit I'm wearing? Maybe it's my interest towards Russian interwar literature? What makes our crush so mesmerized? Wouldn't it be more proper to relate to this person's real preferences?
Now imagine you have a silent assistant who can measure and check which topics and fields interest the other person the most. What draws one's attention, and to which topics one comes back most often. And when the assistant gathers all needed information, he can show you the list of topics to start the conversation and with things worth emphasizing in order to better suit your date's taste.
In the world of Ecommerce & digital marketing, dynamic website recommendations are your best wingmen. Simply saying, thanks to them you can put fields on your website in which you can display products in real-time which are being viewed by the visitor and offer complimentary ones as well. Also, you can remind all your site visitors what they were recently interested in. This simple wizard enables easy creation of recommendation frames that are to automatically match the content to each visitor's interests – even those anonymous.
Straight to the point
In the heat smoochies and atmosphere of courtship, we may often lose sight of the key of the entire conversation – we digress and drift away from the main goal forgetting that we have already decided to plan a common trip without having agreed upon the destination. For the plans not to float away, we need to make a sort of summary – gather interesting topics, show a few propositions and come up with some alternatives. It's best to do it based on the agreements made during the meeting.
If the date was online shopping, you could seek help in the functionality called: "dynamic email with last-viewed products", which is just a simple wizard for creating dynamic emails. It allows for sending messages with products viewed by the visitors on your page. This intelligent solution automatically matches both the number of recommendations as well as individual products for each unique user visiting the website.
As an extra feature, we also added the option of "facilitating" recommended products with additional content which makes them look more naturally than an aggressive ad.
Let's save what we can!
One of the worst nightmares that can happen during a date is when something's definitely going in the wrong direction and you cannot figure out what. How can one possibly solve a problem without knowing what it is? Sometimes you make a little leeway to find out about the cause. Sometimes the contact is broken, but it's not necessarily your fault. Dexterous actions may help here – clarifying the situation often leads to winning a second chance to show your best, to postpone your plans if the reason was external and also save time and energy (and other resource, if you know what I mean…) if your faux pas was a little bit too over the edge.
Marketing sees the issue in a very similar way: each marketer wonders what made an initially interested client end up not making the purchase and leaving the online store. Perhaps there was too little time, or the price was too high?
In such cases, it is worth to remind your potential client about what products one wanted to buy in the first place, and offer a discount. In SALESmanago system, you can create a message that will contain products from the unfinished transaction.
The "abandoned cart" wizard enables for creating such messages and automatic planned sending of 1-to-1 personalized emails. The technology used in the wizard matches the template and layout to the number of products in client's abandoned car. An intuitive drag&drop creator allows for enhancing the email with an abandoned cart with accents that may push the client towards making a purchase in your online store.
So how do you like the vision of improving the dating process? If you find the world not yet ready for such, perhaps you should at least check how the described wizards can perform for your online store – download a free ebook How to Create Amazing Shopping Experience with Marketing Automation.