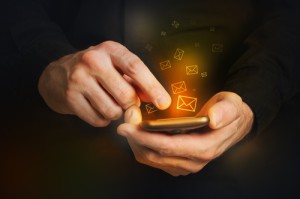 Dynamic emails are one of the most amazing Marketing Automation features. They can really work wonders! That's why we find it surprising that only 20% of marketers implement that function. Naturally it requires adopting a slightly different approach than usual traditional newsletters.
Below we present a practical guide to dynamic emails.
---
10 Commandments of Email Marketing. Download Free Ebook
---
What is a dynamic email?
Dynamic email is a message that is sent to an individual recipient in 1-to-1 mode. Such message is generated by the system automatically, in response to pre-defined user behavior or event (for example, user's birthday).
They're based on different philosophy than regular newsletters or bulk mailings. They're also prepared in a diverse way. You don't create and send a campaign, but set a rule that defines when (under what conditions) the message will be sent, for example that you want user abandons a shopping cart.
That way dynamic messages are perfectly matched to the context, namely to the situation in which the user finds herself at the moment. So if somebody was interested in a sports shoes, you send her an offer of sports shoes; if someone checked the terms of your loyalty program, you send an email listing the benefits of a loyalty program.
In other words, dynamic emails aim at giving customers what they search for: interpreting their behavior to deliver content tailored to their needs.
If you haven't try dynamic emails yet, see 5 examples of practical use to see how they work and what role can they play in relationship with customer.
Welcome message
Welcome message is an email you send automatically after someone has subscribed to your newsletter. The sooner you send it, the better – otherwise the user might just forget about the brand and subscribing. It's also a great time to make an offer, especially in B2C and ecommerce. If someone was interested enough to subscribe to you newsletter, probably she could buy if given an incentive, some additional motivation like a small discount.
Sometimes marketers put in action the whole welcome cycles – a couple of messages addressed to new users to show them brand philosophy, the array of product and necessary information (for example, why the products cost what they cost, how they're produced, etc.). It can become an educational cycle called Lead Nurturing.
Important: when you send a welcome cycle, don't send new users your regular newsletter when they're on the cycle, so they don't get too many messages.
Birthday email
Birthday email is a nice way to evoke positive sentiment and increase sales (because who doesn't one to indulge oneself on her birthday?)
Send a message on customer's birthday and offer a small gift (discount, free delivery, a free samples set) and wish her all best. Personalize the subject of the message.
Abandoned cart rescue email
68% of carts are abandoned, so ecommerce marketers love these messages. They convert 621% better than traditional bulk newsletters (case study Be Brave). No wonder! After all you send an offer of a product user is interested in and which she wanted to buy.
Important: don't hesitate with sending an abandoned cart rescue email longer than 48 hours. You can also send more than 1 message, but test how your audience reacts to it. Nobody wants to get 10 messages reminding about the product we don't want to buy!
>> Read also: Our complex guide to abandoned carts
Win back message
It's a special type of message that we send to inactive contact. If someone hasn't visited our website in a while, or hasn't shopped, a system can spot such customers and send an automatic message if we set such rule.
Important: Give such message a personal touch. Say, "We miss you!"
Tailored content – last viewed and complementary product
You can send offers that are based on customer behavior – products she viewed or bought. That way instead of traditional newsletters (or next to them) you can send a set of products suggested for each customer individually.
Important: For advanced recommendations use SALESmanago Copernicus – Machine Learning & AI.
A message after visiting a page
If someone:
Viewed the page about loyalty program
Visited the price list
Examined the events you participate in,
Send her a message referring to what she is interested in. Invite for an event about which she read. Explain how loyalty program works.
The success of marketing actions lies in offering customer what she wants, so if she shows an interest, don't be afraid to tap into that. It's way more efficient.
Dynamic emails in numbers
74% of consumers expect welcome messages after subscribing to a newsletter
78% of CMOs believe that custom content is the future of marketing
Personalized emails drive 6 times higher transaction rates
Personalized emails improve CTR by 400% and conversion rate by 300%
transactional emails (it means emails sent do individual user in reaction to his behavior, e.g. sending a cross-selling offer in after sales email) show 2–5 x higher revenue per email when compared to traditional bulk messages.