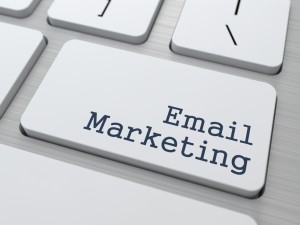 Best time for sending? Optimal amount of articles? Can newsletter be long? Acceptable unsubscription rate? How to build a list? Learn all about email marketing myths. Sometimes we get seduced by simple recipes, instead of asking ourselves more difficult questions: about aim, function and situation in which our message will be read. We will try to bust myths and see email marketing from practical standpoint.
1. How often to send emails?
Send your newsletter at least once in a month, otherwise you'll face serious deliverability problems: your customer can forget you and his mailbox won't get the message through. Without visible regularity newsletters lose point.
The best way to establish frequency is to test and offer your readers options of choosing preferable frequency.
2. What is the best time for sending?
Rumor has it that Thursdays, Wednesdays and Tuesdays are the best. But one can speculate ad infinitum:
Mondays and Fridays are days between workweek and weekend, so people have a lot on their minds and it's hard to get their attention
Friday mailings have high open and unsubscription rate, and Sundays are optimal – according to GetResponse
Monday newsletters are most profitable – according to Experian 2012 Q4 Email Benchmark Report
Mailings should be sent in the evening, when users are after work and rest (as if reading newsletters were most common leisure)
Mailings should be sent in the morning, before other messages arrive.
Conclusion? Each theory has something for it. Mutually exclusive tips all have sensibe rationalizations.
When it comes to newsletters, speculation is not the best way to go. Firstly, test, secondly, adjust time of sending to individual recipient's preferences.
3. Has each business branch its own best day for newsletters?
Even if that was true, you competitors would also know it and overwhelm your customers with their newsletters the same day you do.
So if Tuesday is best for your branch, in that specific situation sending at another day will produce better effects. Take into consideration your competitors' moves.
4. How many articles should newsletter have?
Common wisdom says that 3-5 is the number. But newsletters vary by density.
– Voluminous, saturated, well-curated are sent rarely. They serve education and work well for creative businesses
– Short, specific, with very precise aim (buy given commodity, sign up for an event).
It takes time to get your balance between these two. Maybe your users will love a long, magazine-like every fortnight, or prefer smaller bites?
5. How much content should newsletter contain?
The shorter, the better? Please, "people don't read" mantra doesn't lead us anywhere. Users don't read weak, uninteresting text, but crave for good quality. If you can deliver what they expect, you will get their attention.
Conciseness is also not always a virtue. If you aim at brevity at any cost you can fail to provide all the information needed for purchase decision.
Function defines amount of words, not the other way round.
6. Can I reach perfect mailing, which will satisfy all my customer?
No, because such perfect formula doesn't exit. Your customers aren't homogenous group, they have different jobs, habits, preferences. And your mailing list lives, like a dynamic organism. You lose 25% of addresses per year, so even if you found your ideal-for-all formula, it would outdate after a year. So go for personalization instead. Find a comparison between massive mailing and dynamic 1-to-1 below.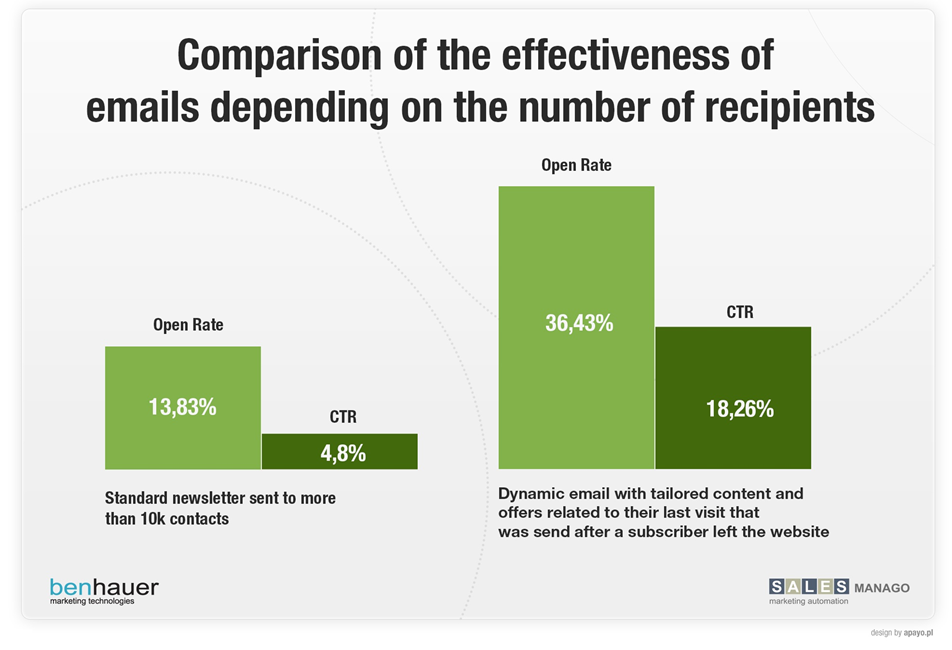 Read more about use of dynamic remarketing emails.
7. Should I send newsletter if I have nothing to share?
In theory: don't. In practice: situation when you haven't prepared anything special for your customers can arrive: for example if the whole team is busy preparing some new big feature or new product. That can happen, so prepare for it.
Keep in reserve:
Good texts: either new or old ever-greens
Possibility of organizing a small contest
Survey findings, customer comments or opinions, put in form of a chart
If that situation happens too often, consider sending newsletter more rarely.
8. What is suitable unsubscription rate?
No more than 1% for a good campaign.
9. How to grow my email addresses list?
Organically. See our tips on natural email list building. Remember also about data hygiene, remove outdated and inaccurate records.
10. How to create a good subject?
– Personalization in subject – open rate higher by 22,2%
– Unicode
– A/B Testing
– Length: shorter is not always better. Take care for presenting benefits. Too short subjects might be not enticing, but simply too vague
– Don't look for magic keywords
11. What is the future of email? Trends:
– Death of mass mailing
– Personalization
– Big Data
– Synergy of content marketing and email
– Mobile
– Using customer's localization in real world for email campaigns
– Video Mailing
Want to know more about successful email campaigns?
Read about how to never write average newsletter again
Know myths about spam
Learn how to conduct A/B tests in SALESmanago: step by step