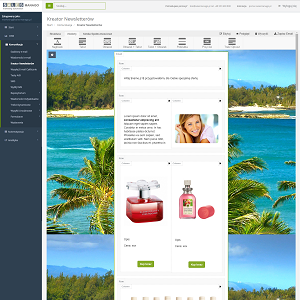 New module in the system is an intuitive creator of email messages and landing pages for marketing campaigns. As it uses drag&drop and set of ready-to-use widgets, it's easy in edition and styling that even layperson can create professionally-looking newsletter or landing page, which will automatically adapt to recipient's screen size. RWD has become available in standard for everyone.

These two solutions have been introduced in order to give marketers what they need most today: easy creators allowing for making fully responsive creations. We don't have to convince anyone that correct, readable display of content on mobile devices is crucial. Circa 21% of messages are read on mobile devices. We describe functionalities offered by new creators below.
Creator of responsive newsletters in SALESmanago
Creator allows for building messages based on columns and rows, into which we insert widgets, filled with content and editable to styling. Therefore we start creating a new message from choosing a template. By default message is 600 px in width, but that parameter can be changed, as well as background of the site and creation itself.

That way we prepare a base to be filled with widgets. New columns or rows can be added by clicking on plus sign on the edge.
Available widgets
The tool has a set of widgets, so graphics, texts, lines, buttons, header or automatic unsubscription link can be inserted.

The following widgets are:
Header: purely textual widget for adding a subject line of an email
Text: for inserting bigger amounts of text
Image: place for graphics, allows for automatic rounding of the corners or displaying the image in a form of a cycle
Divider: adds horizontal separating line. It comes in a couple of variations, colors etc
Button: inserts button in 4 sizes. Label, color or rounding the corners can be adjusted
Opt-out: contains a traditional unsubscription form with link.
Social widgets
Are vital for marketers today. In creator you will insert easily widgets of most popular social media:
Facebook like and share
LinkedIn
Twitter
Complete message
Message is built from columns, rows where widgets come, and then, finally, from text and graphics. Thanks to that procedure we can be sure that the message will always be displayed properly.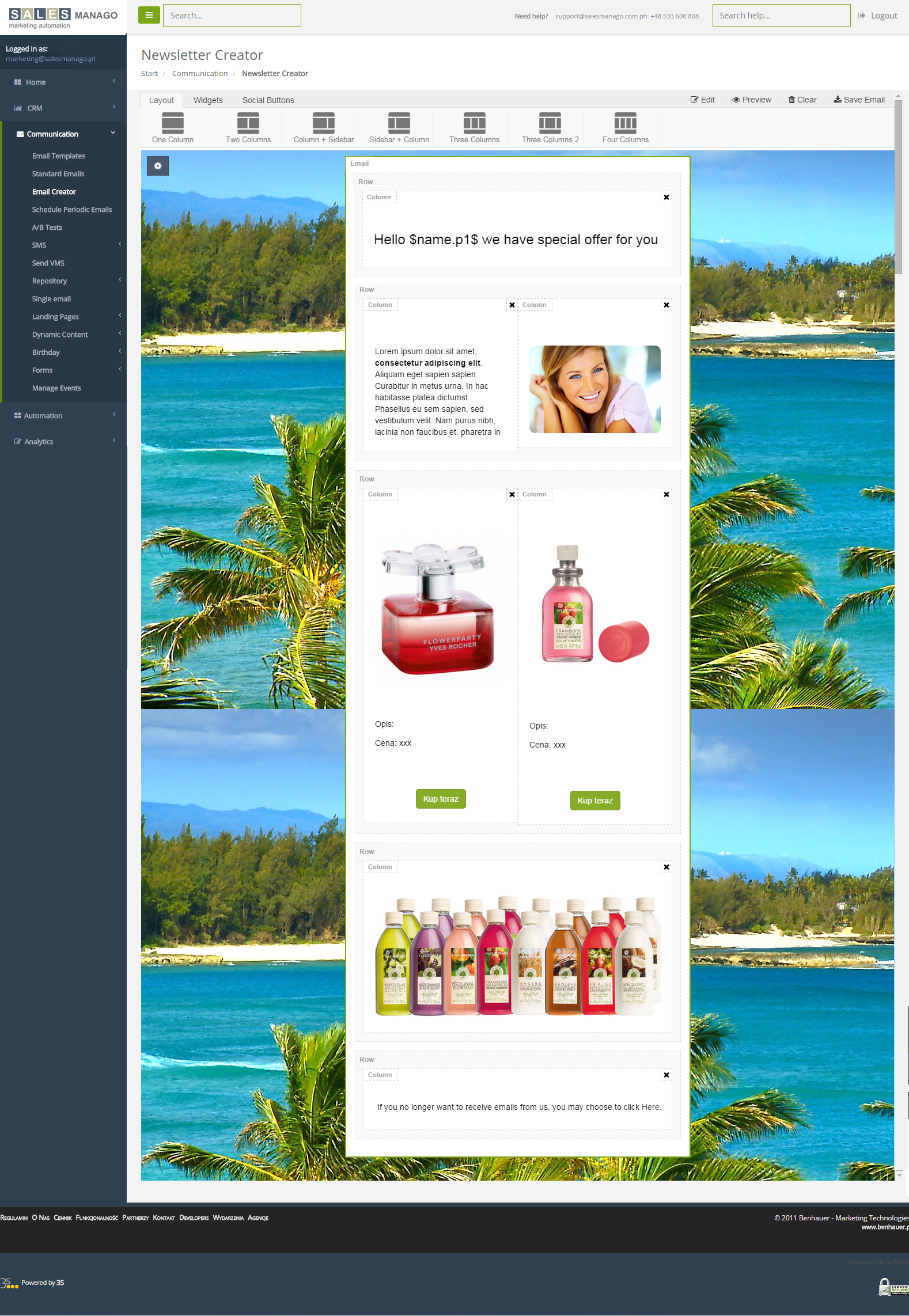 Test our new creator! To get a 3—days free access to the application, register HERE
Creator of responsive landing pages
Its functions don't differ much from email creator. The main disparity is additional widget: Sign-In Form. It allows to make a form automatically integrated with SALESmanago. It means that each contact will be transferred to the system and monitored. Of course you can also decide which fields are required and style the form and the button according to your company visuals.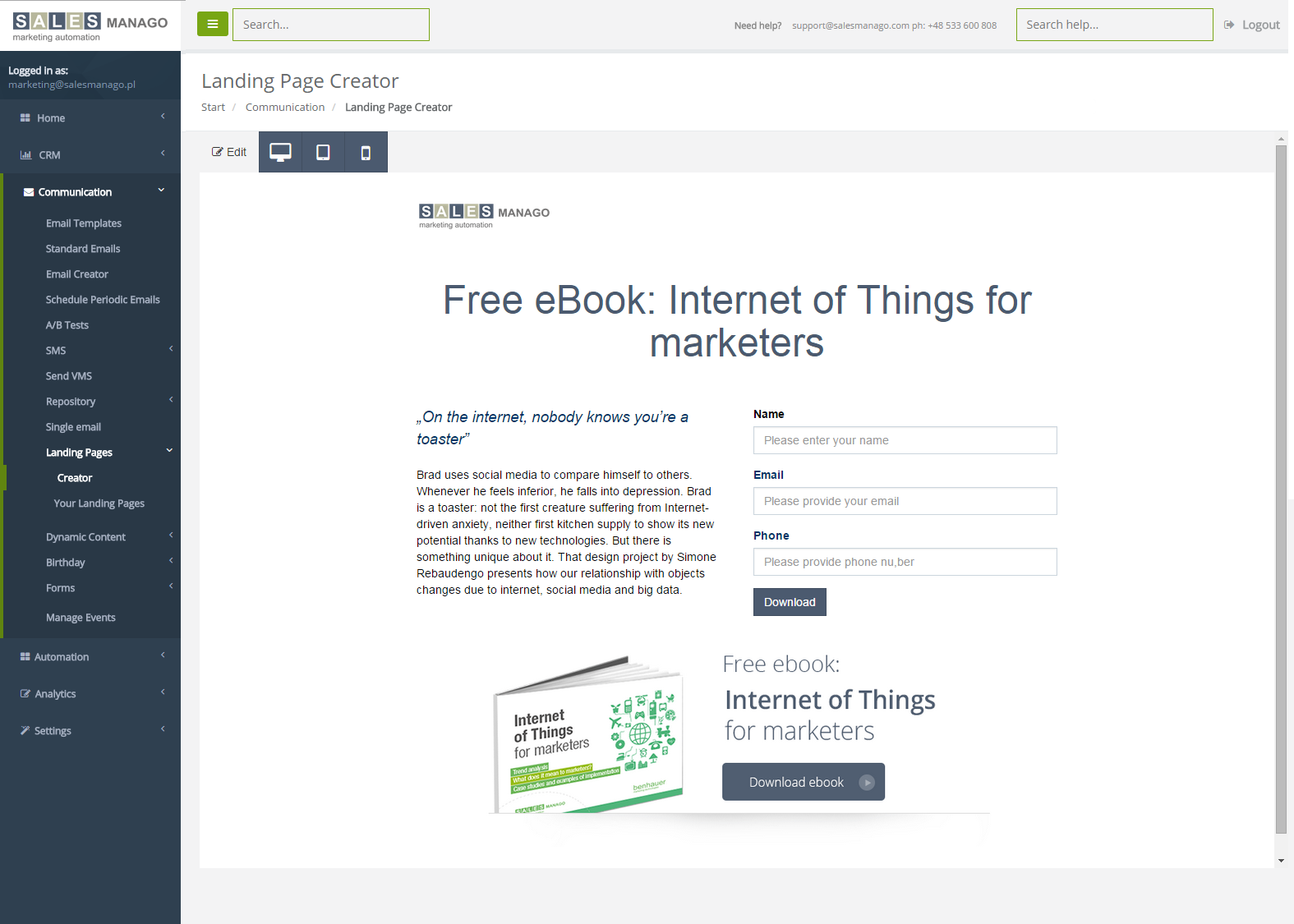 Creation preview on mobile devices
In the creator you can see effects of your work thanks to preview representing how your creation will look like on 3 types of devices:
Computer/ laptop
Tablet
Smartphone
It will help you see how exactly it looks in various resolutions or how content moves.
If you don't have SALESmanago account already, test our new creators and the whole system free for 30 days. HERE
Let us know how can we improve our creators even more. Write at info@salesmanago.pl