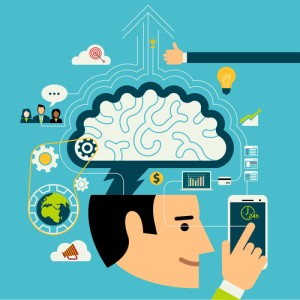 "How will user find it?", is a fundamental question you should ask when designing a mobile app and plan its marketing. Forrester Research provides some guidelines here: 63% of users get new apps by searching form them in app stores. Opinions of family, friends or other customers are secondary factors.
In practice it means that marketers must focus on improving app's visibility in the app stores and learning ASO.
What is App Store Optimization (ASO)?
ASO resembles SEO, but concerns mobile apps: it's a set of tools and practices that increase app's visibility in app stores searches (e.g. iTunes for iOS, Google Play for Android, or BlackBerry World for BlackBerry). The aim? To make it as easy as possible for user to find a given app. The term ASO was brought into use in 2009 by Johannes Borchardt.
Marketing and PR without ASO are not enough
If you believe that big marketing campaign and buzz will guarantee success, learn about Clik app failure. Giant marketing and PR efforts were lost, because although audience knew about app and wanted to dowload it, they failed to find it in app stores. Statistically user would drop off after reading 5 pages of search results.
But don't worry – here we come to help you transform into ace of ASO!
Title
Title is a key factor in optimizing your app store presence. How to shape it?
Keywords. Your title should include keywords after which users would search your app. Apps witch titles including keywords are 10,4% more likely to be found that ones that don't, says Robi Ganguly,
Concision. Max. 25 characters – or at least put crucial words in the beginning, so they are highly visible,
Uniqueness. Your title must be original, so your app won't land among dozens of similar apps. When crafting a title, stress app's unique feature, something, that only it can do.
Communicative. Don't pick abstract, sophisticated, metaphorical name. If you create a culinary app, don't call it "Taste deconstructed" or "Vanguard of the palate". Title should give a clear idea of what the app does.
Description
ASO requires understanding your customers and knowing what they look for. Think of content marketing: you don't write content to fulfil some SEO standards, but to address your human readers – and it naturally involves SEO practices. Optimization comes as a result of good writing for humans. You do the same with ASO. Writing a description, don't stuff it with keywords beyond necessity, but deliver good, useful characterisation of your product, using terms your user would use.
Show off (a bit). If you have already created popular app or did something to be proud of, put that information in visible place to increase reader's trust and likelihood that they download your app,
What it does? App by definition DOES something, e.g. in contrary to website, which by definition ism static and simply contains content. So when crafting a description go to the core of an app and ask about its primal function. What it does? Calculates? Counts? Transforms something into something else? Plans? Integrates?
Reviews and ratings
Encourage your users actively to rating and reviewing your app. Segment them according to their engagement and send email and push notifications to active ones, asking for sharing their opinion. Reviews and ratings as social proof have huge impact on your human users, but are secondary factor in ASO, as Neil Patel says. Care for users' opinion, but don't expect good reviews to do the work for you. The same situation with amount of downloads.
Number of downloads
Apple already in 2012 spotted frauds in App Store. On the forums, crooks offered increasing the number of downloads artificially by using bots.
Such practices are penalised severely and that's why it's not an i portent criterion for ASO.
ASO: how to find keywords
For the time being App Stores browsers are quite primitive and – as list above shows – the crucial factor are keywords in title and in description. But how to find them? Evade Rossi, one of the most recognized ASO experts, recommends the following:
1. Brainstorm yourself. Write down all the words that come to your mind when thinking about your app: its subject, aura, mechanics, purpose. List as many as you can.
2. Use Thesaurus. Admit that you don't know all the words in the world and check for synonyms of the words you listed.
3. Use Google AdWords Keywords Planner. You will find it in Tools.
4. Research competition. Check out their keywords and get inspired.
5. Use Autocomplete. What Google suggests when you type in your keywords? It's helpful because gives you insight in real people's behaviour and search.
6. Ubersuggest and other tools for SEO specialists.
7. Monitor on regular basis. Remember that efficiency of once set keywords can change.
ASO Tools
Just as with SEO, you can find plenty of ASO tools that help you find and plan your keywords. We prepared such list for you – find it in our post 7 Must-Have Tools for Mobile Marketers.
To make your app easy to find, take care for keywords in title and in description, and then focus on getting reviews and ratings.