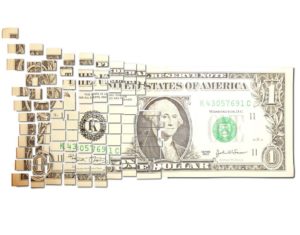 It all started about five years ago. Just then, Gartner analyst Laura McLellan, said that by 2017 the CMO will spend more on IT than the CIO. Explaining her thought, McLellan added that marketing departments spend an increasing part of their budgets on new technologies and services in cooperation with the IT departments as well as on their own.
---
Why is this happening?
Both: the physical and the virtual world entangle and overlap each other in different areas. Salespeople and marketers follow consumers and develop and explore new marketing communication channels. Web pages, email messages, mobile apps, social media, search engine – all these media combined through the internet access create a common ground to create and distribute content and they are known under the name of digital marketing channels. It is both simpler and more difficult to master by marketers than the newspapers, billboards, and radio jingles. It's easier because internet users leave huge amounts of information behind as the so-called Digital Footprints – data that can be tracked (through cookies, monitoring pixels, web beacons, UTMc, etc.), analyzed and used to match marketing message to a particular person or huge groups of customers. It's more difficult because – without the right software – marketers aren't able to process massive streams of digital data and transform them into financial success.
In the era of demanding and proactive consumers they must take care of each and every one of them from the very beginning, keeping in mind that mistakes aren't cheap. All the companies fighting for their web status quo must cope with this problem. As you can easily guess, the acquisition of contact is just tip of an iceberg of marketer's challenges. Each of the newly acquired leads (except 1-2% of them, which are immediately ready for purchase) requires education and care before it's ready for a contact with the salesperson. The education process includes activities such as sending educational messages, displaying dynamic banners, progressive profiling or database segmentation depending on leads' interests, behaviors, and purchase activity. There's no man who would be physically able to process and analyze such a large amount of data and tasks, and, what's more, not to make mistakes while doing it.
And that's the background behind the idea of systems that no longer need to be introduced nowadays, marketing automation platforms – software that is able to both: analyze and process digital data and run certain processes in response to the user's activities (if properly programmed). And that's also a reason what they have attracted so much of CMOs' attention worldwide.
Today, marketing is one of the major software purchase drivers, and analysis of trends shows that it will keep its position in the future. In 2012, Forbes journalist Lisa Arthur commented Laura McLellan's predictions as follows:
At first, that prediction may sound a bit over the top. (In just five years from now, CMOs are going to be spending more on IT than CIOs do?)  But, consider this: 1) As we all know, marketing is becoming increasingly technology-based, 2) Harnessing and mastering Big Data is now key to achieving competitive advantage, and 3) Many marketing budgets already are larger –and faster growing –than IT budgets.
In her article Arthur mentions that for many companies it is about time to build a bridge between IT and marketing departments and to create a common strategy for these two divisions, as the technology and marketing are now permanently linked together, and the company's success often depends equally on each of them.
It's almost 2017, so it's time to revise predictions from 2012!
The first confirmation of McLellan's statement could be seen a last year's PWC report: 2015 Global Digital IQ® Survey. There's a paragraph claiming that one of the pillars of the general development is sharing strategies and tasks across the organization. After all, no tactical plans are complete, without engaging the whole company! Up to 69% of enterprises admitted that the business and digital strategies involve all departments, which represented a big increase compared to the previous year (55%). Business leaders often use technology not only for marketing purposes but also to activate employees and engage them in the life of the organization. They use video, social media, and make good use of smartphones. Such a distribution of interests also found reflection in companies' spendings.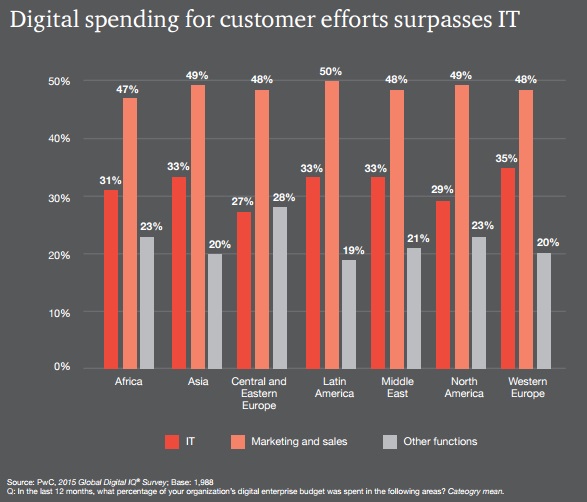 As you can see – the trend was the same worldwide: marketing and sales spendings surpassed IT spendings!
And what is the main culprit's position? In summary of 2016, Gartner analysts said that the prediction from 2012 is very likely to be confirmed in the nearest future. Key findings of the CMO Spend Survey 2016-2017 are as follow:
Marketing budgets will grow constantly and are likely to reach up to 12% of companies revenues.

The vast majority of marketers predicts an increase of their budgets for the next year but the number of those who expect a cut also grew from 3% to 14% over the last two years.

Globally, CMOs' IT spendings (now 3.24% of companies' revenues) will eventually surpass CIOs' spending (now 3.4% of companies' revenues).

Marketing leaders spent more on websites, digital sales and advertising than on any other goal in the past year.  
Conclusions
First of all bear in mind that indissoluble bond that linked marketing with technology. In times of fierce market competition, e-business can't function without the support of advanced analytical systems and automation of processes.
Secondly it means that the entire buyer's journey has changed for good. One of the biggest challenges for marketers is to create synergy between coexisting online and offline communication channels and integrate data from different sources like brick-and-mortar stores, desktop, mobile. The lack of it will make the full marketing and sales personalization impossible. 
Last but not least we can expect allocating more and more companies' resources in technologies related to the acquisition of potential clients on the internet, their education, as well as personalization and automation of marketing and sales processes.
What do you think? How will 2017 look like? Share your thoughts!