Some important professional or private lessons hide in a plain sight. Even a favorite tv series might be an inspiration to write a handbook. 
Avengers is a group of superheroes who save the world together during various distresses. Perfectly trained, boosted with mutations, surrounded by modern technology can face even the most powerful enemies. Let's take a look at their teachings for superheroes of the marketing department. Digital Marketers assemble!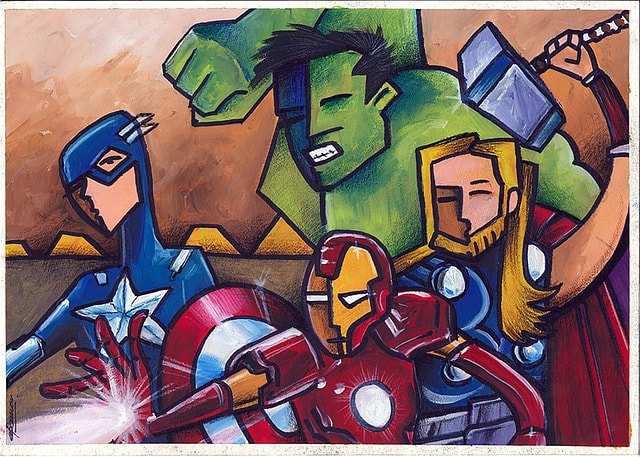 ---
Download free ebook and become the superhero of email marketing.
---
Ant-Man/ Scott Lang – By reduction of targeted area, Ant-Man does more using the same strength, than the others. You can do it too – precisely target your audience, so you can send content only to interested segments of users/ those who may concern.
Black Widow/ Natasha Romanova – Black Widow is a perfectly trained spy. Before every action, she tries to get to know her opponents better. If you want to copy her efficiency, you'll also have to know your audience, their habits, and behavior. Monitor their actions and build complex users' profiles.
Captain America/ Steve Rogers – The pinnacle of the human physicality (with a little help of army's upgrades). If you want to translate it to Marketing – find your niche and master it through continuous methods and actions upgrades. Don't go for a low hanging fruit: look for what's finest and unique to distinguish your company from the competitive businesses, and what makes you "crème de la crème" for your target audience (even if they are bookkeepers in small companies).
Hawkeye/ Clint Burton – Despite using a rather not popular weapon (bow), Clint keeps pace with fellow Avengers. He knows its (weapon's) pros and cons and knows how to use them. Using personal mobile devices makes this channel unique. Mobile and desktop communication have different rules. It's a good practice to extract the mobile channel from the huge sack of digital marketing and take its specifics into consideration while planning the campaigns. Most of all you have to avoid imprinting desktop campaigns into the mobile channel.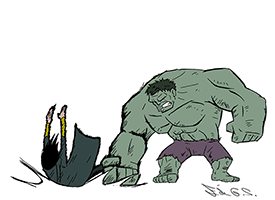 Hulk/ Bruce Banner – Except being a mountain of green muscles, Hulk is also a scientist. The modern marketer must consider a scientific approach if she wants to analyze properly and control her performance. Use analytic tools, study customers' behavior and campaign's efficiency. KNOW before you act.
Iron Man / Tony Stark – Iron Man without Jarvis is only Tony Stark in a fancy suit. We all need an assistant like Jarvis. We have to admit, that some actions require intelligent software assistance. Marketing Automation platform will assist you in your marketing actions, improve your daily performance and maximize your efforts.
Quicksilver/ Pietro Maximoff – Marketing actions are most beneficial if placed in some context and respond to particular user's activity. Be fast as Quicksilver… or automate reactions. May your emails and notifications answer users' needs in the real time.
Scarlet Witch/ Wanda Maximoff – By the powers she was born with, Wanda can control the probability and create the reality. So can you – with full profiling and data analysis you can predict users' future actions and await them in places where your assistance is required. That's how predictive marketing works.
Spiderman/ Peter Parker – Act local, like your "Friendly neighborhood Spider-Man". With the help of personalization and dynamic content you will give your customers the feeling that they are personally in touch with you and the messages you send them (with a little assistance of the Marketing Automation system) are relevant and perfectly tailored to their needs and interest.
Thor – Despite being an Asgardian god, Thor often fights for people's cause instead of focusing on his own benefits. While planning a campaign, consider users' wealth aside of yours. By delivering them some unique value (like knowledge, or non-marketing feature) you win a loyal customer, who'll always stand by your side. Treat Content Marketing seriously, create engaging and merithoric posts, ebooks and infographics and share your knowledge with your audience.
Wolverine/ James Howlett – Sometimes less is more. Spamming with pushes or emails is rather annoying than encouraging. Wolverine doesn't show off with his superpower, although, when the situation requires it, he fights with maximum effort. Wolverine is smart. Be like Wolverine!
Black Panther/ T'Challa – the newest film version of Black Panther have caused quite a stir in social media. The #BlackPantherChallenge hashtag has gained incredible popularity. The social movement to collect money for unprivileged black children to watch the movie, initially on a small scale, has gained into gear and at the end has become a nation-wide phenomenon in the US. Marketers has been long fascinated by the incredible power of social media. It gives countless possibilities of communication with your clients and prospects. Use it in your campaigns in order not to lag behind your competition.
By the way, have you already seen the Black Panther movie?