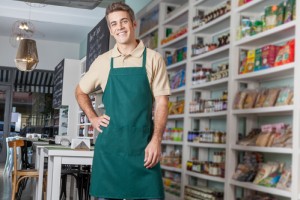 Beacons: are they a groundbreaking technology, or just another marketing buzzword? We believe that they can revolutionize shopping experience both in brick and mortar stores and online. Marketing and interactions with sales assistants will become more personal and relevant, resulting in strengthening bonds between the user and a brand.
Despite the enthusiasm, we still see that beacon technology is not a universal magic solution suitable for every business because it entails significant costs and requires big traffic at the store. That's why we analyze pros and cons of implementing the solution to help you find out whether it's worth considering in your particular case.
What is a beacon?
Beacons are tiny devices using BLE (Bluetooth Low Energy) to communicate with ach other and with users' apps. You place them in your brick and mortar store to monitor customer behavior and map his journey across the store to learn where did she stopped to take a closer look. We can also identify a customer when she approaches our store.
---
 Internet of Things for Marketers. Download free ebook
---
All the data enrich customer profile in the system, helping us deliver more relevant and more personalized messages. To add up, the role of salespeople also changes: they get access to the profile of users entering the store, so they get quite a lot of data about individual customers, what enables them to be more helpful. Can you imagine how can it improve customers' experience? The revolution that will transform brick and mortar store is at the gates.
Benefits of implementing beacons
Real-Time Personalization: today consumers are confronted with so many products to choose from and get marketing messages so often that their expectations for the shopping process soared into the sky. They want personalized, relevant offers, delivered right at the moment when they shop for the particular item. If it doesn't happen, consumer abandons the store just like that. 57% of customers are more likely to engage in marketing actions related to their current location and respond more often to personalized messages.
Advanced analytics: thanks to beacons you have an opportunity to map customer's journey and compare items she viewed to actual purchases – a priceless insight into her needs. It significantly enhances our knowledge and gives us material to send personalized campaigns, e.g. e-mails with information that the product user was interested in in brick and mortar store, but didn't buy, is now on sale.
Synergy between online and offline: ROPO effect and showrooming are common habits of modern consumers, allowing them to find most suitable solutions for them, but these practices drive marketers crazy, because of lack of appropriate tools for measuring and analyzing customer behavior and efficiency of campaigns. Beacons help to bridge the gap between online and offline.
Building a Better Shopping Experience: imagine that you head to the counter in your favorite coffee shop, and the waitress knows that it's your tenth purchase there, so you can have your coffee for free. Doesn't it mean a completely new era of loyalty programs?
Mobile apps and beacons also mean changes payment. According to Motorola research, in 2017 half of transactions in brick-and-mortar stores will be made via mobile.
Real Multichannel: Multichannel, Omnichannel, Cross-channel… so many words, but how about practice? Cohesive communication across many channels remains a challenge. When you implement beacons integrated with Marketing Automation platform, you can combine mobile, email, social media, dynamic content on the website and interactions with a sales assistant.
Disadvantages of implementing beacons
Customers must be educated: Because beacons are still a pioneering solution, customers don't know much about it. Hence, you will need an educational campaign for them to show benefits of participating in the program. 70% of consumers doesn't understand how beacon technology looks like. You should put emphasis on privacy policy and convincing customers that you won't do harm to your data. Don't betray the trust they put in you.
No idea for a mobile app: beacons don't work without an app, even without a good app that people love, download and use. Without a good creative concept and resources to realize it, there is no point in thinking about beacons.
Resources required: beacons are great, but only if you have resources to invest, mostly in human resources. You need a team who knows Marketing Automation and can create dedicated campaigns.
The risk of overdoing it: As with any automation solutions, marketers can risk overusing data and sending too many and too creepy messages (by creepy we mean ones that makes customers feel stalked). Start simple and don't flood audience with push notifications.
A big group of customers required. You need a significant audience to see results.