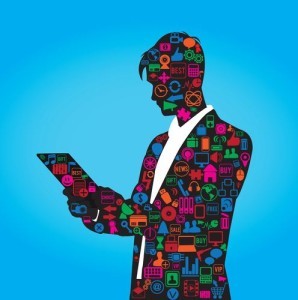 A brief overview of new SALESmanago features and improvements implemented in November 2017.
New Monthly Reports 
Monthly reports are a summary of your activities on the SALESmanago platform. Thanks to their brief form you can quickly verify the results that you achieve within given module in the system. They are readable and comfortable as they gather all necessary information in one place. What's more important, you don't even have to log in to the system to generate such report.
Benefits:
the possibility of weighing such a report against other monthly reports and analyzing the results in order to increase the effectiveness of marketing activities
no need to log in to the system to generate such report, they are sent directly to the inbox
report includes a proposition of modules which you haven't used yet
Here's an exemple of a report generated by a travel agency.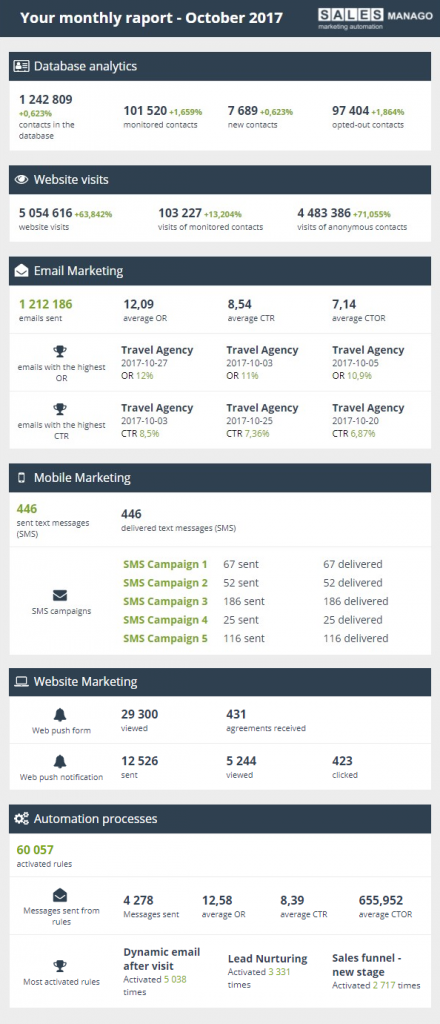 Send a Dynamic Email Using a Scenario
Action " Send a dynamic email using a scenario"
causes sending an email with recently viewed products using a scenario. In the settings of an action, you can choose one from several scenarios.
products of the same category
products of the same category at a similar price
products of the same category on discount
products from the same manufacturer
products from the same manufacturer at a similar price
products from the same manufacturer on discount
IMPORTANT: To send an email with product recommendation you need to send XML files to the system.
Abandoned Shopping Cart Wizard
In the Abandoned Cart wizard you can create email templates that contain the products which have been already in the cart, however, the transaction hasn't been finalized. You can find there a widget – Product Frame – which is necessary to include the products from the abandoned cart in the email template. By taking the data from an XML file, the content of the message will be always up-to-date and adjusted to each recipient. Combined with proper automation rules, it allows you to recover abandoned carts or send emails with products recently browsed by a user.
Wizard: Dynamic Emails
Dynamic emails are marked by the 100% personalized content that refers to the interest of each and every message recipient. In such email, the products are adjusted automatically. These may be the products which the user has seen or clicked to see more details. Information about the product is dragged, ofcourse, from XML files from your store.
Benefits:
sending emails with fully personalized content
building the atmosphere of trust with the customer
increased sales – a customer sees only those items he was already interested in
New widget Image + Text
We added new widget to Drag&Drop Email Designer:
Image+Text – a combination of text and image in one block,
Image+Text (row) – a combination of text and image arranged in a row
Live Chat – New Languages
Live Chat, already described in this post, got recently some new language versions:
Sweedish
Japanese
Czech
Hungarian
Italian
Lithuanian