We have created a new generation email designer!
We work on many innovative solutions. We adopt, create and upgrade futuristic technologies like AI, machine learning, and sales bots. However, once in a while, we come across a simple, yet ingenious tool, we redesign and breathe new life into it. Our most recent project looks ready to start a revolution in email marketing.
When asked to name three most common and annoying problems of email marketing from the top off their head, most Project Managers would go with:
responsiveness issues,

different requirements of various email services providers,

time wasted aligning and coordinating three different professionals.
To address these problems, we used our 6 years' experience, feedback from the most demanding customers and the results of our analysis of the best practices and solutions applied in world's leading email marketing systems.
<DRUM ROLL>
The result is the new, and probably the best drag & drop editor on the market: a tool that lets you design beautiful and fully responsive email templates, messages, and newsletters, without involving the IT department!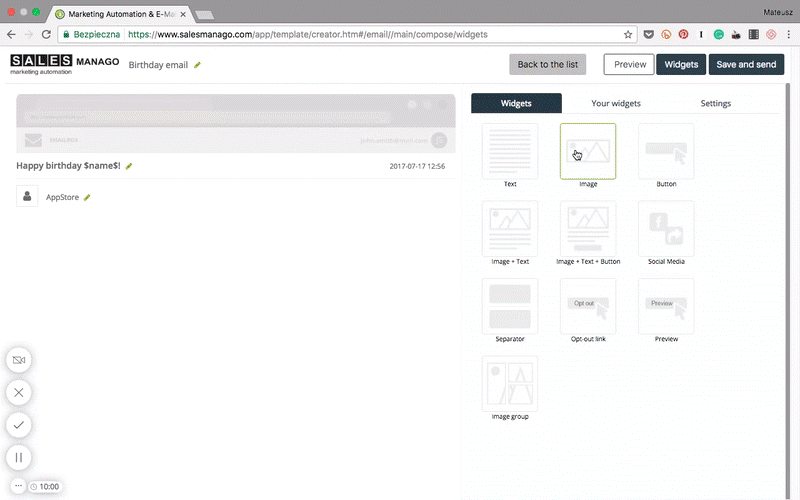 This "ultimate solution to responsive email design" ensures that each message created by our customers is fully responsive on every device and in every email client.
We achieved this by implementing cutting-edge, proprietary technology of creating and saving emails. It's pretty impressive, that from now on, every email you send will adjust to the screen of the receiving device. And by every, I mean EVERY single message made with this designer. It's 100% dependable.
Another proprietary solution built into the new editor makes SALESmanago automatically adjust the message's code to the requirements of email service providers (such as Gmail, Hotmail, Outlook, Yahoo) processing the email. Neat, isn't it? One less thing to worry about!
Finally, to guarantee that every message is flawlessly rendered, we equipped our designer with a mechanism that comprehensively verifies if the message renders properly in all popular email clients and on all devices available on the market.
All of this comes in an excellent design conceived with the utmost attention to user experience and ease of use.
What's in it for you?
We can go on and on about the perks of switching from your current email editor to our new, revolutionary tool – from big increases in conversion rate to reinventing your communication strategy with amazing new opportunities. However, the most immediate benefits you'll notice are:
Brilliant design: an intuitive, clear drag & drop designer – you do not need technical knowledge to build a responsive email message.

Saved time: create and send top-notch emails in under 5 minutes.

Technical flexibility: every email created in the editor will be fully responsive – and we all know how vital this is. No more broken layouts.
But enough theory! Why not try it yourself, for free?
Choose SALESmanago Trial and impress your customers with the full set of powerful automation features.
or….
Choose AppStore Trial and take a single feature for a test drive – how about that shiny, new drag & drop?
Also join us for the webinar on Wednesday, 26th of July, at 12 PM CEST